Korean-style entertainment event held May 17-19 draws around 90,000 adoring fans; Riding the popularity of Korean-style entertainment in Japan, CJ ENM plans another set of Korean-style song and dance event with KDDI joining as co-sponsor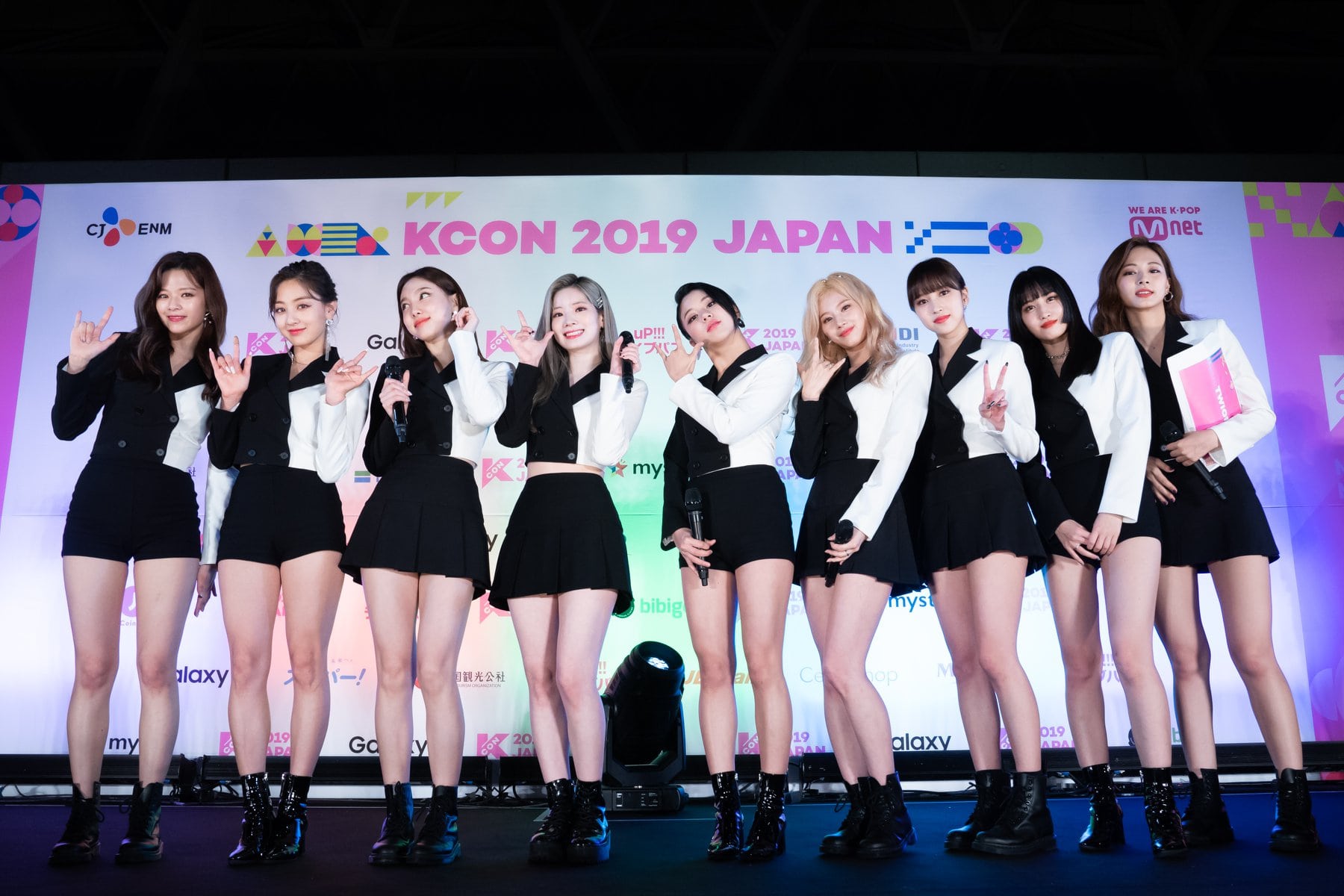 The Twice, a popular Korean girls entertainment group, pose for a photo on the red carpet after joining the K-CON 2019 Japan for special performance tour in Japan. (Photo: CJ ENM)
KCON concerts in Japan are attracting a growing number of fans despite worsening political relations between the countries.

KCON 2019 JAPAN held on May 17-19 drew crowds of Japanese women in their teens and 20s, filling every booth where the event took place for Korean foods, beauty products, fashion and music totaling 236 at the Makuhara Messe Int'l Entertainment Hall outside Tokyo.

Officials of CJ ENM said around 89,000 young Japanese fans filled the KCON venue from May 17-19, the largest in KCON's history in Japan. The initial KCON event in 2015 drew around 15,000 fans and the number grew six times over the past five years, with the accumulation of those numbers coming to around 252,500.

Hallyu entertainment is going strong, even as political relations between Korea and Japan are on a downward trend. In 2016, Japanese fans under 30 years of age made up 39 percent of total fans, but they grew in leaps and bounds to make up 69 percent of fans in 2018, especially, those under 20 , whose numbers jumped four folds in the past two years.

Encouraged by the numbers, CJ ENM plans to spur the number of the KCON concerts in Japan. They rented another convention hall for the event and KDDI, one of the three major mobile communication companies in Japan joined as one of the sponsors of the Korean entertainment event.

The popularity of KCON Girls, a new KCON brand of entertainment, has also been rising, directed at Japanese women in their 10s and up to their 30s, who also loved the K-Beauty and K-Fashion Booths at the event. The Eyes One, a girl group made up of both Korean and Japanese singers, was the most popular among the event.
The Color Glam Look sold out of cosmetics due to the popularity.
KCON, an annual event for K-pop fans across the world, will take place on the biggest-ever scale, with its New York City leg set for the global landmark that is Madison Square Garden.

The venue, which opened in 1968, has hosted a slew of high-profile events including sports games and concerts by the likes of Michael Jackson and Madonna. The two-day KCON 2019 NY convention will take place at the Jacob K. Javits Convention Center and feature influencers in music, beauty and fashion from both countries.

Starting with events in Tokyo in May, this year's KCON will run in New York and Los Angeles in July and August, respectively, before it reaches Bangkok in September.

KCON LA, which attracted nearly 94,000 eventgoers in 2018, has been extended to four days this year at the LA Staples Center, while this year's KCON Thailand will be held on twice the scale of last year's event.

During this year's conventions, which take place alongside K-pop concerts, a number of separate events are in store to attract local fans, including beauty-themed "KCON Girls" and "KCON Rookies" a showcase for up-and-coming K-pop artists.

According to organizer CJ ENM, the number of attendees is expected to surpass 1 million this year.

The music event first took place in California in 2012. Since then it has grown into a global festival encompassing K-pop, beauty, fashion, TV and lifestyles.

Fans of K-pop can expect to see more of Korean culture on Twitter following the announcement of a partnership between the social media platform and the world's largest K-culture festival KCON.

According to a statement, their collaboration kicked off with KCON 2019 Japan, which is taking place at the Makuhari Messe International Exhibition Hall just outside Tokyo until May 19.

"This partnership with KCON widens the opportunity to deliver Korean content, including K-dramas, K-beauty, K-food and K-Pop, to fans on Twitter around the world." said Kim Yeon-jeong, Twitter Korea's head of global content partnerships.