"Centennial of Establishment of Temporary Korean Gov't" celebrated at head office by provision of funds to economically isolated people, while special loans thru its Happy Finance Project are provided to One Parent Families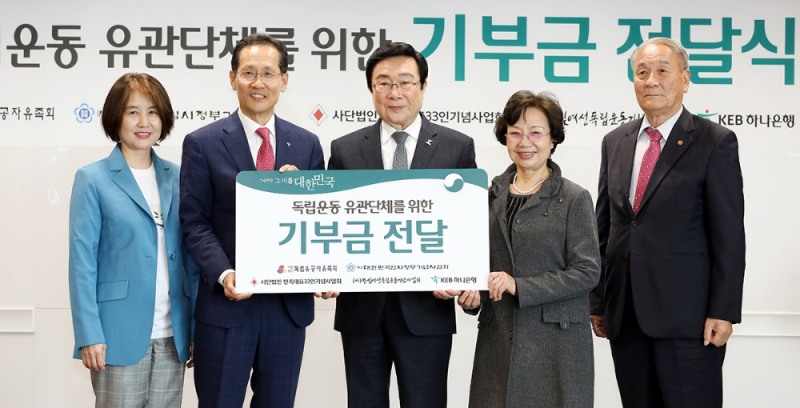 President Ji Sung-kyu of of KEB Hana Bank, 2nd L, joins key officials of the organizations related to the Korean independence fights during the Japanese colonial period(1910-1945) with a check for 100 million won which the bank collected thru a number of the national campaigns to commemorate the centennial of the March 1 Korean Independence Movement against the Japanese colonial rule of Korea. (Photo: KEB Hana)
Hana Financial Group has selected three areas of corporate social responsibility in which it can and must excel. KEB Hana Bank has unveiled its "Happy Finance" Program to provide diverse social service activities for socially isolated people.

The bank celebrated the "Centennial of the Establishment of the Temporary Korean Government" and the March 1 Independence Movement through its "Heart-Warming Name the Republic of Korea" campaign at its head office in Myeongdong, in the heart of Seoul, on May 10. Some 200 million won in funding was distributed at the event to the organizations related to the independence movement.

At the same time, special loans were offered thru its Happy Finance Project for single-parent families to help them secure homes. President Ji Sung-kyu of said the bank will continue to pursue such activities to let the next generation of Koreans know of the sacrifices and the tough lives spent by those who fought for Korean independence from the Japanese colonial rule (1910-1945).

The total funding provided came to 400 million won, including the 200 million won the bank provided to the descendants of the late independence fighters, which will be used for scholarships and daily living expenses. The funding came from 1,000 won charged to deposits, charity installment deposits and the Hana One Qs, which was set up and subscribed through smartphones during the campaign period.

The bank has also been providing special loans to support single-parent households, so they can use the loans to secure their residential homes in cooperation with the Korea Residential Housing Financial Corp.

Hana Financial Group is giving back to society by providing financial education as a form of investment in human resources, which will be crucial in the future. Second, Hana offers financial services that create value for its customers and society in general, aiming to realize its ideal of "Happy Finance."

Third, the group actively prioritizes consumer protection in order to ensure that, as a financial company, it is able to successfully earn and keep the trust of its customers.

To help foster a good understanding of finance among youth, KEB Hana Bank is conducting the "One Company, One School" financial education program in cooperation with the Financial Supervisory Service.

Through partnerships established between schools and its branch offices, KEB Hana Bank is providing financial knowledge tailored to young minds through instructors who are retired KEB Hana Bank employees. Also, instructors are sent to visit North Korean refugees, children of multicultural families, and students at schools in remote areas, all of whom have poor access to educational resources.

KEB Hana Bank offers young people opportunities to gain experience working at a financial institution. In 2015, under an agreement with Seoul Metropolitan Office of Education, the Bank offered job experience opportunities at 50 of its branch offices, and plans to expand the program to all branches nationwide. Going forward, the Bank will utilize its "mobile KEB Hana Bank service" to increase the number of such job experience opportunities, including job experience education programs and visits to its head office.

Since 2007, KEB Hana Bank has supported the staging of an economics-themed musical created for elementary school students. "Jake's Magic Wallet" is a musical designed to educate children on difficult consumer behavior and economic concepts in a fun and easy-to-understand format. By encouraging the students to participate, the musical has become highly popular and been successful in encouraging children to interact and learn together.