Its $2.45 billion seawater facility construction project ordered by Basrah Oil Co. designed to boost crude oil output vital to economy and doubly meaningful with this year being 30th anniversary of Korea-Iraq diplomatic ties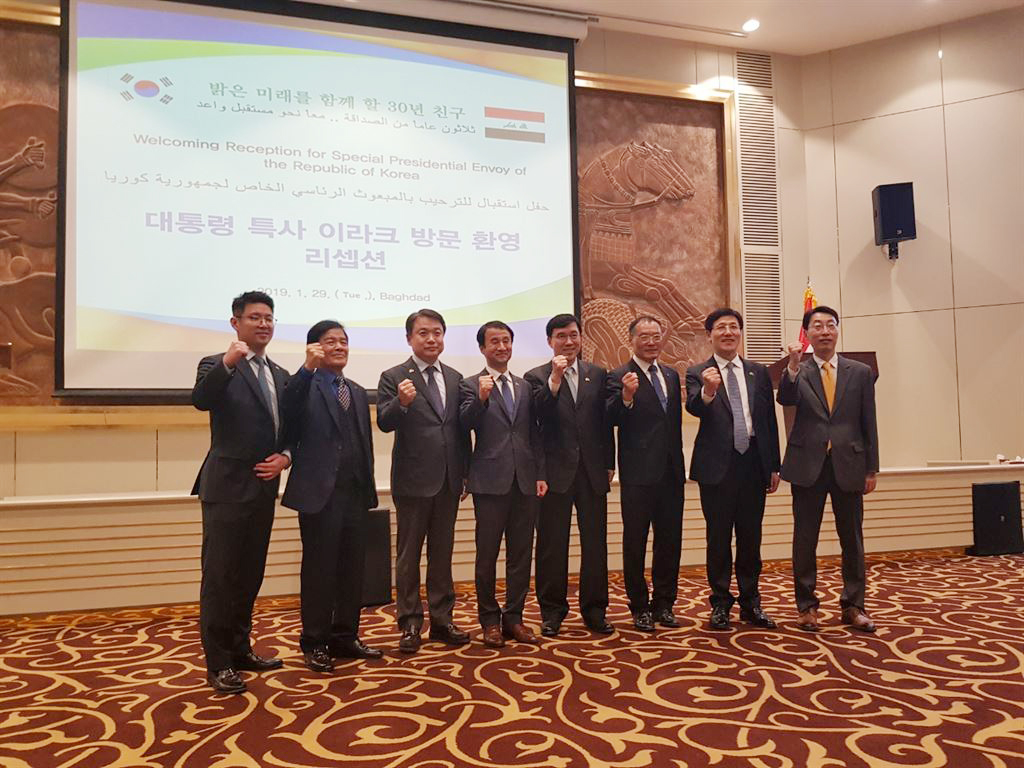 Vice Chairman Chung Jin-haeng of Hyundai E&C, 3rd L, joins of the Iraqi special envoy and Korean officials in holding their right arm up after getting a LOI on the Common Seawater supply Project worth $2.45 billion on May 22 in Iraq.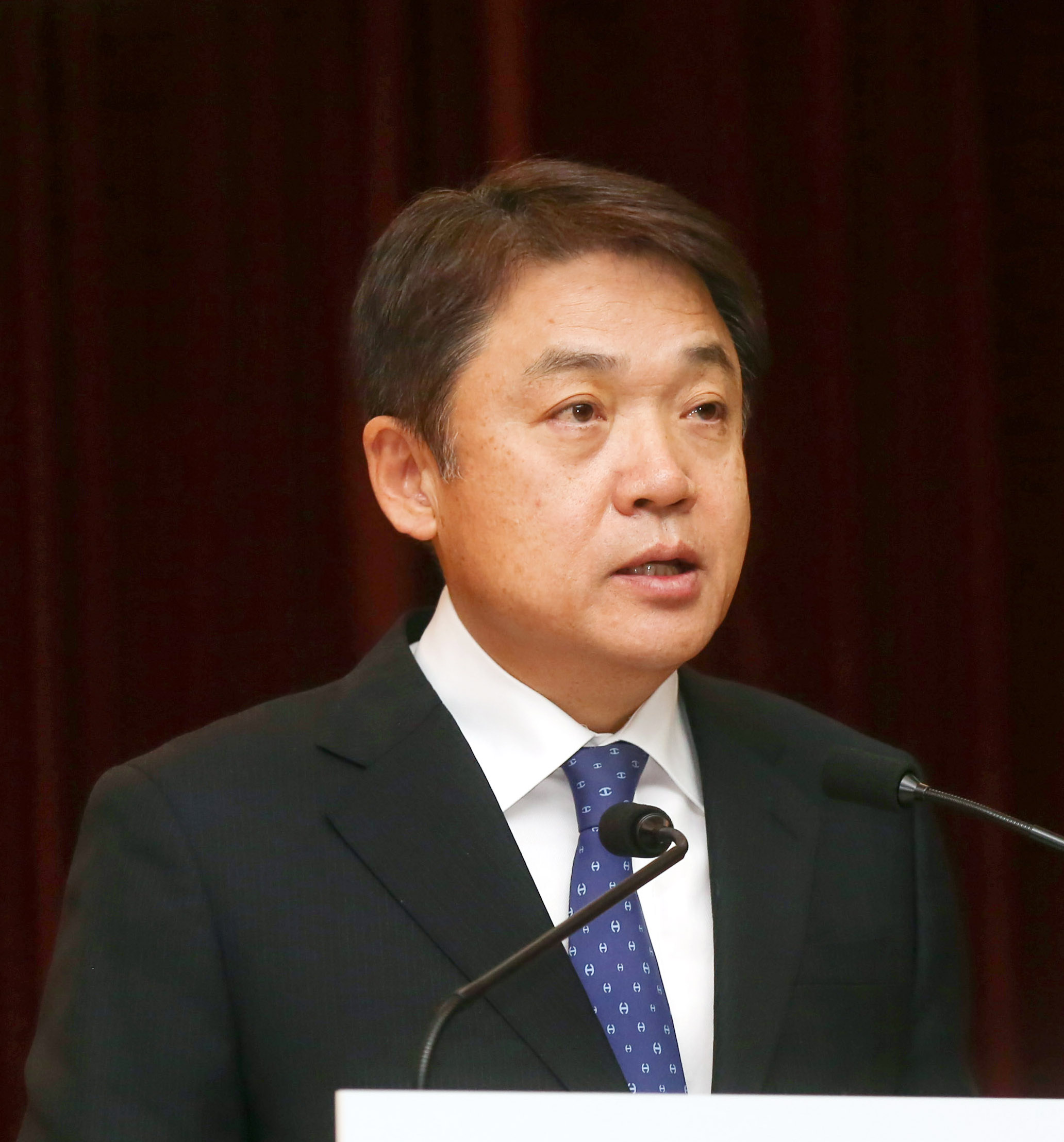 Vice Chairman Chung Jin-haeng of Hyundai E&C.
Hyundai Engineering & Construction has won a $2.45 billion order to build a seawater supply facility in Iraq, the Korean company said May 22.

The company said it has received a letter of intent from Basrah Oil Company under Iraq's Ministry of Oil for the Common Seawater Supply Project.

The work is part of Basrah Oil Company's project to increase crude oil production in southern Iraq. The nation's major builder said the seawater supply facility will produce 5 million barrels of water a day to be stored in an oil well. The large-scale project is expected to take 49 months.

Hyundai E&C said the latest order is meaningful because it again recognizes the company's reliable construction record and superior technology. The large-scale order comes as Korea and Iraq have been enhancing their relations on the occasion of the 30th anniversary of diplomatic ties in January.

"The Iraqi government placed full confidence in Hyundai E&C that has contributed a lot to the economic growth of Iraq by successfully carrying out government-run projects, while the country has gone through wars twice." a Hyundai E&C official said. "We will continue to make efforts to secure more orders in various areas in Iraq, such as oil refineries and power plants, as the country is eager to rebuild and expand infrastructure."

"The winning of this order is mainly attributable to the trust that Iraq has in Hyndai E&C." a company official said. "Hyundai E&C did not withdraw from Iraq during the two major wars and has contributed to Iraq's economic growth by successfully performing major national projects."

He added, "We will seek to win projects in various fields such as oil refineries, power facilities, and housing which are promoted by Iraq under a long-term development plan."

The Korean government did its part by cementing friendly relations with Iraq through the momentum of celebrating the 30th anniversary of the establishment of diplomatic relations earlier this year. It sent a group of special delegation to Iraq to build practical cooperative relationship led by Special Envoy Han Byung-do.

Chung Jin-haeng, vice chairman of Hyundai E&C, who formerly worked at Hyundai Motor until last year, also visited Iraq twice as part of efforts to win the latest order. He has also been focusing on expanding overseas order network by reviewing sites in the Middle East and Southeast Asia.

Hyundai E&C has landed a total of 39 projects worth about US$7 billion in Iraq, including the Al Mussaib Power Station, Northern Railway, Baghdad Medical City and Karbala Oil Refinery, since advancing into Iraq for the first-phase construction of the Sewer System in Basrah in 1977.

A South Korean joint venture led by Hyundai Engineering & Construction won a $6.04 billion order to build oil refining facilities in Iraq's Karbala Refinery Project, Hyundai said on Wednesday.

Hyundai E&C, Hyundai Engineering Co Ltd, GS E&C, and SK E&C won the project from the country's State Company for Oil Projects, Hyundai E&C said in a statement.

Hyundai E&C and affiliate Hyundai Engineering have a combined 37.5 percent stake in the project, worth $2.265 billion. GS also has a 37.5 percent stake, while SK has a 25 percent stake worth $1.51 billion, Hyundai said.

Hyundai E&C hopes such orders can improve its earnings. The company had a net profit of 156 billion won in the first quarter of this year, up 11.3 percent from a year ago, with sales reaching 3.8 trillion won and operating profit 205 billion won.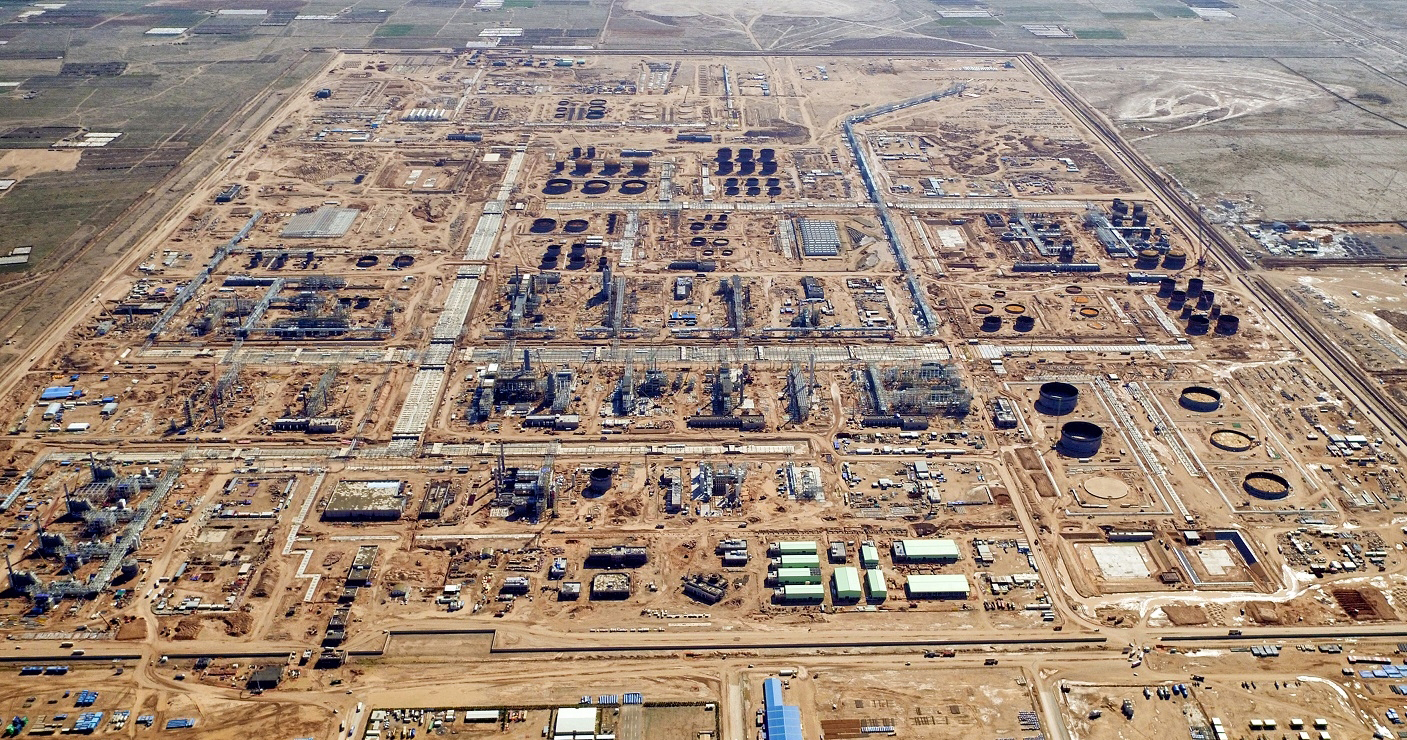 A view of Karbala oil refinery being built in Iraq by Hyundai E&C, one of the 39 construction projects that the company won in Iraq so far, worth some $7 billion. (Photos: Hyundai E&C)