Vice Chmn. Lee Jay-yong steps on gas in exploring and nurturing new future businesses by making the most of his overseas networking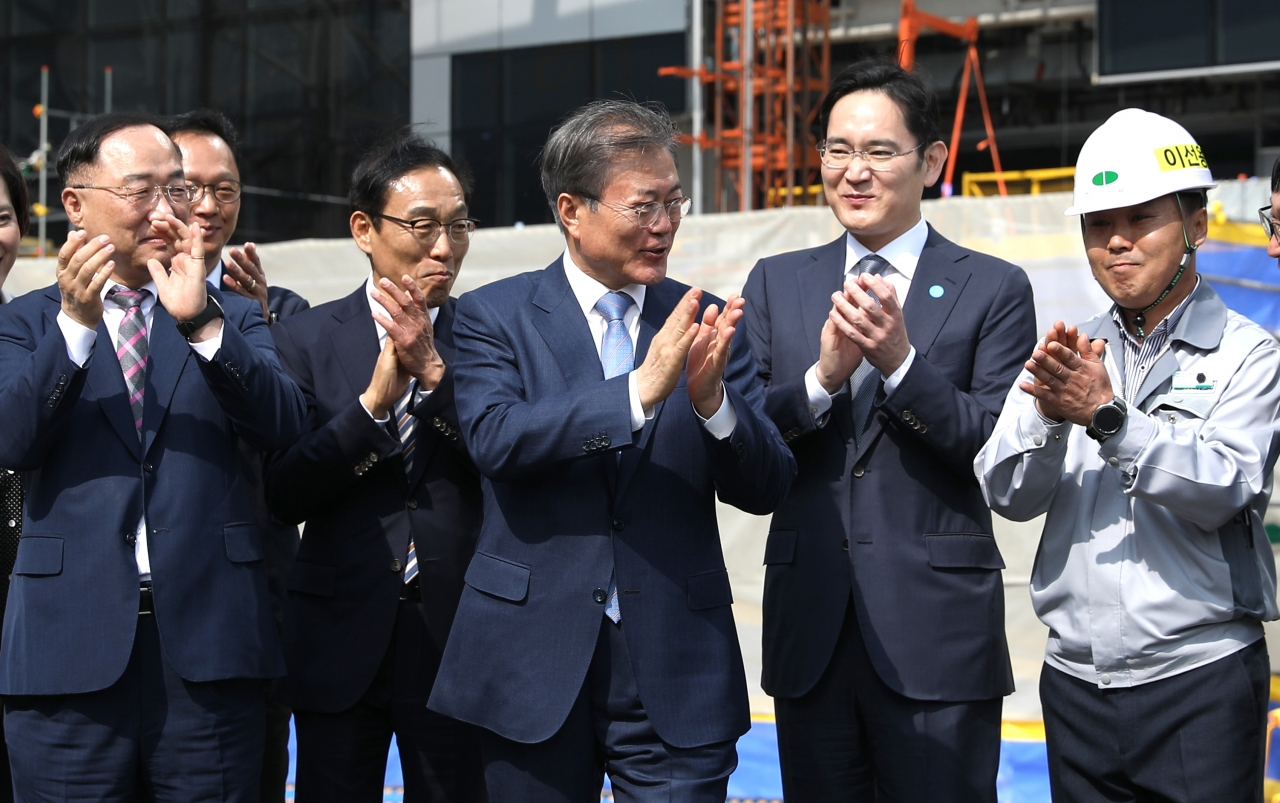 President Moon Jae-in claps with Samsung Electronics Vice Chairman Lee Jay-yong, Deputy Prime Minister-Minister of Economy and Finance Hong Nam-ki and others as they toured a construction site of an extreme ultraviolet technology chip line in Hwaseong, Gyeonggi-do, on May 30. Samsung Electronics unveiled a vision and investment plan to achieve the vision of becoming a No. 1 non-memory maker, in addition to its current position as memory-chip leader. (Photos: Samsung Electronics)
Under the stewardship of Samsung Electronics Vice Chairman Lee Jay-yong, now two years since he took the helm of Samsung Group, Samsung Electronics is accelerating efforts to nurture new future industries such as 5G mobile telecom, AI and system chips.
Vice Chairman Lee has a track record of "come-from-behind victories" at crucial junctures, which is an essential trait now that the world is knocking on the door of the 4th Industrial Revolution.

Lee is leaving major executives in charge of the conventional businesses and he is stepping on the gas in exploring and nurturing new future businesses by making the most of the overseas network he has so far accumulated.
Vice Chairman Lee made a couple of overseas business tours to North America, China, India, Vietnam and Japan since February 2018 when he returned to office, ending a management vacuum.

All of his overseas business trips have been related to things such AI, 5G and smartphones, business areas Samsung Electronics wants to nurture as future growth engines.

Lee aims to build a global eco-system by securing business partners in the future business sectors and enhance his company's competitive edge. He has also taken time out to meet with global company CEOs, including Chief Executive Officer Satya Nadella, who have come here on business trips.

In the latest development, Vice Chairman Lee stayed in Tokyo for three days from May 1,5 where he toured NTT DoCoMo and KDDI, Japan's biggest telecom service providers. Lee is known to have discussed ways of promoting collaboration in the 5G business sector with leaders of the two Japanese companies. J
apan aims to launch 5G mobile telecom services in time for its hosting the 2020 Tokyo Summer Olympic Games. Samsung Electronics, having the upcoming Olympics as business opportunities in mind, targets to expand 5G telecom equipment business and make a turnaround in the smartphone market in Japan.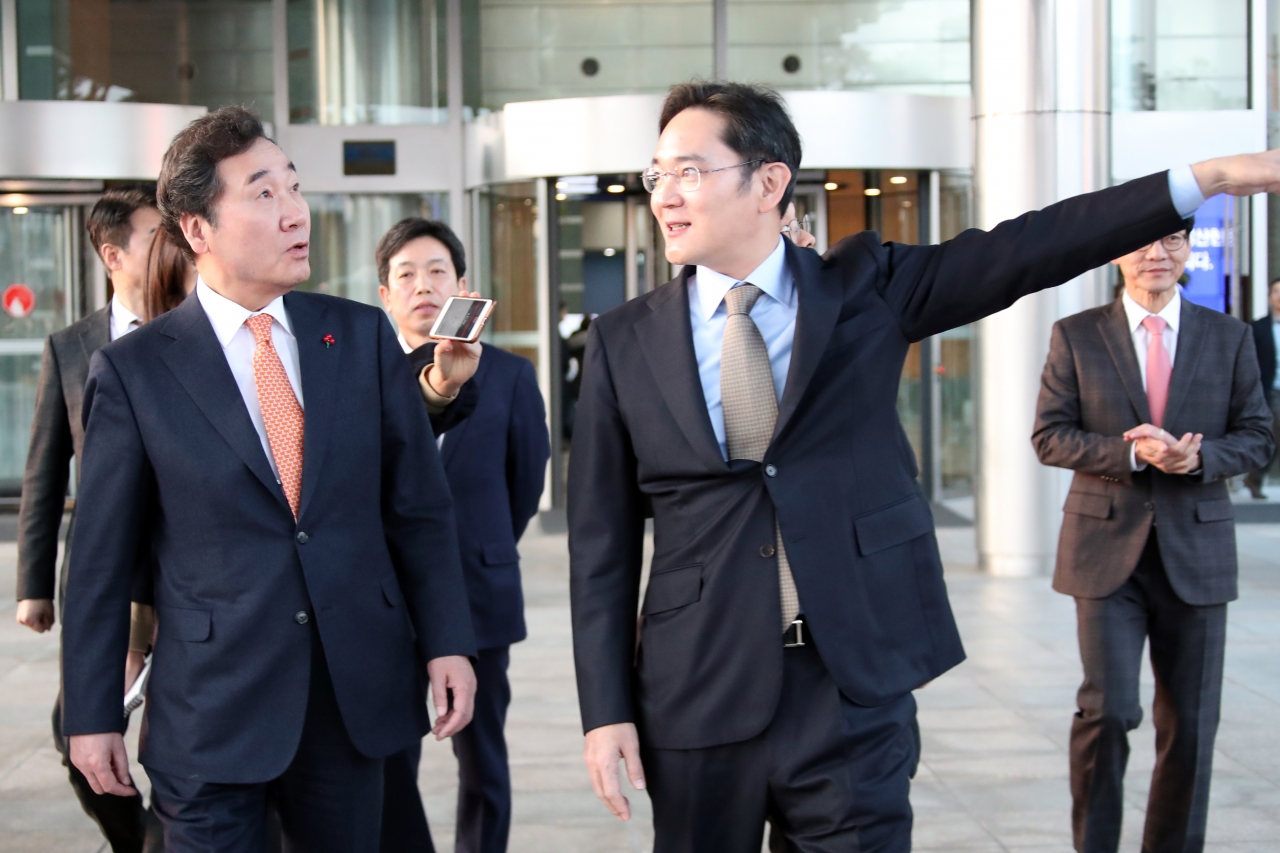 Prime Minister Lee Nak-yeon talks with Samsung Electronics Vice Chairman Lee Jay-yong as he looked around Samsung Electronics' worksite in Suwon on Jan. 10.

In March 2018, Samsung Electronics opened "Galaxy Harajuku," the largest-ever smartphone publicity pavilion in the world. During his latest trip to Japan, Vice Chairman Lee dropped by to look at consumers' reception and give words of encouragement to executives and staffers in Japan.

No wonder his latest business tour to Japan has something to do with Samsung Electronics' future strategies. First, Samsung Electronics, now trailing Huawei with a 31 percent share in the global 5G telecom equipment market, aims to turn around in an era of 5G with aggressive moves.

The Korean electronics juggernaut strives to repeat the "semiconductor and smartphone legends" with aggressive investments in the sectors in the course of industrial watersheds in the emerging 5G mobile telecom equipment business.

Samsung Electronics' latest move may be a good opportunity to cash in on a trade war between the United States and China, predicted to be prolonged. Last year, Samsung Electronics struck deals to supply 4G and 5G equipment to Verizon Wireless, AT&T and Sprint of the United States. The Korean electronics maker supplies mobile telecom equipment to three of the four American telecom service providers.

Samsung Electronics is predicted to benefit greatly from the U.S. government's restrictions on American firms' transactions with Huawei for security reasons. Samsung Electronics is the sole company in the world to supply all chips, telecom equipment and smartphones.

Vice Chairman Lee himself stands at the forefront of exploring the company's overseas businesses. Among his representative moves were his attendance at wedding ceremonies for the daughter and son of Reliance Industries Group Chairman Mukesh D. Ambani of Inida, Asia's richest tycoon, that took place last and this year, respectively.

Samsung Electronics supplies 4G telecom equipment to Reliance Gio, a telecom service provider of the Indian group, and the two companies are ramping up business ties in the 5G sector. His meeting with Crown Prince Mohammed bin Zayed Al-Nahyan in Abu Dhabi last February was designed to discuss ways of promoting cooperation in 5G and future IT businesses.

The AI and system semiconductor sectors are also business areas Vice Chairman Lee is endeavoring to make a jumpstart as new engines. While touring the European and North American regions between March 2018 and April 2018, Lee took stock of AI developments there. And subsequently Samsung Electronics established global AI research centers in the United States, the U.K., Canada and Russia.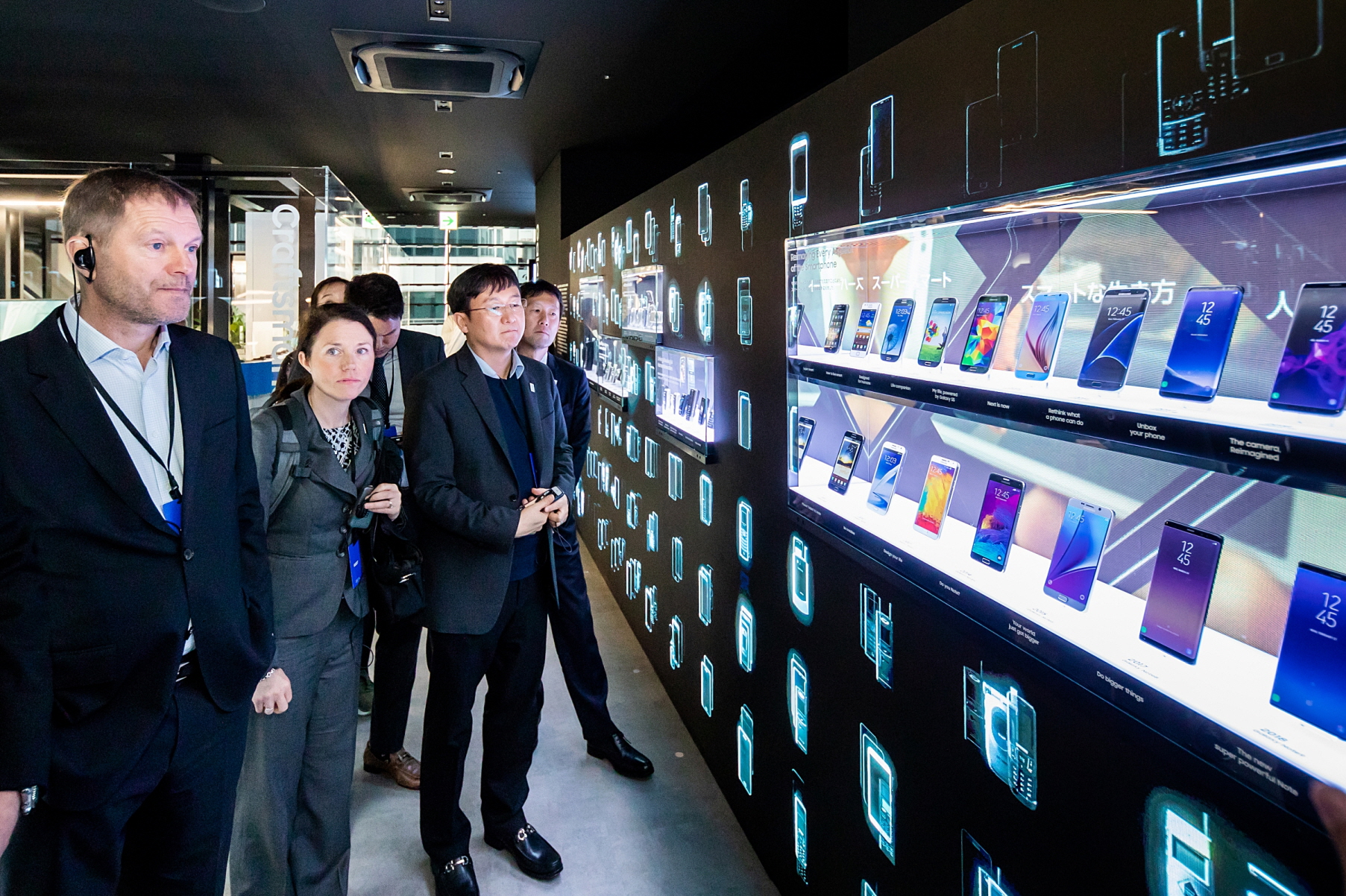 Japanese look at items on display "Galaxy Harajuku," the largest-ever smartphone publicity pavilion in the world, which Samsung Electronics opened in March 2018.

Semiconductor Vision 2030

Vice Chairman Lee, recognizing the growth potential of the non-memory segment like CPUs, mobile AP, image sensors and foundries, unveiled a vision and investment plan to achieve the goal of becoming a No. 1 non-memory maker in the world, in addition to its current position as memory-chip leader.

The Semiconductor Vision 2030, announced on April 24, calls for cumulative investments worth 133 trillion won by 2030 – 73 trillion won for R&D and 60 trillion won for facility investments. The latest master plan also contained a strategy to expand non-memory production using the new extreme ultraviolet line in Hwaseong Gampus in Gyeonggi-do.

Explaining the background of the latest investment plan, a Samsung Electronics official said Samsung Electronics has so far maintained a leadership role in the global memory market, contributing to shoring up the national economy, and it is designed to explore new opportunities and growth potential of bigger market system chips.

Non-memory chips play significant roles in the IT sector. For instance, processors, communication chips and image sensors play the role of a human brain, mouth and eyes. In particular, there are plenty of companies specializing in each segment, like fabless chip makers, which outsource chip making to a production company or foundry. Currently, about 8,000 kinds of products are put on the market since each process is specialized and products are churned out in a format of a few products and mass production.

Even though each market survey institution gives different figures, the market consensus has indicated that the memory segment has a 35 percent stake in the global chip market, whereas the non-memory segment accounts for the remaining 65 percent.

The research company Gartner reported that Samsung Electronics took up a 15.9 percent stake in the whole chip market to retain the No. 1 position, surpassing Intel. Samsung's dominance is owed to its overwhelming market control of DRAMs and NAND flesh chips, it said.

When it comes to the system chip sector, it is a different story. For example, frontrunners of the non-memory segment are Intel of CPS, Qualcomm of the mobile process segment, Broadcom of network chips, Sony of image sensors and TSMC of foundries.

The Strategy Analytics reported that QualComm of the United States is a juggernaut with a 37 percent share (based on shipments last year) in the mobile segment, equivalent to the brain of the smartphone, and Samsung Electronics ranked 4th with a 12 percent stake.

The TSR reported that Samsung Electronics placed 2nd with a 23.3 percent share, trailing the leader Sony with a 26.1 percent share in the market of image sensors transforming images into digital signals.

Samsung Electronics' vision of rising to a non-memory leader may be construed as the company's determination to enhance its full-fledged leadership in the global chip market in terms of both quality and quantity.
Early this year, Vice Chairman Lee stressed the need for strengthening the competitiveness of the non-memory segment such as automotive electronic chips, sensors and foundries on top of continuous technology innovation to overcome the market stagnation of the memory segment.