KEPCO Signs Deal on Use of KEPCO's Public Chargers with 4 More EV Charging Service Providers
KEPCO's public charging infrastructure will be opened to EV charging service providers, providing diverse EV car charging services using KEPCO's charging infrastructure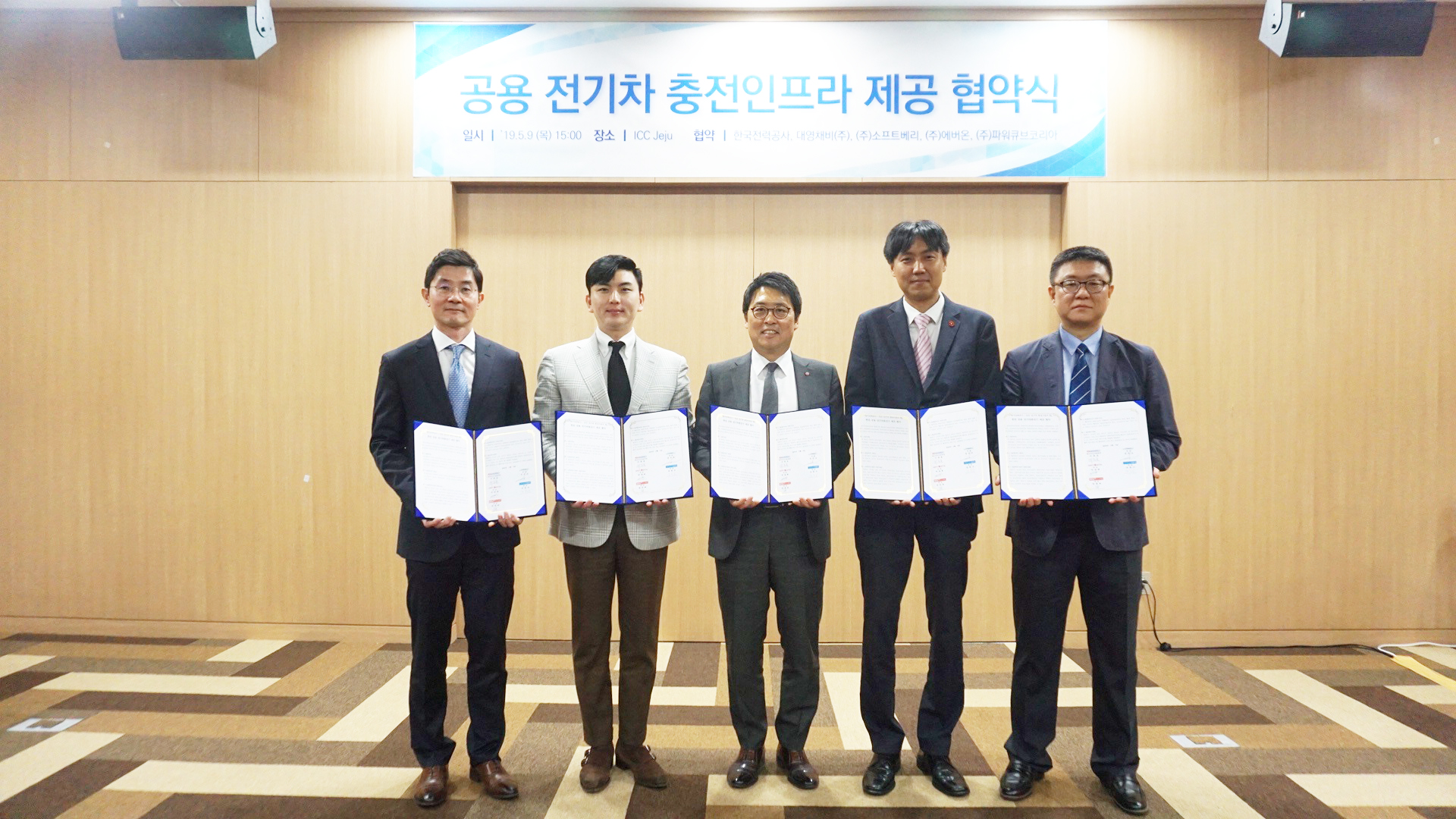 Lee Joon-ho, head of the New Energy Business Division at KEPCO poses with CEOs of four EV charging service providers after they signed an agreement on the provision and use of public chargers, operated by KEPCO. (Photo: KEPCO)
Korea Electric Power Corp. (KEPCO) signed an agreement on the provision and use of public chargers, operated by KEPCO, with four more EV charging service providers, KEPCO said on May 9. The four new EV charging service providers, benefiting from the latest deal, are Daeyoung Chaevi, SoftBerry, Everon, and Power Cube Korea.

That brings to seven the number of EV charging service providers in operation.

Under the deal, KEPCO's public charging infrastructure will be opened to EV charging service providers, which in return will provide diverse EV car charging services using KEPCO's charging infrastructure. Currently, KEPCO has built 1,231 charging units - 1,132 high-speed chargers and 84 slow-speed chargers.

EV charging service providers are allowed to use KEPCO's public charging infrastructure, thus reducing investments at an initial stage. EV charging service providers find it hard to recoup costs to build infrastructure, so the EV charging service market is led by the government.

Using government subsidies, EV charging service providers have installed high- and low-speed chargers, thus securing stable business opportunities, and the market is expected to be boosted through the development of diverse service models.

KEPCO plans to open its public charging infrastructure to the private sector on a gradual basis, and make efforts to reinvigorate the EV charging market through the development of diverse services with partner companies and improve customer services.

Smart Energy Industry Forum Inaugurated

The Smart Energy Industry Forum was inaugurated with the goal of nurturing the new industry of smart energy by combining the energy and ICT industries recently. The forum has been formed by people from the Korean energy community, including former KEPCO president Cho Hwan-eik, now Nokhyeon Research president, who chairs the forum.

At an inaugural forum that took place on April 30, KEPCO President Kim Jong-kap give a presentation as a keynote speaker on the topic "Changes of the Power Industry and Smart Energy."

Yoon Won-suk, a former KOTRA director, spoke on the promoting of Korean companies' entry into overseas smart energy markets. Paik Seung-dal, a division head of Korea Trade Insurance Corp. (K-sure) also gave a lecture. The participants had question and answer sessions with company representatives.

KEPCO 1st Korean Public Entity to Inaugurate Big Data Convergence Center

Korea Electric Power Corp. (KEPCO) has inaugurated a power big data convergence center to spearhead the creation of new services based on big data and an ecosystem of data sharing.

Among roughly 90 people on hand at a ceremony to open the big data convergence center were officials from KEPCO and subsidiary power companies, the Ministry of Trade, Industry and Energy, related companies and academics.

KEPCO now operates 261 power systems processing some 3 trillion pieces of data. In particular, power metering data have closer relations with public life. Its convergence with corporate data will be a basis for creating new value-added industries.

The newly inaugurated power big data convergence center consists of a data science research lab responsible of analyzing power big data, a power data sharing center designed to open data for utilization, and the data service trade portal "Energy Marketplace." The data science research lab will analyze models specialized for the energy sector. It is manned by global data experts and in-house staffers.