The annual event checks on 57 water dams and reservoirs across the country for water management conditions and damage during typhoons, setting up ways to counter them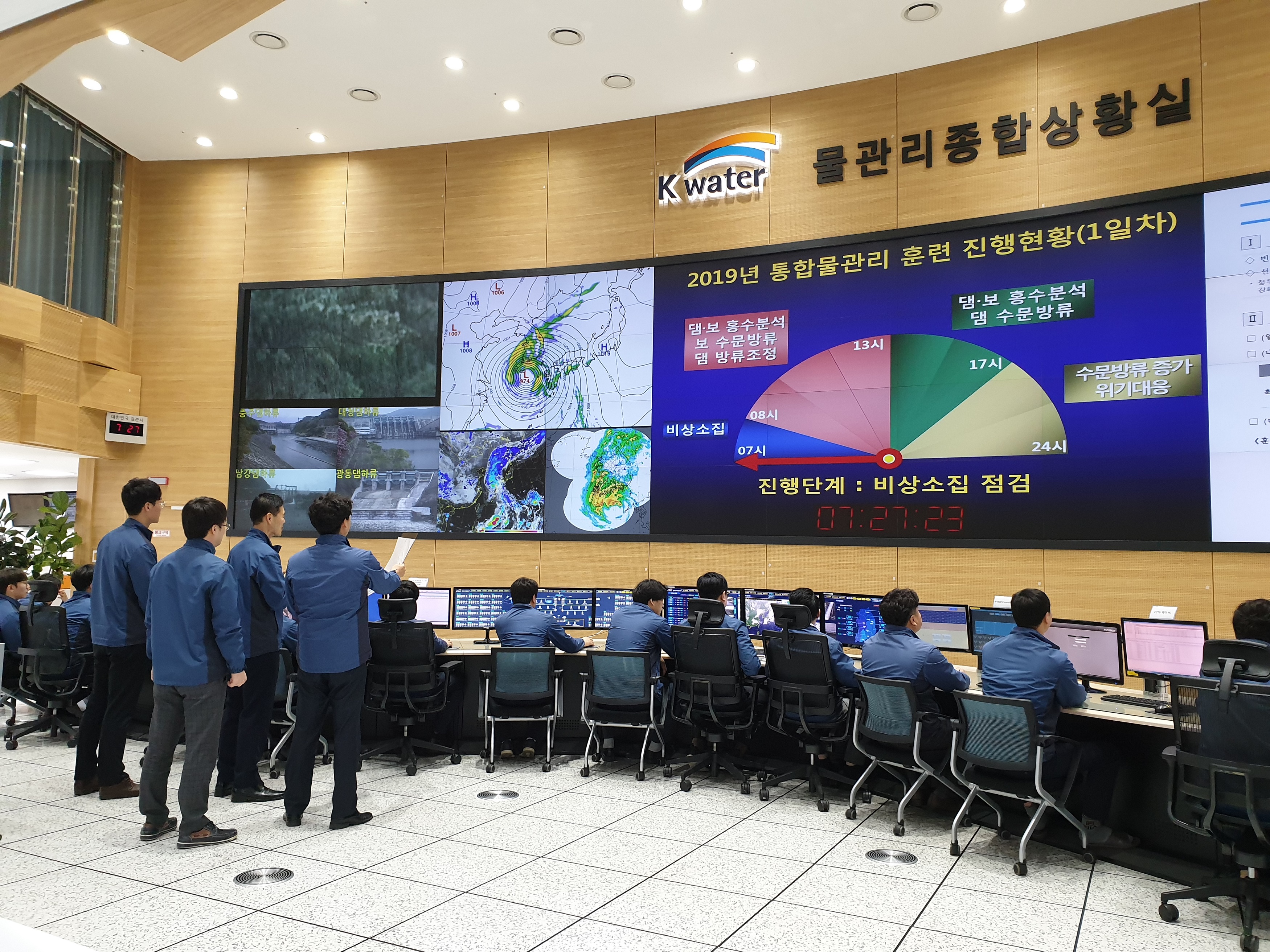 A scene from the K-water Situation Room to check on dams and reservoirs across the country thru electrical hookups.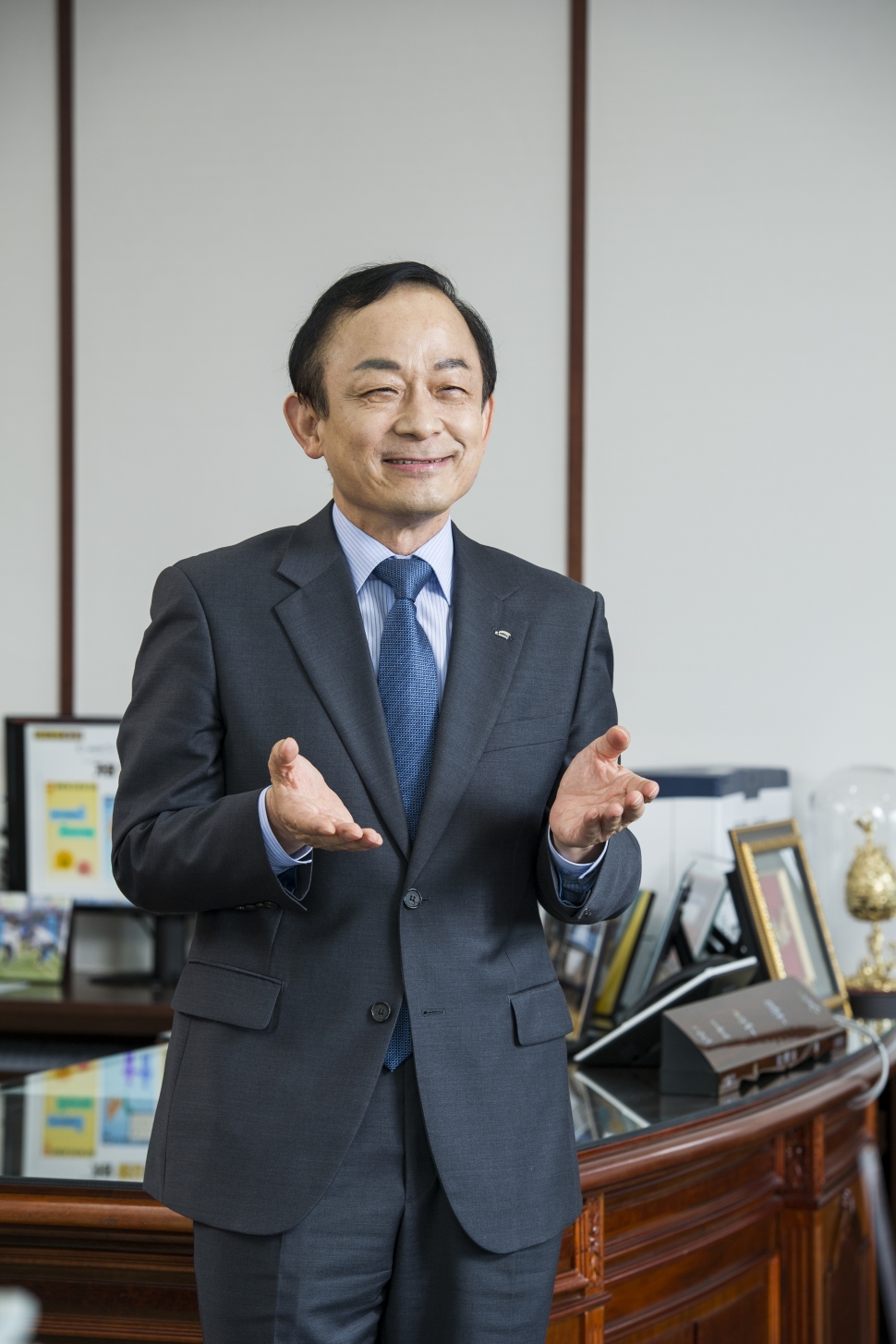 President Lee Hak-soo of Korea Water Resources Corp. (Photos: K-water)
Korea Water Resources Corp. (K-water) conducted an annual inspection on the quality, quantity and ecological conditions of 57 dams and reservoirs across the country dubbed the "2019 Integrated Water Management Drill" form April 25-26, K-water said on April 27.

The inspection conducted jointly with 125 local administrations was focused on developing a system to deal more effectively with the changes in the water resources management conditions and damages since the Basic Law on Water Management was put into force last year, and the integration of water management purposes and functions which have been managed separately so that the check on water quality, quantity and ecological conditions may be made under a unified drill annually.

Major details of the annual checkup include measures to deal with green algae by releasing water from 57 dams and reservoirs across the country. Controlling water released from the dams and reservoirs is a priority to prevent floods caused by typhoons, as well as counter measures accessible to related organizations against water contamination and dead fish from contaminated water, including causes and the measures to counter them.

K-water plans to take preemptive measures on the ways to prevent water contamination by checking the causes including the animal excrements dumped into dams and reservoirs from animal farms.

President Lee Hak-soo said the drills will strengthen further the water management capacity to deal more systematically with the water disasters. K-water as a state organization for water management will do its best to uphold people's safety in the event of water disasters and damage.

"Recently, we can see an increasing amount of dam damage or failure due to aging, earthquakes occurrence and unusual changes in weather." he said.

For this reason, dam safety is gaining more importance than ever before in terms of disaster management at a national level. Therefore, the government is trying to come up with an array of legal actions to secure consistent dam safety. Other dam management organizations are also taking various institutional and technical measures for the same purpose.

The Korea Water Resource Corporation (K-water), which is currently operating and managing 30 large dams, has developed a dam safety management system, KDSMS, for consistent and efficient dam safety management. The KDSMS consists of dam and reservoir data, a hydrological information system, a field inspection and data management system, instrumentation and monitoring system including earthquake monitoring, a field investigation and safety evaluation system, and a collective information system.

K-water, said recently it has been sharing its skills and knowhow in water management with developing countries.
In 1982, K-water established a human resource development institute and has operated education programs taught by its 1,400 experts to an average of 40,000 local and foreign officials in related professions every year.

The corporation's education and training programs on water management technology and business administration have attracted 2,600 people from 97 countries since 1997.

In April, K-water invited Danish Ambassador to Korea Thomas Lehmann to its water management facilities and sought cooperation with Denmark in water management systems.

"I learned techniques related to water resources and observed Korea's excellent water management facilities during the field trip." El Yazid, vice director of the Algerian Ministry of Water Resources who also took part in a program in April, was quoted as saying by the corporation.
"When I return home, I want to share Korea's water management skills to improve the water resources facilities there."

Based on its 20 years of experience, K-water developed a "flagship course" comprised of education and training for techniques that are generally required for improving water management in developing countries, with the participants receiving field training at the corporation's various facilities.