The non-life insurer invests $150 Mn in Canopius, a top 10 insurers in Llyod's London for a seat in the board of the company to operate in global specialist insurance market for the first time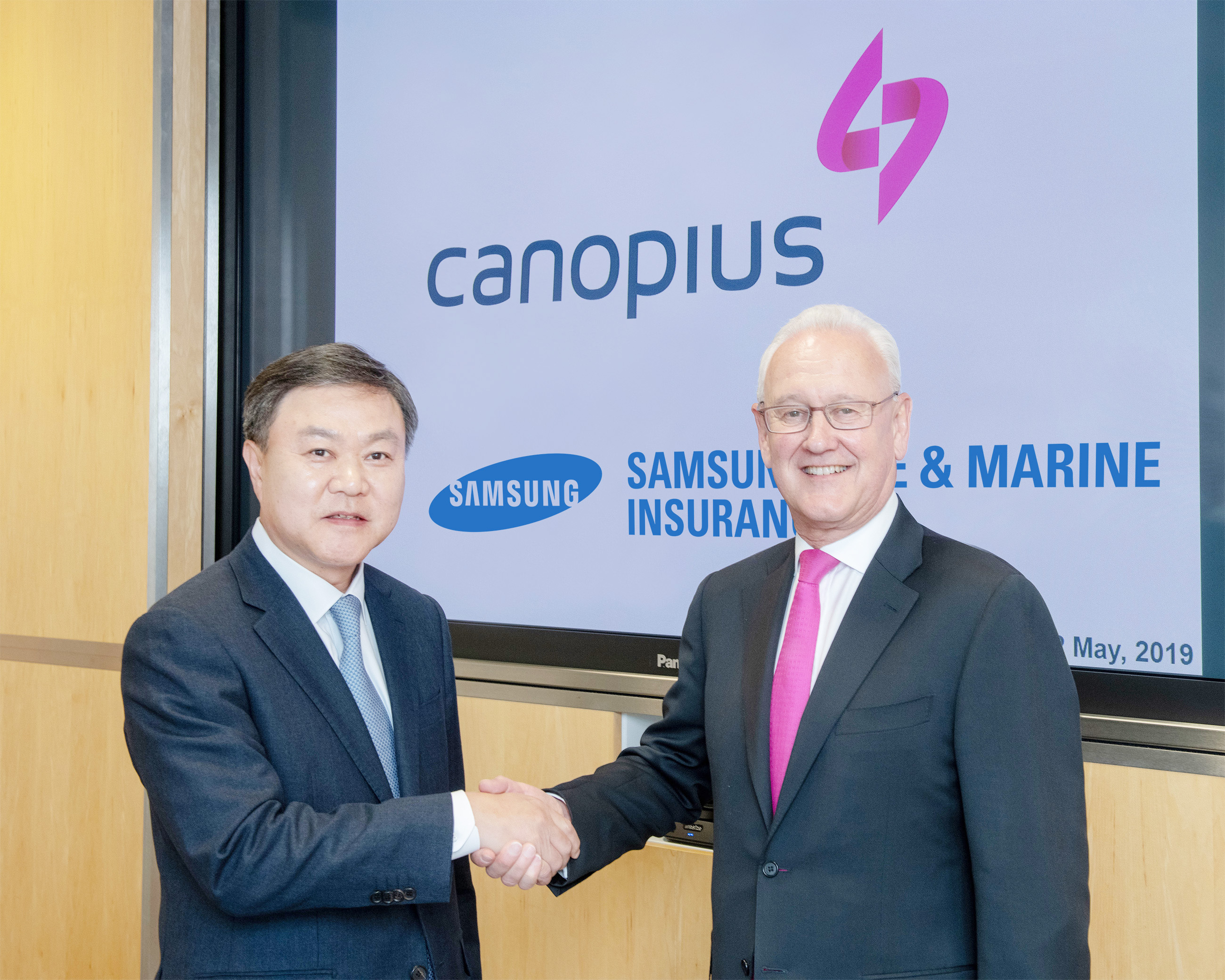 President Choi Young-moo of Samsung Fire and Marine Insurance Co. shakes hands with President Michael Watson of Canopius after signing an agreement on investment at the head office of the British insurance firm in London on May 2. (Photo: Samsung Fire)
Samsung Fire & Marine Insurance has made an equity investment in Canopius, one of the 10 insurers in Lloyd's of London, advancing into the global specialist insurance market, the company announced on May 6.

Specialist insurance covers damage from terrorist attacks and nuclear power plant accidents, damage to artworks and human body parts that traditional insurance policies cannot cover.

Samsung Fire & Marine signed a $150 million investment contract with Fortuna TopCo, the parent company of Canopius, in London on May 2. The deal gives Samsung Fire & Marine Insurance a seat at the board of Canopius, allowing it to directly participate in the company's management.

This is meaningful as Samsung Fire & Marine Insurance has moved into the Lloyd's market, which is the center of the global specialist insurance market. The Lloyd's market is a specialist insurance market in London with 330-year-long history. It reached about 52 trillion won last year.

Lloyd's of London, generally known simply as Lloyd's, is an insurance and reinsurance market located in London.

The Korean firm said that Samsung's property and casualty (P&C) insurance unit invested $150 million (170 billion won) in Fortuna Topco, which owns Canopius, on May 2. The investment, subject to regulatory consents, is set to close in the third quarter of this year.
Through the transaction, the Korean firm will become a member of Canopius' board, taking part in the company's management. Canopius is a Switzerland-based global specialty insurer and reinsurer.

Canopius decided to acquire the Lloyd's market business unit from U.S. insurance company AmTrust last month. The takeover is expected to boost Canopius's market share in the Lloyd's market to 5th place next year from 10th place now. In 2014, Korean reinsurer Korea Re entered the Lloyd's market in partnership with Beazley, a U.K. insurance company.
Samsung Fire & Marine Insurance became the first company that directly advanced into the Lloyd's market by taking over a stake in a Lloyd's insurer.

"I am absolutely delighted to welcome SFMI as a strategic investor in Canopius." said Michael Watson, chairman of Canopius.
"SFMI is one of the best known and most trusted brands in the world. Their unrivalled financial security and extensive license network complements that which we enjoy at Lloyd's." he continued.
"Together we can offer innovative customer-focused insurance solutions across the globe. We look forward to collaborating with SFMI in this venture." "We plan to work closely with the management of Canopius and share in their in-depth knowledge of the Lloyd's market." commented Youngmoo Choi, CEO of SFMI, the Seoul, Korea-based non-life insurance company.

"We look forward to participating and contributing to the development of an excellent, global insurance business in Canopius." he said. "This is a significant step forward for SFMI's long term strategy and will allow us to thoroughly prepare to become a competitive, world class P&C insurance business."

Canopius was advised by GC Securities and Freshfields Bruckhaus Deringer, SFMI was advised by Macquarie Capital (Europe) Limited and Norton Rose Fulbright.

Canopius is a global specialty re/insurer with underwriting operations in Bermuda, China, Ireland, Netherlands, Singapore, Switzerland, the UK and U.S. It underwrites through Lloyd's Syndicate 4444 (managed by Canopius Managing Agents Ltd.) and a U.S. surplus lines insurer, Canopius US Insurance, Inc.

SFMI is the leading non-life insurance company in Korea, headquartered in Seoul. In addition to property & casualty business, SFMI provides a variety of insurance products and services such as corporate pensions, annuity and health insurance.
SFMI's shares are listed on the Korea Exchange and is the largest non-life insurance company by market capitalization as of 2018. S&P and A.M. Best have affirmed ratings of AA- and A++ respectively.