Net profit at 171.1 billion won, up 33 pct YoY, making the entire year look promising, thanks to early repayment of ELS and excellent earnings in IB sector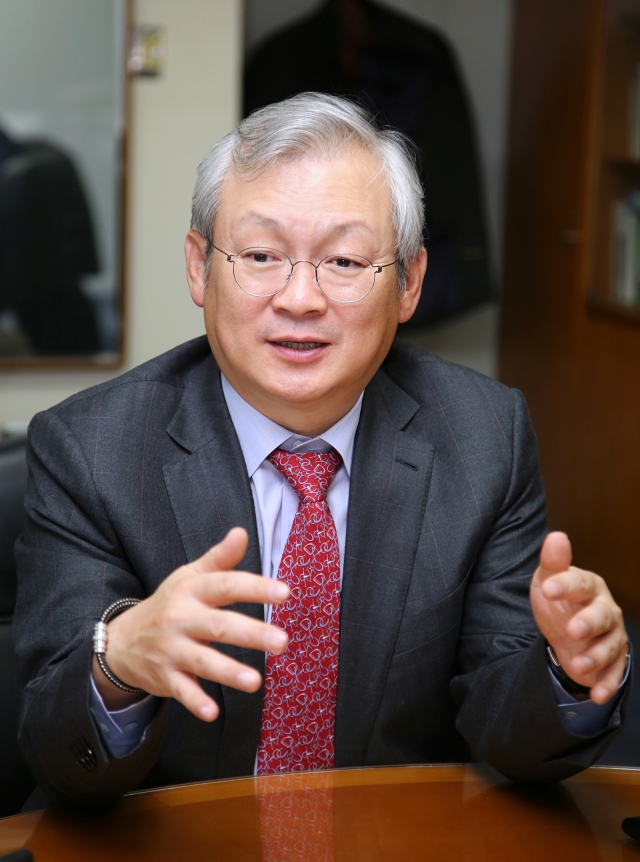 President Chung Young-chae of NH Investment & Securities Co. (Photo: NHIS)
NH Investment & Securities posted 171.1 billion won in net profit in the first quarter, up 33 percent from a year earlier. The strong performance was attributed to the growth of its investment banking division and an increase in operation profit based on advanced redemption of equity-linked securities.
The early repayment of ELS improved the trading earnings, while the IB sector posted excellent earnings from the project financing for the Seoul Square and takeover of the Seoul Tower from Samsung SDS.
NongHyup Financial Group Inc. reported an 11% jump in its first-quarter earnings from a year earlier thanks to a stellar performance of its banking and investment securities units.
NongHyup Financial Group said in a regulatory filing on Monday that its net income for the first quarter ended March jumped 11 percent from the same period a year ago to 432.7 billion won ($373.1 million) on a consolidated basis. It is the first time that NongHyup Financial raised over 400 billion won in net profit in the first quarter after it transformed into a holding company structure, the group said.
NongHyup Financial owed the stellar result largely to a surge in interest income and securities commissions at its banking and brokerage units.
The group's net income could increase to 505.1 billion won if 103.4 billion won worth of quarterly funds paid to National Agricultural Cooperative Federation for agricultural support was added.
The solid earnings suggested that the financial group's flagship banking and securities businesses have successfully maintained steady growth under the new leadership of Kim Gwang-soo who took the helm a year ago. By company, its key lending unit NH NongHyup Bank and brokerage unit NH Investment & Securities each saw its net profit soar to a quarterly record high in the January-March period.
NongHyup Financial Group seeks to expand mostly in Southeast Asia where it can help boost agriculture financing, investment banking, retail banking and microfinance. "Our main Southeast Asian base will be Vietnam." a company official said.
Vietnam's population is "young" with a vibrant agriculture industry, he explained, adding there are a lot of Korean companies seeking to enter the market there.
Korea Investment & Securities Co. Ltd. is nearing a 370 billion won ($330 million) deal to buy an office complex near Paris, while a South Korean brokerage consortium is reportedly keen to snap up a skyscraper in the same district in a deal estimated at 1 trillion won ($893 million).
Expectations of stable yields of 7% to 9% per year spurred interest in Tour Europe and Tour Majunga located in La Defense, a business district west of Paris, from South Korean brokerage houses which are diversifying real estate portfolios into northern and eastern Europe, including Ireland and Poland.
For Korea Investment, the upcoming acquisition of Tour Europe will mark its third investment in Europe's property market since the beginning of the year, following deals in Italy and Denmark.
To close the acquisition of Tour Europe in March, it will raise a total of 170 million won through a promissory note issuance and resale to domestic institutional investors. For Tour Majunga, a 45-story skyscraper, a consortium of NH Investment & Securities Co. Ltd. and Hana Financial Investment Co. Ltd. is believed as a front-runner in the auction.
NH Investment & Securities Co., Ltd. engages in brokerage services. It operates through the following business areas: Investment Marketing, Investment Brokerage, Investment Advisory, Discretionary Investment, Entrusted Investment and Trust Business.