The group posts 432.7 billion won in net profit, the largest quarterly figures in its history, up 11 percent YoY, thanks to hikes in interest earnings and sound management of operation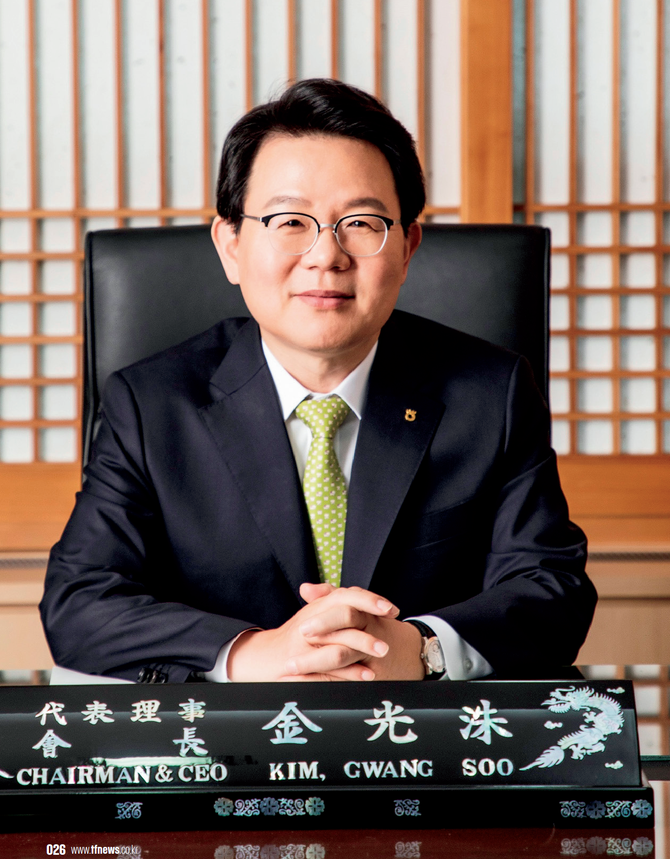 Chairman Kim Gwang-soo of NH Financial Group. (Photo: NHFG)
NH Financial Group reported an 11-percent jump in its first-quarter earnings from a year earlier thanks to a stellar performance of its banking and investment securities units.

NH Financial Group said in a regulatory filing on April 29 that its net income for the first quarter ended March jumped 11 percent from the same period a year ago to 432.7 billion won ($373.1 million) on a consolidated basis. It is the first time that NongHyup Financial raised over 400 billion won in net profit in the first quarter after it transformed into a holding company structure, the group said.

NongHyup Financial owed the stellar result largely to a surge in interest income and securities commissions at its banking and brokerage units. The group's net income could increase to 505.1 billion won if 103.4 billion won worth of quarterly funds paid to National Agricultural Cooperative Federation for agricultural support was added.

The solid earnings suggested that the financial group's flagship banking and securities businesses have successfully maintained steady growth under the new leadership of Kim Gwang-soo who took the helm a year ago. By company, its key lending unit NH NongHyup Bank and brokerage unit NH Investment & Securities each saw its net profit soar to a quarterly record high in the January-March period.

NH NongHyup Bank reported a net profit of 366.2 billion won in the first quarter, up 15 percent from the same period a year earlier. Interest income jumped 7 percent to 1.3 trillion won during the same period, while non-interest income including commissions from foreign exchange and derivative products increased 43 percent to 99.5 billion won.

NH Investment & Securities also raised 171.1 billion won in net profit in the first quarter, up 33 percent from a year earlier. The strong performance was attributed to the growth of its investment banking division and an increase in operation profit based on advanced redemption of equity-linked securities.

NongHyup Financial Group's insurance units, however, lagged far behind its sibling banking and securities units in the January-March period.

NongHyup Financial Group will draw a complete roadmap for its expansion in Southeast Asian markets this year, the holding company said recently.

The plan will include an investment in Vietnam-based Agribank, which is seeking foreign investors as it moves to launch an initial public offering this year. NongHyup Financial said it was "positively" considering investing in the state-run Agribank.

In Vietnam, a foreign investor is allowed to acquire up to a 30 percent stake in a local bank. The country's financial authorities are considering raising the investment cap to attract foreign investors and meet growing demand for loans.

This comes after NongHyup Chairman Kim Gwang-soo met with Agribank Chairman Trinh Ngoc Khanh in Hanoi, Feb. 21, as part of his seven-day trip to Vietnam, Myanmar and Cambodia last week.

NongHyup Financial earlier told a local media that it is seeking to make deals in Southeast Asian countries, including Vietnam and Indonesia in 2019.
The deals include forging strategic partnerships through equity investments and joint ventures. It will put NongHyup Bank and NH Investment & Securities in Vietnam at the forefront for its Southeast Asian expansion, the group said.

NongHyup Financial has injected 30 billion won ($27 million) into NH Investment in Vietnam.

"As a latecomer in entering global markets, NongHyup Financial will need to collaborate with local financial institutions and carry out our plan flexibly with our partners by sharing our unique business models." Chairman Kim said in a press statement.