The speedy payment service to start from the bank's branch in Taipei to handle such services as remittance and ATM cash service and additional services added as the bank's global loyalty network expands down the road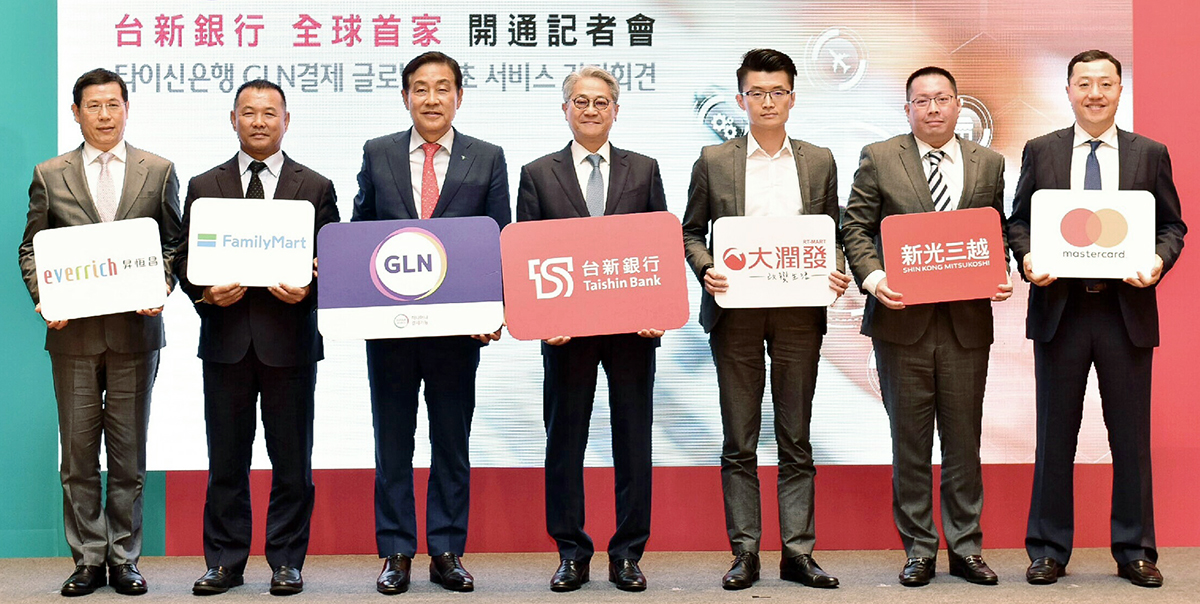 A group of dignitaries led by Chairman Kim Jung-tai of Hana Financial Group, 3rd L, and leaders of local banks in Taipei, Taiwan, pose for a photo session at a launching ceremony of the Hana Bank's overseas electronic payment service at the bank's Taiwan branch on April 24. (Photo: Hana Financial Group)
Hana Financial Group will begin its overseas electronic payment service from Hana Bank's Taipei Branch in Taipei, Taiwan, the financial group said on April 24.

Chairman Kim Jung-tai said the Hana members electronic payment service in Taiwan is part of Hana Financial Group's global loyalty network (GLN), which has been in the works for the past several years, and will be continuously developed so that the customers will be able to use the payment service in such areas as remittance, and ATM cash service and enjoy the benefits from diverse coupons and services from the integrated GLN platform.

He made the statement at an event to celebrate the launch of the electronic payment service for Hana members in Taiwan attended by many local dignitaries led by Chairman Wu Dongryang of Taishin Financial Group and the executives from local firms that will accept the Hana Money for payments, including Ever Rich duty free shop, the Family Mart, and Altimart and the Shinkwang Mistukoshi Department Store in Taiwan, among others.

"Hana Money" will be honored at important shops and markets in Taiwan, including Ever Rich duty free shops, vending machines and the traditional night market member stores so that customers who are entitled to the use "Hana Money" will not have to go currency exchange shops or banks to exchange U.S. dollars with Taiwanese currency, the financial group said.

Also slated to accept Hana Money card will include such companies as the Familymart, the largest convenience store chain in Taiwan, the Altimart, the largest discount mart in the island country, the Shinkwang Mistukoshi Department Store chain and the Taiwan Car Rental member outlets.

Officials of the group said the electronic payment service that the group plans to expand its use overseas is a result of the financial authorities including the Ministry of Economy and Finance and the Financial Services Commission to expand the use of the Fintech in the financial industry.

GLN is an innovative integrated platform network that enables financial institutions, retailers and point businesses, around the world to connect their digital platforms in one network to freely exchange and use digital assets and electronic money such as points and mileage.
The official gathering ceremony of GLN Consortium was held in November 2017 with 36 companies in 11 countries. It is currently under contract with 24 companies and detailed discussions are underway with 15 banks and 20 retailers.

Hana Financial Group (HFG) announced it signed a Memorandum of Understanding (MOU) with Oracle in Singapore recently under which Oracle will work with HFG in the building and joint marketing of HFG's Global Loyalty Network (GLN).

Kim Jung-Tai, chairman of the Hana Financial Group, and Loic Le Guisquet, president of Oracle EMEA & JAPAC, were in attendance at the MOU ceremony. Both companies confirmed their mutual cooperation for GLN's successful launch of services and global expansion, and agreed to collaborate on new technologies such as blockchain, membership, e-money and AI through HFG's business know-how and Oracle's technology capabilities. HFG will also modularize the results of the project, including digital asset exchange, and conduct consulting and sales.

Kim Jung-Tai said, "Through this collaboration, we expect it will be easier for GLN to expand worldwide using Oracle's leading and innovative cloud technologies that enable digital transformation. Building a global digital asset transfer network is a level of innovation that is rarely seen around the world and when the global integration platform is built, GLN's customers will be able to enjoy locally offered deals and discounts around the world."

Hana Financial Group Inc., through its subsidiaries, provides financial services in South Korea. The company engages in commercial banking, foreign currency exchanges, and other related operations.