Financial group posts 7.1 percent rise in Q1 net profit year on year thanks to excellent performance by affiliate Orange Life Insurance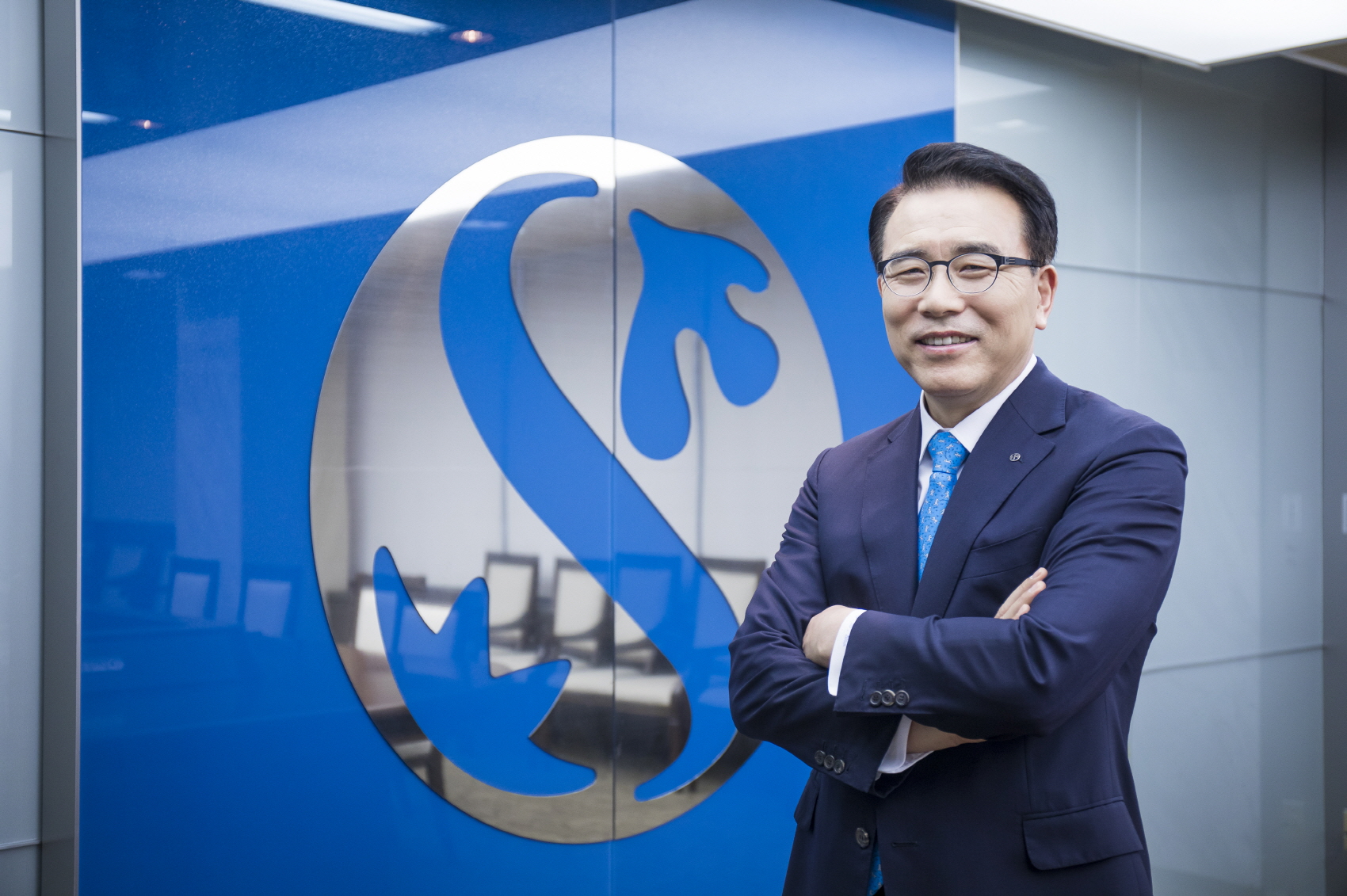 Chairman Cho Yong-byeong of Shinhan Financial Group. (Photo: SFG)
Shinhan Financial Group Co. reported a 7.1 percent increase in its net profit for the first quarter ending March from a year earlier, thanks to gains from the insurance unit, Orange Life Insurance, Ltd. it acquired last year.

Shinhan Financial Group said in a regulatory filing on April 30 that it posted a net profit of 918.4 billion won ($791 million) on a consolidated basis in the January-March period, up 7.1 percent from the same period a year earlier. The bottom line is well above the market expectation of 880.3 billion won.

The strong first-quarter result came after gains from Orange Life Insurance that Shinhan Financial Group acquired last year were first reflected this year. The insurance company – formerly ING Life Insurance Korea – raised 80.4 billion won in net profit in the first three months of this year, of which 47.6 billion won was added to the parent group's earnings given its 59.15 percent ownership.

Net interest margin (NIM), a key measure of bank profitability, was 2.07 percent in the first quarter, slightly lower than 2.08 percent in the previous quarter ended December. Shinhan Financial Group raised 1.9 trillion won in interest income in the first quarter, up 5.1 percent from last year.

Non-interest income also jumped 31.2 percent to 821.7 billion won, thanks to profits in global business and capital market. Earnings from commission dropped 0.8 percent from last year to 479.9 billion won.

The financial group's non-performing loan (NPL) ratio, which shows its financial soundness, increased slightly to 0.54 percent in the first quarter from 0.53 percent in the previous three months.

Its flagship unit Shinhan Bank Co. raised 618.1 billion won in net profit, up 2.9 percent from a year ago. The amount of won-denominated loans came to 215 trillion won in the first quarter, up 2.6 percent from the previous quarter, marking the highest growth in a decade. Household loans jumped 2.2 percent and corporate loans 3.0 percent during the same period. Shinhan Bank's NIM was 1.61 percent, the same as the previous quarter.

Shinhan Financial Group Ltd. provides financial products and services in South Korea and internationally.

The company operates through five segments: Banking, Credit Cards, Securities, Life Insurance, and Others. It offers retail banking services, including mortgage and home equity, and retail lending; demand, savings, and fixed deposit-taking; checking accounts; electronic banking and automatic teller machines (ATM); and bill paying, payroll and check-cashing, currency exchange, and wire fund transfer services.

The company also provides corporate banking services, such as investment banking, real estate financing, overseas real estate and development project financing, infrastructure and structured financing, equity/venture investments, mergers and acquisitions consulting, and securitization; derivatives services comprising securities and derivative products, and foreign exchange trading; and working capital loans and facilities loans.

In addition, it is involved in treasury and investment activities in international capital markets consisting of foreign currency-denominated securities trading, foreign exchange trading and services, trade-related financial services, international factoring services, and foreign banking operations.

Further, the company offers trust account management, securities brokerage, and asset management services, as well as leasing and equipment financing, savings banking, loan collection and credit reporting, collective investment administration, private equity investment, and financial system development services.

As of December 31, 2017, it operated a network of 865 service centers; 6,076 ATMs; 9 cash dispensers; and 35 digital kiosks. Shinhan Financial Group Co., Ltd. was founded in 1982 and is headquartered in Seoul.