Hosts 'Real 2019' to introduce new technologies and successful examples related to digital transformation businesses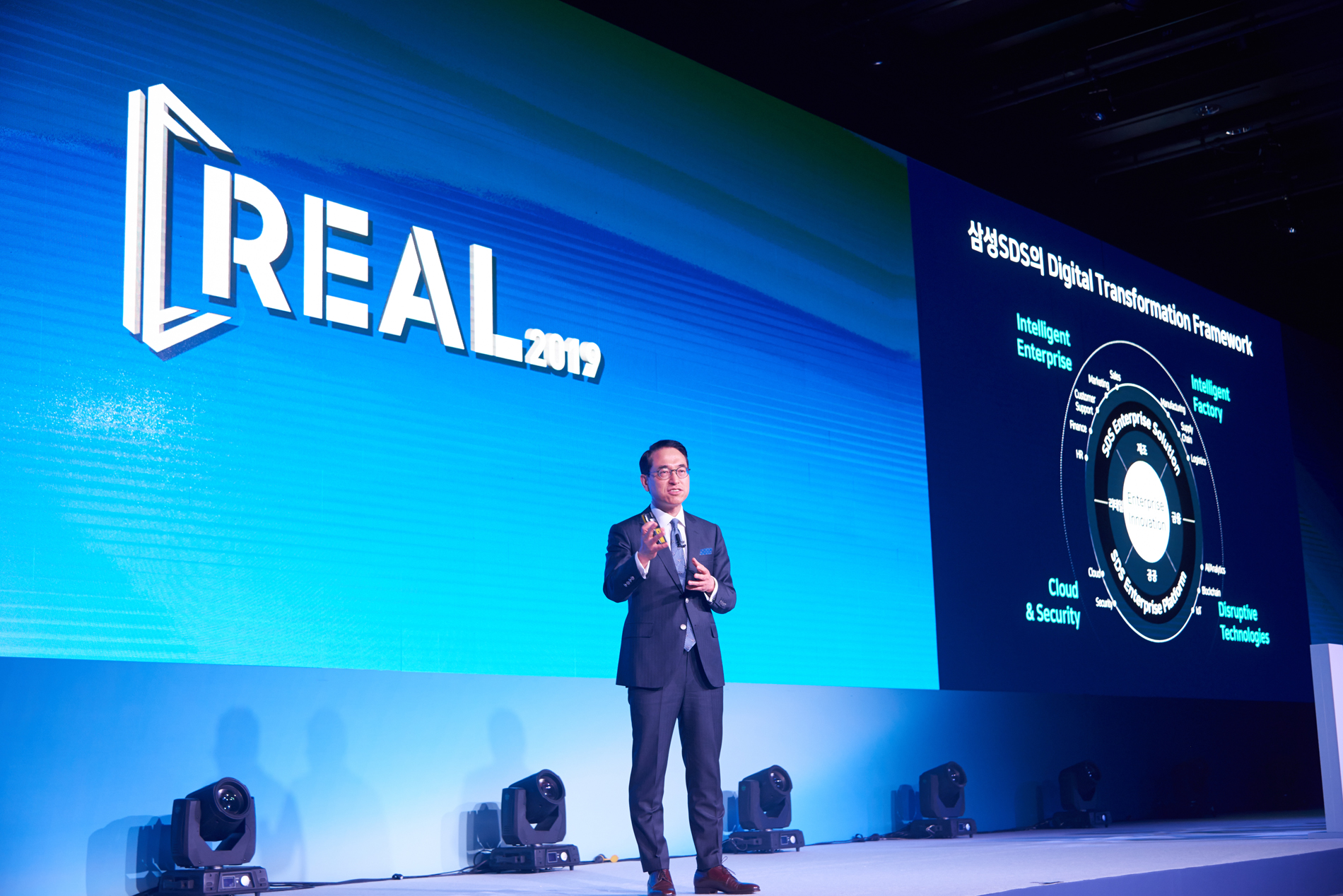 Samsung SDS President Hong Won-pyo reveals his company's plan at the "Real 2019" the company hosted at Shilla Hotel in Seoul on May 8. (Photo: Samsung SDS)
Samsung SDS is strengthening projects to help companies pursue digital transformation. The company plans to open a "digital transformation framework" to the public so that customer companies can plan and complete a digital transformation of their networks.

Samsung SDS revealed the plan as the company hosted the "Real 2019" at Shilla Hotel in Seoul. The event was designed to introduce new technologies and successful examples related to digital transformation businesses. Digital transformation refers to the improving of the way companies are operated and restructuring of business infrastructure using IT technologies such as AI and cloud.

Samsung SDS President Hong Won-pyo, a keynote speaker, said, "Front-running companies are transformed fast based on AI-enabled intelligence, surpassing informatization and automation."

Samsung SDS's innovative solutions and platforms will allow companies to lead to successful digital transformation, he added.

The digital transformation platform, unveiled by Samsung SDS this time, is designed to support digital transformation of customer companies' production, marketing, business and management regimes.
The platform, embracing the latest IT technologies, including cloud, AI, blockchain and IoT, has integrated all technologies Samsung SDS has accumulated.

Samsung SDS is seeking to implement a smart factory business based on 5G mobile telecom network with KT. President Hong said the most promising sector that can make the most of the characters of 5G mobile telecom network such as super high-speed and super delaying is smart factory. More intelligent smart factories will accelerate innovation of the manufacturing field, he added.

Samsung SDS's Blockchain Platform Nexledger Goes Global

Blockchain is drawing attention as a technology to promote efficient enterprise collaboration by enabling secure storage and immediate sharing of information without an administrator. Gartner Group forecasts that the global enterprise blockchain platform market will grow up to 128% a year until 2021.

Companies are keeping an eye on enterprise blockchain platforms related to their businesses, mainly due to a growing need for cross-industry cooperation and business ecosystems amid a rapidly changing business environment.

The traditional method of sharing information via third party to secure trust among involved parties is inefficient and incurs additional costs, whereas blockchain technology guarantees both transparency and cost-efficiency.

In 2017, Samsung SDS developed its own enterprise blockchain platform, Nexledger. Nexledger can combine various customized features on Hyperledger Fabric and Ethereum, the most commonly used open source platforms in the blockchain market.

For enhanced security and expandability, Samsung SDS also offers its own distributed consensus technology called Nexledger Consensus Algorithm (NCA), allowing corporate customers to choose the most suitable technology to create business value.

Samsung SDS has deployed Nexledger in various industries for blockchain-based innovation, accumulating several actual cases that can be universally applied to different areas: co-verification system for banks, maritime logistics, export customs services, the product design and manufacturing process information management of manufacturers and smart contracts.

At IBM Think 2019 held in February this year, Samsung SDS unveiled Nexledger Accelerator that can be deployed in all Hyperledger Fabric-based blockchain solutions without the need to modify existing blockchain source codes. Moreover, Nexledger Accelerator improves the transaction speed by more than 10 fold.

Samsung SDS plans to expand the global enterprise blockchain platform business by continuously advancing Nexledger and exploring global business opportunities.