Show over landmark skyscraper 555 meters above sea level lasts about 11 minutes and 50 seconds, attracting roughly 400,000 spectators around tower and Seokchon Lake area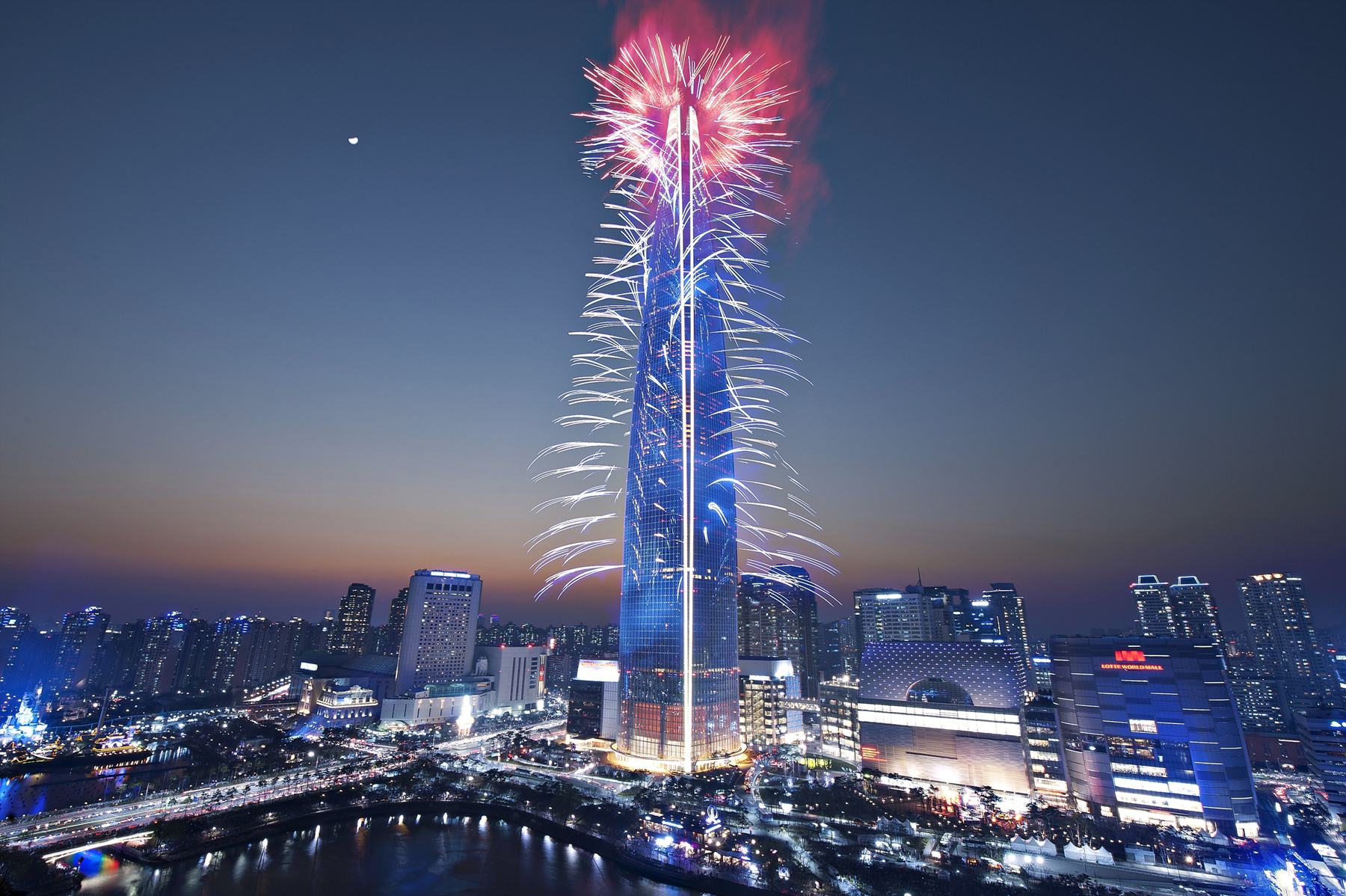 A fascinating view of the blossoming of fireworks along the Lotte World Tower, the 123-story landmark skyscraper in Seoul on May 4.
Lotte Group Chairman Shin Dong-bin (Photos: Lotte Group)
Many people still recall a breathtaking fireworks event held on the Lotte World Tower in April 2017 in celebration of the opening of the 123-story skyscraper. At that time, a tumultuous situation prevailed in the wake of China's retaliation against the deployment of the self-defense U.S Terminal High Altitude Area Defense (THAAD) in Korea and impeachment of former president Park Geun-hye.

Some Lotte officials proposed the cancellation of the fireworks. But Lotte Chairman Shin Dong-bin pushed ahead with a plan to hold the event, saying despite an hard situation, hope for the future had to be maintained, and Lotte should do what it could.

The fireworks show had gotten a big reception for being unique. The event attracted some 400,000 spectators. Now, the fireworks show on the Lotte World Tower was resumed on May 4 after a two-year hiatus.

The event started at 8 p.m. and the fireworks show ensued from 8:30 p.m. to the tune of music such as Arirang and original soundtracks of the musical "La La Land" and the musical "The Greatest Showman." As many as 30,000 rounds of firecrackers blasted off from about 750 places of the Lotte World Tower, blossoming over the area around Seokchon Lake.

GroupeF, who performed a fireworks shows in Dubai and in Paris, as well as Hanwha, a company with some of Korea's best technology, were involved in the show. Fireworks rose over Seoul as if a dragon climbed up the smooth curved façade of the Lotte World Tower, prompting shouts of joy from spectators. Lotte said the cost of the event stood at 6 billion won in total.

The fireworks show cost 500 million won per minute. The show lasted longer than counterparts in other high-rise buildings such as Taipei 101 Tower in Taiwan.

The show attracted roughly 400,000 spectators around the Lotte World Tower and the Seokchon Lake area.