Lotte Group Chairman Shin's Big U.S. Gambit Pays Off
Becomes 1st South Korean conglomerate leader to meet with U.S. President Trump at W.H.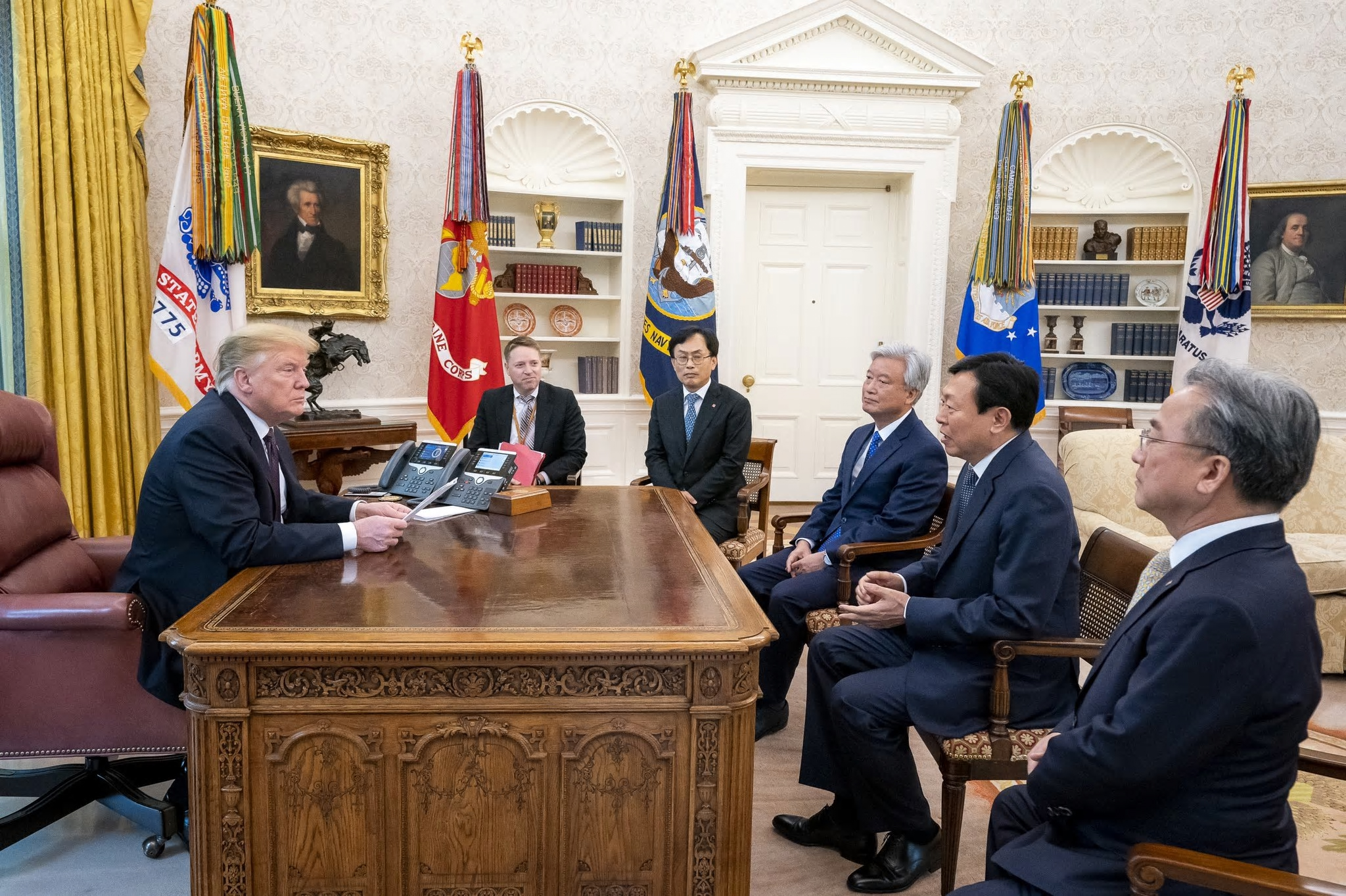 U.S. President Donald Trump meets with Lotte Group Chairman Shin Dong-bin at the Oval Office in the White House on May 13. Lotte Chairman Shin became the first South Korean conglomerate leader to have such a meeting.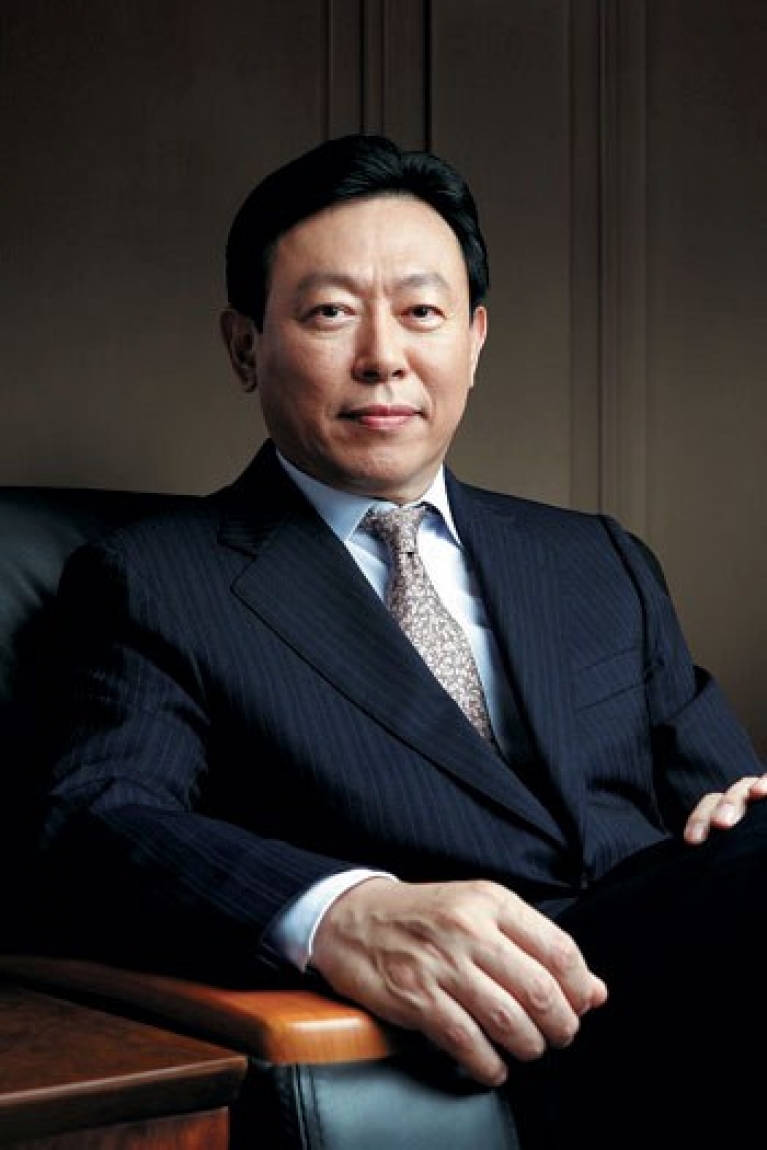 Lotte Group Chairman Shin Dong-bin. (Photos: Lotte Group)
Lotte Group Chairman Shin Dong-bin's big bet in the U.S. petrochemical sector is already paying dividends, helping the company to rebound from hardships in the local Korean market in recent years. That included geopolitical backlash from China, which retaliated after the company handed over a golf course to the Korean government to host the site of a U.S. missile shield.

Chairman Shin participated in a ceremony on May 9 to dedicate the $3.1 billion Lake Chares Complex of Lotte Chemical in Lake Charles, La., and he was welcomed by U.S. President Donald Trump at the White House days later.

During the past three years, Lotte Chemical developed a $1.9 billion ethane cracker on-site with Wesrlake, and the company built a $1.1 billion monoethylene glocol manufacturing plant.

Lotte Chemical's dedication of the manufacturing plant has drawn keen attention as it is capable of producing ethylene, an important chemical material, at prices 30 to 40 percent cheaper than conventional chemical plants. Despite pessimistic views that such a plant would be unfeasible as the price of crude oil plunged below $30 per barrel two years ago, Lotte Chemical made up its mind to launch the project in 2016.

Lotte Group Chairman Shin's decision has paid off, and it may be a boon to the group's goal of becoming a global chemical player. The United States, the most active country to exploit shale gas development, is aiming to max out shale gas use for the chemical industry. In particular, as international crude oil prices skyrocketed above $100 per barrel in the early 2010s, global chemical companies scrambled to venture into shale gas development projects.

In 2014, Lotte Chemical teamed up with Axiall to build the EG plant in Louisiana. As international crude oil prices plunged, many companies pulled the plug on their projects.

President Hwang Jin-gu of Lotte Chemical America said that even though crude oil prices plunged to $30 just before the groundbreaking, Lotte Group Chairman Shin had the "guts" to push the project ahead. As the progress of the project now stands at 97 percent and crude prices have soared to $80, looking back at the groundbreaking, it was felt like a dream, he recalled.

Lotte Chemical plunked down about $3.1 billion for the complex in Louisiana, the largest investment by a Korean chemical company in the state.

The company's Louisiana plant is capable of producing 1 million tons of ethylene and 700,000 tons of EG, the first fabrication of ethylene, annually. Lotte Chemical's combined ethylene production in Korea and abroad will amount to 4.5 million tons, ranking the chemical company No. 1 in Korea, and accounting for 2.6 percent of global ethylene production.

Lotte Chemical's EG plant in Louisiana is employing an innovative method of drawing ethylene from shale gas wells.

Even though Shin had undergone an investigation from the prosecution into suspected management malpractices in June 2016, the Lotte Group Chairman attended a ceremony to launch the EG plant in Louisiana. At that time, Shin said the project would serve as an opportunity for Lotte Chemical to rise to a global integrated chemical company.

As rival companies gave up on their projects, Lotte Chemical managed to secure essential equipment at lower prices. As crude oil continued to rise afterward, rival companies belatedly began to build similar plants, but it will take three to four years to complete them. As a 2nd wave of shale gas is approaching due to rising crude oil prices, Lotte Chemical's EG plant will likely post better profits, a Lotte Chemical official said.

Lotte Chemical's Louisiana plant is praised as an exemplary case of economic cooperation between Korea and the United States. Lotte Chemical brought facilities worth about $500 million from Korea and assembled them in Louisiana.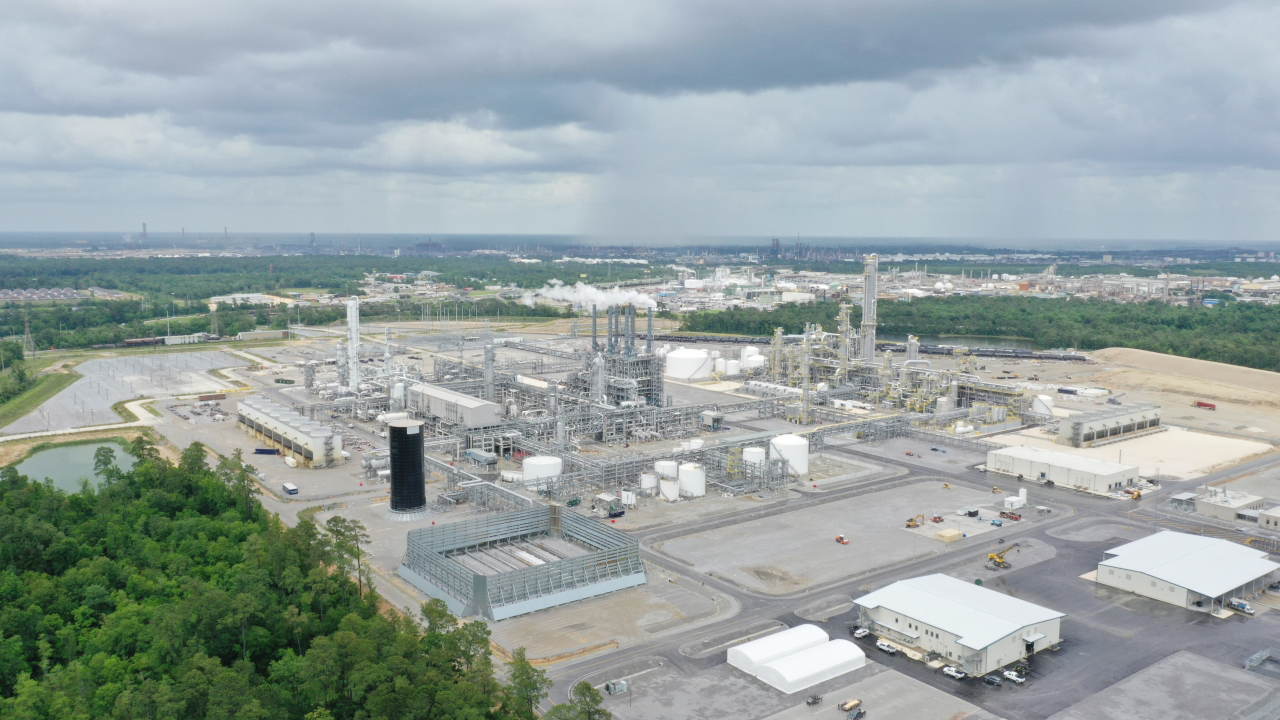 A view of the $3.1 billion Lake Chares Complex of Lotte Chemical in Lake Charles, La., which was dedicated on May 9 in a ceremony.
Dignitaries, including Korean Prime Minister Lee Nak-yeon and Lotte Group Chairman Shin Dong-bin, participated in a ceremony to dedicate the $3.1 billion Lake Chares Complex of Lotte Chemical in Lake Charles, La.

Lott Chmn. Shin's Big Investment in U.S. Lauded by President Trump

Lotte Group Chairman Shin met with U.S. President Donald Trump at the White House on May 13, becoming the first South Korean conglomerate leader to have such a meeting.

Shin was in the U.S. to attend a ceremony on May 9 marking the completion of a 3.6 trillion-won ($3.1 billion) ethylene plant built by Lotte's chemicals arm in Louisiana.

"Great to welcome Chairman Shin from Lotte Group to the WH." Trump tweeted, together with a photo of himself and Shin's delegation at the Oval Office. "They just invested $3.1 BILLION into Louisiana-biggest investment in US EVER from a South Korean company, & thousands more jobs for Americans."

Referring to South Korea by its official name, the Republic of Korea, he added: "Great partners like ROK know the U.S. economy is running stronger than ever!"

The new Lotte plant is expected to generate around 250 direct jobs and more than 2,000 indirect jobs for southwest Louisiana.
Rudolph Juliani, the personal lawyer for President Trump, was said to have played a critical role in arranging the meeting at the White House.

At the meeting, Trump is known to have thanked Shin for the investment, saying Lotte Group did a good job in investing in Louisiana. Shin responded by saying that the investment progressed smoothly thanks to U.S. cooperation and hinted additional investment plans. Cho, Korea's Ambassador to the U.S., also told Trump that Korean companies are beefing up investment in the U.S. as of late, adding to Korea's cumulative investments in the U.S. One-fourth of the amount was carried out over the last two years under the Trump administration.

Shin, meanwhile, also shared with Trump Lotte Group's business activities in the U.S., including its investment in Lotte New York Palace Hotel. Trump responded by saying it was a good investment and asked the conglomerate to well preserve the time-honored building. Lotte Group also said Trump and Shin also discussed ways to boost mutual cooperation to enhance bilateral ties. The meeting lasted for about 30 minutes.

Lotte said the group may further expand investments in the U.S., not only to promote economic ties between the two countries, but also to share technology and know-how in a variety of business sectors.

Lotte's inroads into the U.S. started in 2011 with the construction of an engineering plastics plant in Alabama. It advanced into the local duty-free shop business in Guam in 2013 and the acquisition of the New York Palace Hotel in 2015.

Lotte Group announced plans May 14 to invest 50 trillion won (US$44 billion) over the next five years, a move intended to quickly normalize the group's business after its Chairman Shin Dong-bin returned to the helm after eight months away.

The retail-to-chemicals giant said it plans to invest 12 trillion won in 2019, the largest investment in a single year.
Lotte Chemical is striving to achieve its vision of joining the global top-10 chemical companies by fulfilling its economic, social and environmental responsibilities based on systematic sustainability strategies.

LOTTE Hotels & Resorts, a Korea-based owner and operator of luxury hotels, has announced the relaunch of The New York Palace, an iconic luxury hotel in midtown Manhattan, as LOTTE New York Palace.

LOTTE Hotels & Resorts assumed its ownership of the property as of Aug. 28, 2015, making Lotte New York Palace the group's first hotel acquisition in North America.