KOAMI Pursues 'Digital Manufacturing Innovation' to Spur Manufacturing Industry Growth
KOMAF 2019 and KOFAS 2019 will be reshaped into exhibitions representing digital transformation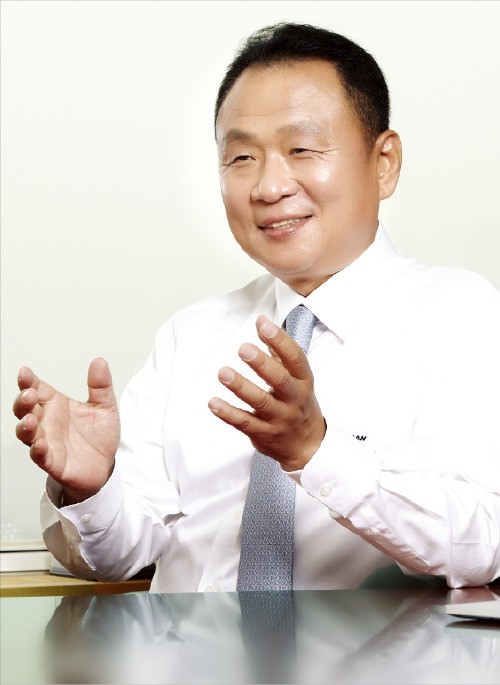 Chairman Sohn Dong-youn of the Korea Association of Machinery Industry (KOAMI).
Korea Association of Machinery Industry (KOAMI) is reinventing itself into "digital manufacturing innovation" to drive the innovative growth of the nation's manufacturing industry.

As industry barriers are breaking down and all things car connected is the trend in an era of the 4th Industrial Revolution, the nation's sole integrated capital good exhibition, KOMAF 2019, the nation's first factory automation fair, will be reshaped into exhibitions representing digital transformation.

Under the bigger picture of Korea Industry Fair, KOMAF and MachineSoft will be held simultaneously at KINTEX in Goyang, north of Seoul, from Oct. 22 to Oct. 25. Korea's capital goods fair will coincide with the exhibition specializing in IT, ushering in a new chapter.

IT solutions' cooperation is essential for digital innovation of the manufacturing industry, synergetic effects will be maxed out by letting each manufacturing pavilion be connected with data-based value chains, and it is expected to create business opportunities between buyers and participating exhibitors. In particular, conferences, which will coincide with the exhibitions, will establish themselves as their core content, not a side event.

The MachineSoft Forum, to be held during KOMAF & MachineSoft, will serve as an opportunity for manufacturing firm officials and IT experts not only to look at latest trends such as "Cobot" a robot intended to physically interact with humans in a shared workspace, and "digital twin" a digital replica of a living or non-living physical entity, but also to share diverse knowledge and information related to digital manufacturing innovation.

KOFAS, Changwon, Gyeongsangnam-do, a center of the Korean machinery industry, will change its name to Digital Manufacturing Fair KOFA. The newly named fair will be reshaped into a competition venue designed to crate values connecting the manufacturing and IT industries.

In particular, as Changwon is an area with high demand on digital manufacturing among manufacturers in the city and Gyeongsangnam-do, diverse conferences will take place to the extent that the industry sector can be satisfied.

Host organizations - Gyeongsangnam-do provincial and Changwon municipal governments - will proactively provide support to help KOFAS enhance awareness toward the necessity of smart factor and the understanding of digital manufacturing among manufacturers in the provincial area.
A poster for the KOMAF & MachineSoft, to be held at KINTEX in Goyang, north of Seoul, at KINTEX.
A view of the KOMAF 2018. (Photos: KOAMI)