Provides financial support such as pre-financing credit line on precondition a project is awarded and special trade insurance support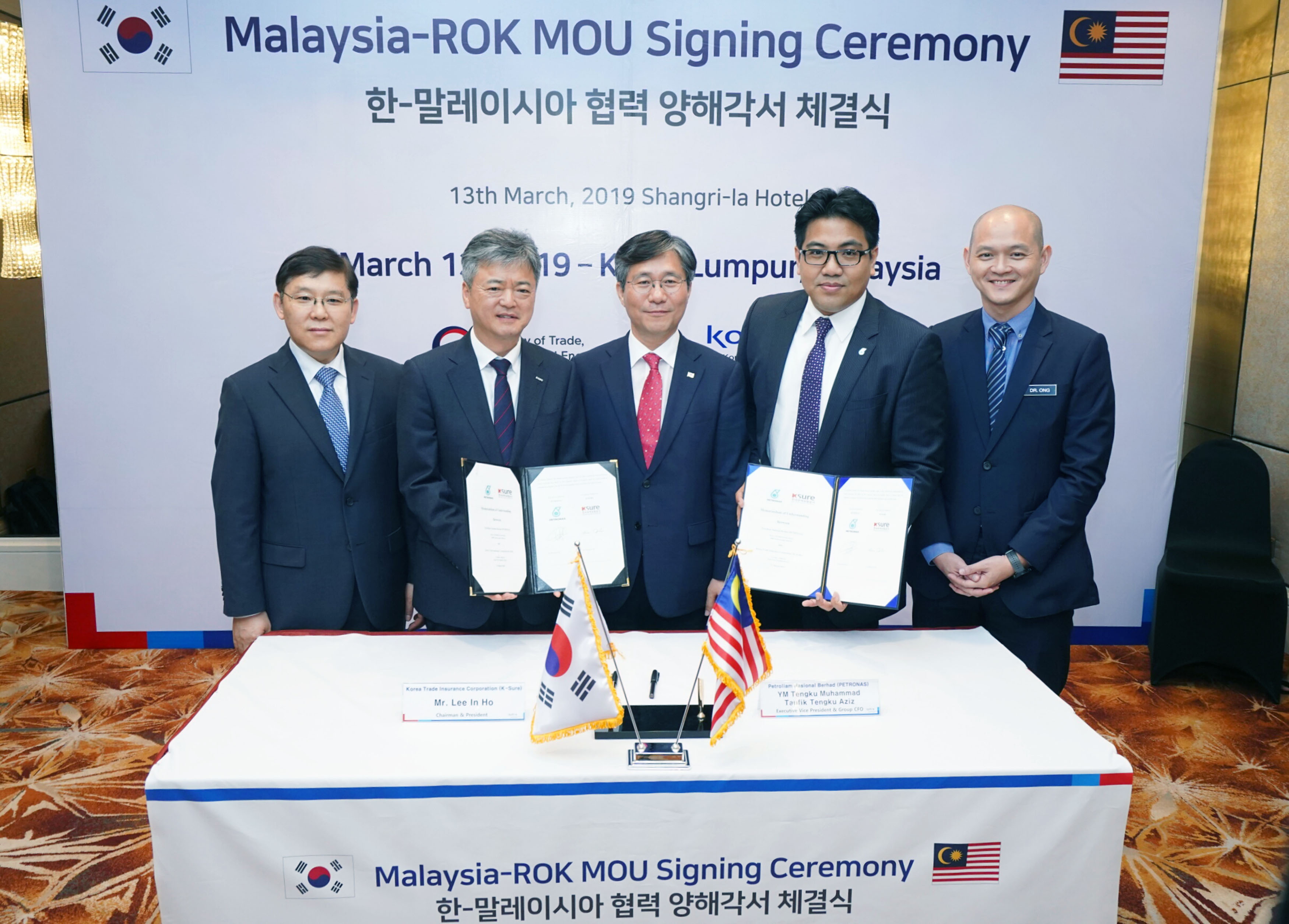 Minister of Trade, Industry and Energy Sung Youn-mo, President Lee In-ho of Korea Export Insurance Corp. (K-sure), Dir.-Gen. Yoon Sang-heum in charge of trade negotiations at MOTIE, Tengku Muhammad Taufik Tengku Aziz, Executive VP, CFO & Executive Director,Petroliam Nasional Berhad, and YB and Dr. Ong Kian Ming, Malaysian deputy minister of international trade and industry, participate in a ceremony in which Korea and Malaysia signed an MOU on cooperation in the energy industry in March in Kuala Lumpur. (Photo: MOTIE)
Korea Export Insurance Corp. (K-sure) is providing full support in keeping with the government's so-called New South Policy initiative. K-sure offers financial support such as pre-financing credit line on precondition a project is awarded and special trade insurance support. Such financial support has been a boon for Korean companies, which have already entered Southeast Asian countries or want to tap them.

K-sure has decided to provide pre-financing credit lines to Korean companies so they can win more projects from New South Policy countries. The pre-financing credit lines are a financial support K-sure offers in advance to foreign companies, which order projects from Korean companies.

Asian countries account for 70 percent of the total winning projects being awarded to Korean companies. Given the current situation, pre-financing support is expected to extend a big helping hand to Korean firms which have already entered New South Policy countries or want to tap them.

In March, K-sure singed an MOU on pre-financing with Petronas, Malaysia's national oil corporation, and Pertamina, Indonesia's largest state-run oil enterprise. The Korean trade insurance corporation is considering providing such support to other Southeast Asian countries, a K-sure official said.

Since June 2018, K-sure has implemented special trade insurance support to boost goods exports. Trade insurance products are policies insured against non-payment of exported goods. Korean exporters using trade insurance products can boost exports without the burden of non-payment.

Under the special trade insurance support, exporters to New South Policy countries are given preferential treatment up to two times as much as the trade insurance credit line. The trade insurance credit line cap could rise to $9.8 billion to the countries. The figure represents a 16 percent jump over the pre-special trade insurance support.

K-insure operates the Mobile-K Office, an on-site export insurance screening team. Under the regime, K-sure officials tour importers' countries to make an on-site inspection on the trade insurance coverage. Under the previous regime, screening importers from developing countries with insufficient accounting regulations were not easy. The Mobile-K Office has contributed to fix the problem. Trade insurance credit lines have surpassed $9 million thanks to the operation of the Mobile-K Office.

K-insure is ramping up local networking. The Korean trade insurance corporation inaugurated a support body in Singapore last year. The overseas body became the fourth one following three branches in Hoh Chi Minh City, Vietnam, Jakarta, and New Delhi.