Chalks up record highs of 2.6 trillion won in sales in 2012 and 231.1 billion won in operating profit

Korea District Heating Corp. (KDHC) has surpassed 1 trillion won in market capitalization.
KDHC said on April 3 that the company saw market capitalization top the 1 trillion won mark during March, riding on KDHC' s posting of a record high performance in 2012 and foreign investors'purchase of shares.
On April 3, KDHC saw its share prices surge to 101,000 won, its all-time highest level, surpassing 99,700 won in January 2010 when the company was listed on the stock exchange.
The rise in KDHC share prices was attributed to worry over electricity peak loads in the upcoming summer and foreign investors' purchase of shares in expecta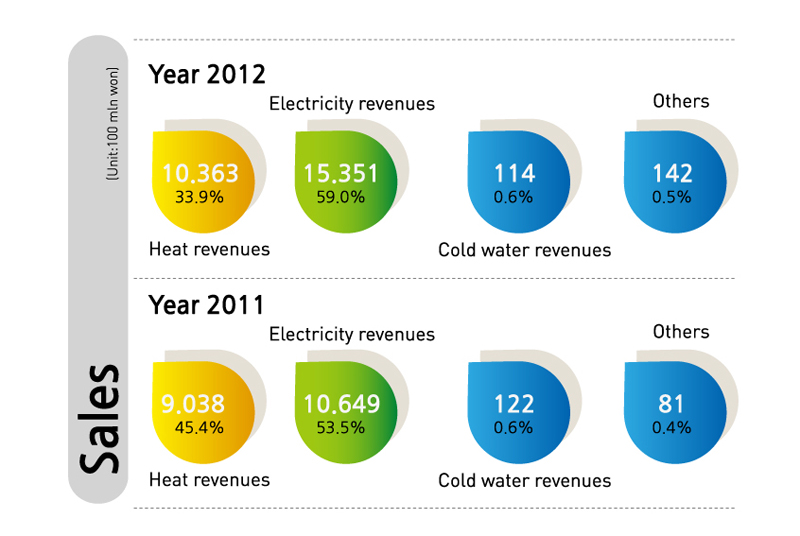 tion of growth momentum of power companies. KDHC has seen its share prices jump more than 20 percent so far this year.
The company chalked up a record high of 2.6 trillion won in sale in 2012 and a record high of 231.1 billion won in operating profit.
KDHC shareholders have benefited from an effect of"killing two birds with one stone" by receiving 3,750 won in dividends per share on top of share price hikes.
KDHC saw its debt ratio declining some 9 percent from 199.7 percent in 2011 to 190.77 percent in 2012, stabilizing its finances.
KDHC' s impressive performance was also owed to the company' s implementation of such mega-projects as the Hwaseong Dongtan II New Housing Project, development of desiccant cooling systems, and the aggressive push of renewable energy projects.
The company is turning to development and utilization of new and renewable energy sources as new growth engines. It is diversifying its business portfolios to recycling caused by the incinerating of wastes, photovoltaic power, biogas, and refuse derived fuel (RDF).
Established in November 1985, KDHC strives to conduct the district heatingbusiness efficiently, save energy, improve environments, and promote public benefits and convenience. Over the past 27 years[TS1], the company has been able to develop into the world' s largest district heating energy provider, as it has endeavored to make efficient use of energy and improve atmospheric environments, thus contributing greatly to the nation' s economy.
KDHC has provided affordable, convenient, comfortable district heating energy, thereby acquiring the unwavering support of its customers.
The company is committed to pursuing ne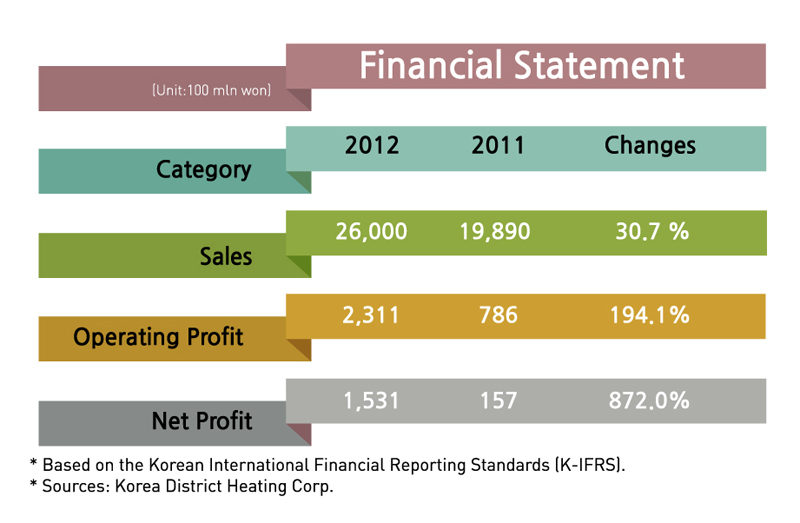 w district heating businesses and diversifying into the electricity business and the new and renewable energy business. KDHC has 16 branches and nine power generation facilities with a combined capacity of 1,582Mw. The company supplied district heating to 1.2 million households and 1,900 buildings across the nation as of the end of last year. It plans to raise the number to 1.25 million households and 2,000 buildings by the end of this year.
KDHC aims to become a first-class total energy provider, and will take our social responsibility as a public corporation seriously so as to endear ourselves to consumers and become a user-friendly energy provider.