QR mobile payment available at 43,171 outlets across the nation, including the nation's top five convenience shops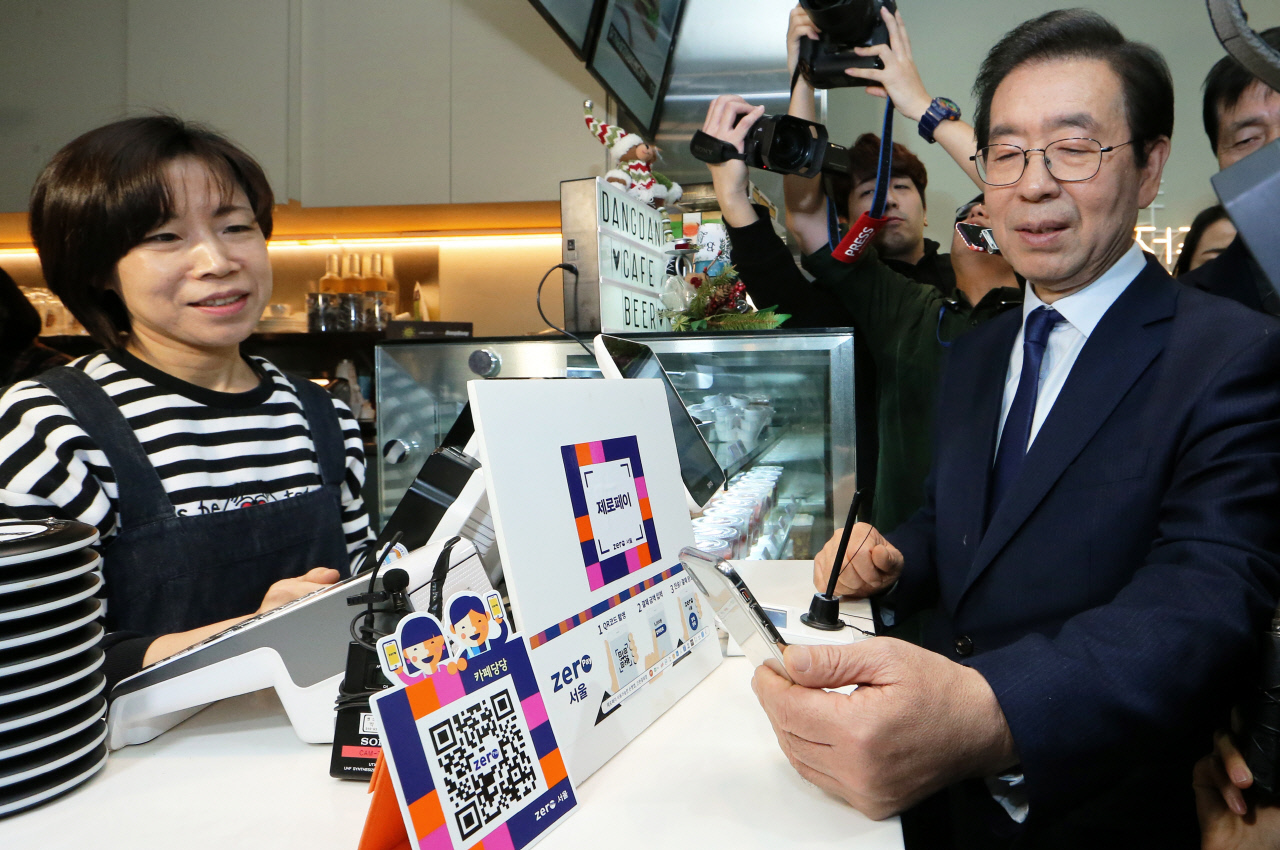 Seoul Mayor Park Won-soon pays out via Zero Pay at a coffee outlet in Jung-gu, Seoul.
Starting May 2, payments can be made via Zero Pay at 43,171 outlets across the nation, including the nation's top five convenience shops.

Since last December, the Seoul Metropolitan Government (SMG) and the Ministry of SMEs and Startups (MSS) implemented a project to improve an accounting system and POS program to introduce Zero Pay, the QR code mobile payment system at convenience stores such as GS25, CU, Seven Eleven, Ministop outlets. From that day on, Zero Pay services have been launched after undergoing an integrated testing in April.

The so-called Consumer QR Method can be used by showing a QR or barcode via a user's smartphone. On top of five convenience store chains, 74 franchises will roll out Zero Pay services on a gradual basis, starting with 84 Baskin Robbins and 131 Dunkin' direct operated outlets.

The 74 franchises have signed an MOU with the SMG and the MSS or have expressed their intent to participate.

The Consumer QR Method made its debut at outlets of Paris Baguette last December.

The CSPACE put on hold a decision on whether it would participate, but the convenience store chain is expected to open the Consumer QR Method this month. Consumer QR Method is an improved version of the conventional "Seller QR" method of Zero Pay payment system.

Payment can be okayed when QR or barcode formed via Zero Pay apps is shown to sellers. When payment amounts are recognized by sellers' readers, they can be transferred from users' accounts to sellers'. In the past, consumers had to scan the Zero Pay QR via smartphone and put payment amounts in person.

Zero Pay boasts of a commission-free transaction service payment system for mom-and-pop stores.

Figure released by Statistics Korea in 2017 showed that convenience stores shouldered 6.7 percent of their sales in transaction costs in the case of sales less than 100 million won, 34.3 percent for between 100 million won and 500 million won in sales, 14.6 percent for between 1 billion won and 5 billion won in sales, and 5.7 percent for more than 5 billion won. Mom-and-pop store operators pay zero via Zero Pay in less than 800 million won in sales, 0.3 percent in transaction costs for between 800 million won and 1.2 billion won in sales and 0.5 percent for more than 1.2 billion won in sales.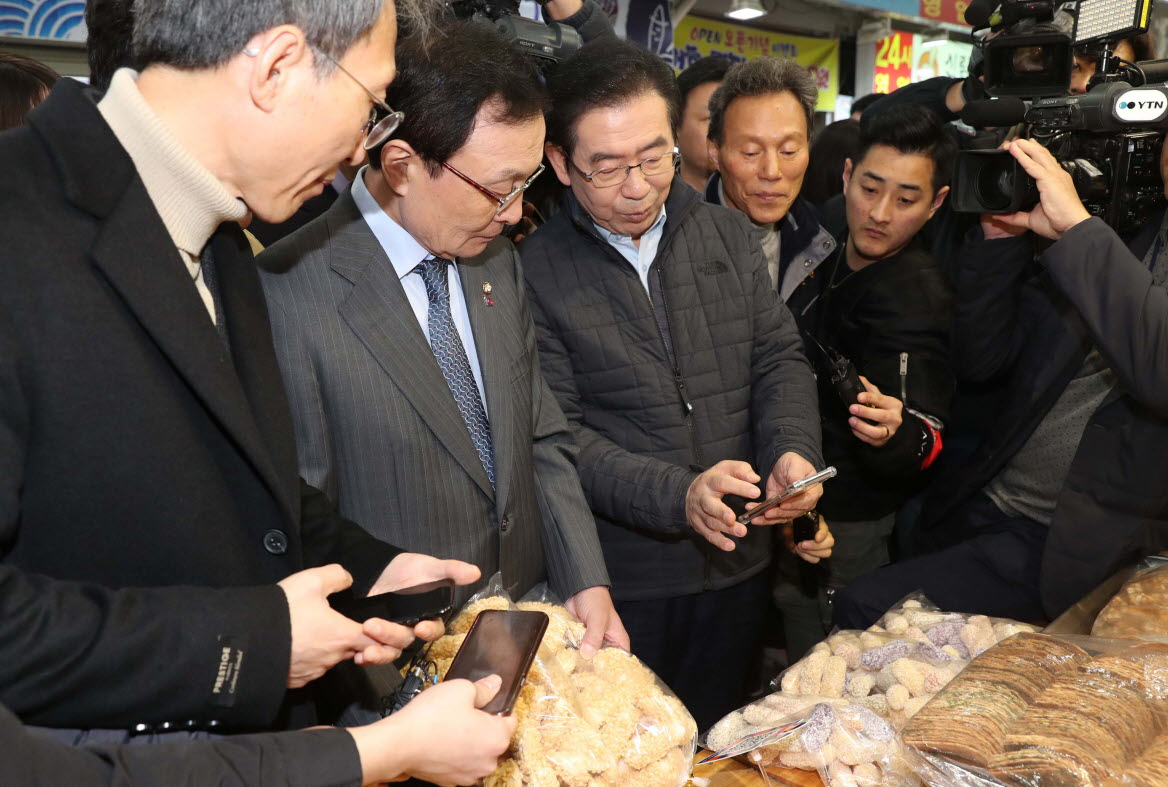 Chairman Lee Hae-chan of the ruling Minju Party of Korea and Seoul Mayor Park Won-soon buy goods via Zero Pay at the Shinwon Market in Gwanak-gu, Seoul, on March 5. (Photos: SMG)