Bank organizes 2019 Overseas Construction Orders Platform jointly with ICAK to help boost overseas construction project orders this year, so that overseas shipments of goods will get back on track from a steep fall in 1st half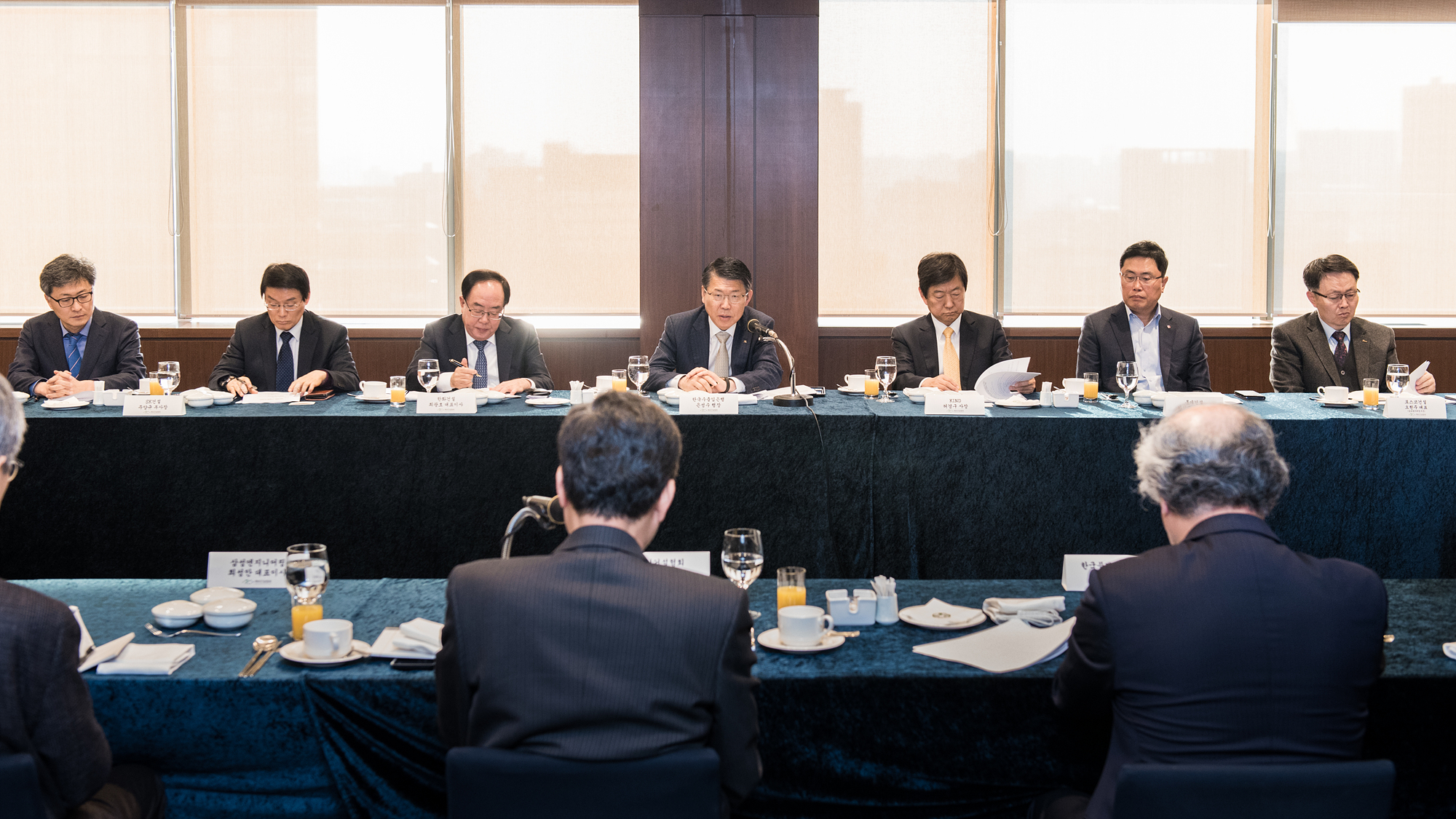 A scene from the 2nd Meeting of the Overseas Construction Orders Platform for 2019 held jointly by Korea Eximbank and the International Contractors Association of Korea on April 4 at the Korea Federation of Banks building in Myung-dong, Seoul. (Photo: Korea Eximbank)
Chairman Eun Sung-soo of the Export and Import Bank of Korea called on any companies concerned and related government dep'ts and organizations to get together to boost overseas orders. Overseas orders for the first half of this year were $4.8 billion, down almost half YoY, and need a significant boost.

He said Korea Eximbank would have a tough time finding borrowers for its loans set up for this year to boost the exports, adding that exports should be increased to $32 billion this year, at least the same level achieved last year. The Korea Eximbank chairman made the remarks at the 2nd meeting of the Overseas Construction Orders Platform for 2019 held jointly with the International Contractors Association of Korea on April 4 at the Korea Federation of the Banks building in Myungdong, downtown Seoul.

Some 20 CEOs of such leading overseas contractors as Samsung C&T, SK E&C, Hyundai E&C, GS E&C, Daewoo E&C, Lotte E&C, POSCO E&C, Hanwha E&C, Hyundai Heavy Industry and Doosan Heavy Industries and related financial companies - including ximbank, the Korea Trade Insurance Corp., and KIND - attended the meeting.

The Korea Eximbank head also explained the bank's financial support facilities to boost exports this year, including a special account to help the top-risk countries, strengthening the Korea Eximbank support to top risk countries in cooperation with ECA and MDB, the expansion of support to the infrastructural construction of emerging countries thru the Economic Development Promotion Facility and the conclusion of financial agreements with the project owner countries.

The chairman concluded his speech by saying that Korea Eximbank will give top priority to Korean business firms' with high value-added investment development projects, taking a full advantage of its advisory and the foreign project order arrangement functions. Korean builders received overseas construction orders worth $32.1 billion (662 contracts) in 2018, according to the International Contractors Association of Korea on Dec. 30.

This year's total fell short of the records set in the early 2010s,but is meaningful in that it recorded double-digit growth of 10.7% in six years. The growth is attributable to the receipts of large-scale projects through joint ventures between Korean companies and the diversification of overseas construction markets.

This year's order receipts broke through the $30 billion milestone in three years, meaning that a downturn kindled by low oil prices over the past few years is turning into a steady growth period. This change is characterized by Korean contractors' expansion of entries into high-value-added investment projects, including the winning of the Antispinsky Petrochemical Plant project (US$3 billion) from Russia, a new market.

By country, Korean builders landed orders of $5,330 million which tripled from the previous year, from the United Arab Emirates (UAE) although they fully recovered orders from the Middle East.

In addition, orders from Vietnam, Russia, Singapore, and Thailand increased significantly thanks to Korean government's diplomatic policies such as a new southward policy and cooperation with northern countries.Among them, Korean companies made a big improvement in Singapore such as landing orders to build five of the ten sections of the North-South Corridor project from the country.