District heating proved to consume 23.5 percent less energy than individual heating and emit 49.2 percent less air pollutants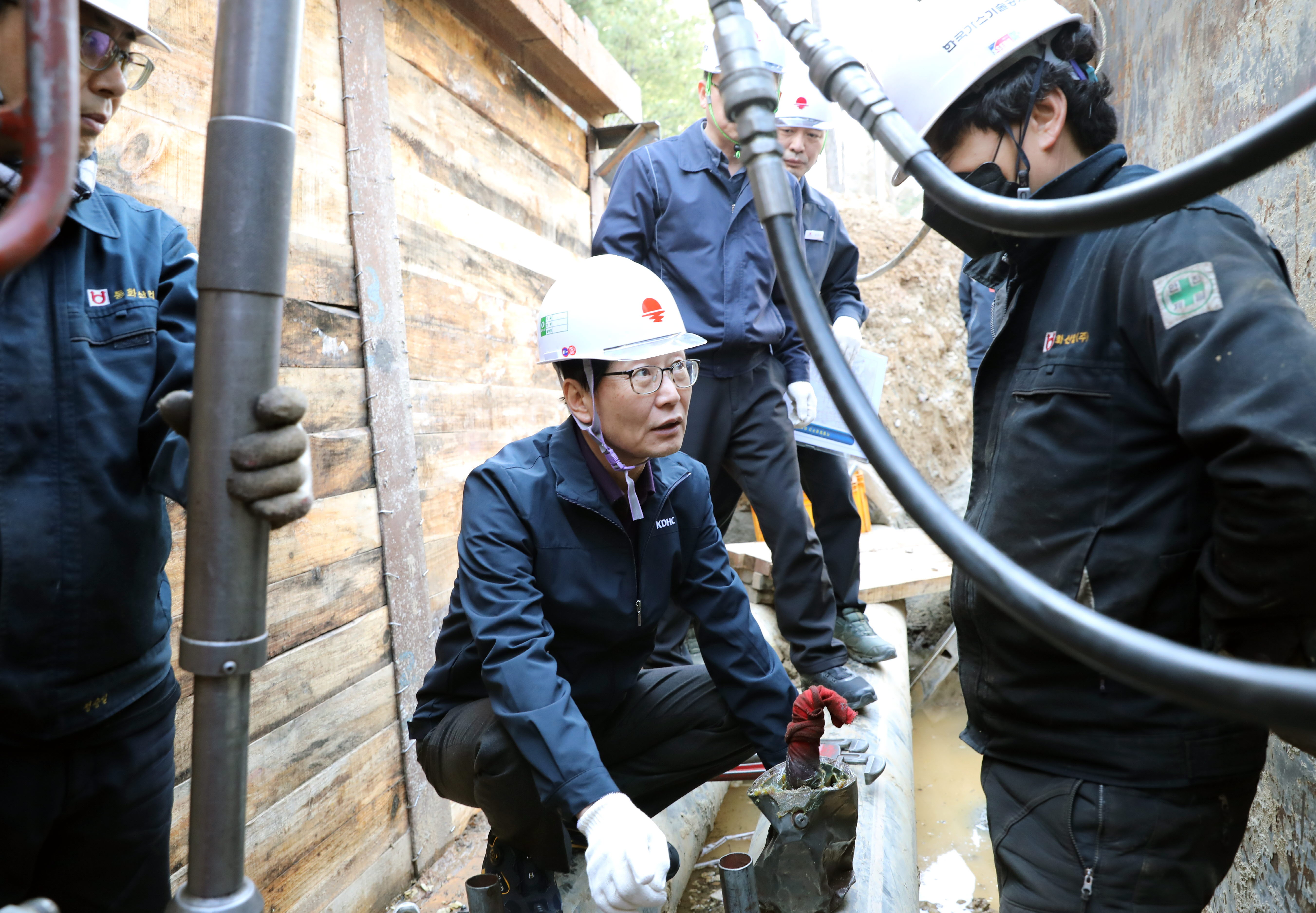 President Hwang Chang-hwa of Korea District Heating Corp. (KDHC) conducts a special safety inspection into energy supply facilities in the Pangyo worksite south of Seoul.
Korea District Heating Corp. (KDHC) is contributing to the development of the national economy by expanding district heating and cooling, considered to be an eco-friendly, high-efficient, and low-carbon energy, through the stable operation of cogeneration power plants.
In particular, the corporation is committed to improving the quality of air by proactively complying with the government's steps to reduce fine dust, plaguing the nation of late more than ever.

District heating proved to be eco-friendly as it consumed 23.5 percent less energy than individual heating and emitted 49.2 percent less air pollutants and 23 percent less greenhouse gas emissions. The finding was contained in a report on energy consumption reduction of the community heating sector and its effect of improving eco-friendliness between 2014 and 2018 in accordance with the master plan for the 4th community energy supply.

KDHC is accelerating efforts to address the climate change crisis. To this end, the corporation is devoting itself to shifting to eco-friendly energies, introducing advanced air pollution prevention facilities, overhauling facilities and developing technologies with the goal of reducing fine dust and other air pollutions 30 percent by 2025, compared to 2015 levels.

Most heat production plants, operated by KDHC, use eco-friendly LNG. The corporation has decided to convert petroleum-fueled worksites in Daegu and Cheongju into LNG-fueled cogeneration ones. The planned Yangsan combined and cogeneration power plant will be built in accordance with more stringent environment regulation levels – 5ppm of nitrogen oxide emissions four times higher than the required design regulation levels – to reduce fine dust and other air pollutants.

About 8.5 billion won will be spent on four heat production plants, including ones in Hwaseong and Paju, so they will be installed with facilities to reduce nitrogen oxide, a precursor of fine dust. The goal is to cut air pollutant emissions by half.

In the same way, KDHC is proactively dealing with climate change and aggressively complying with eco-friendly management practices such as fine dust and greenhouse gas emission reduction.

KDHC was designated as one of the best worksites in total pollutant load management twice by the Environment Ministry. Last May, the corporation obtained a low-carbon product certificate on KDHC's heat and electricity from the Environment Ministry and the Carbon Trust of the UK.

From now on, KDHC redoubles efforts to spearhead fine dust and other air pollution, and greenhouse gas emission reduction by continuing to focus on low-carbon, and eco-friendly management.

KSDHC Management's Safety Inspection into Major Facilities

KDHC executives conducted a special safety inspection into energy supply facilities at the Insan worksite north of Seoul on March 7 in a precautionary step to prevent safety-related accidents in time of a period of thawing. The on-site inspection followed in the wake of the rupture of a heat pipe line near Baekseok Subway Station that left one person dead and 25 others injured last December.

The inspection was made to take stock of the status of safety management of major facilities, including heat transportation and heat production, the preparing for the occurrence of emergency accidents and emergency rescue and restoration.

KDHC President Hwang Chang-hwa said, "Our corporation will make all-out efforts to create an environment in which people live a happy life and feel safe by ramp up surveillance over safety management against facilities prone to disaster dangers and related regimes and ensuring the stable supply of district heat."
KDHC headquarters in Bungang, south of Seoul. (Photos: KDHC)