Bank relocates Mumbai rep. office to Gurugram and elevates it to "full branch," with President Hur Yin leading the opening ceremony; Kookmin also opens IB unit in London and branch in Hanoi, Vietnam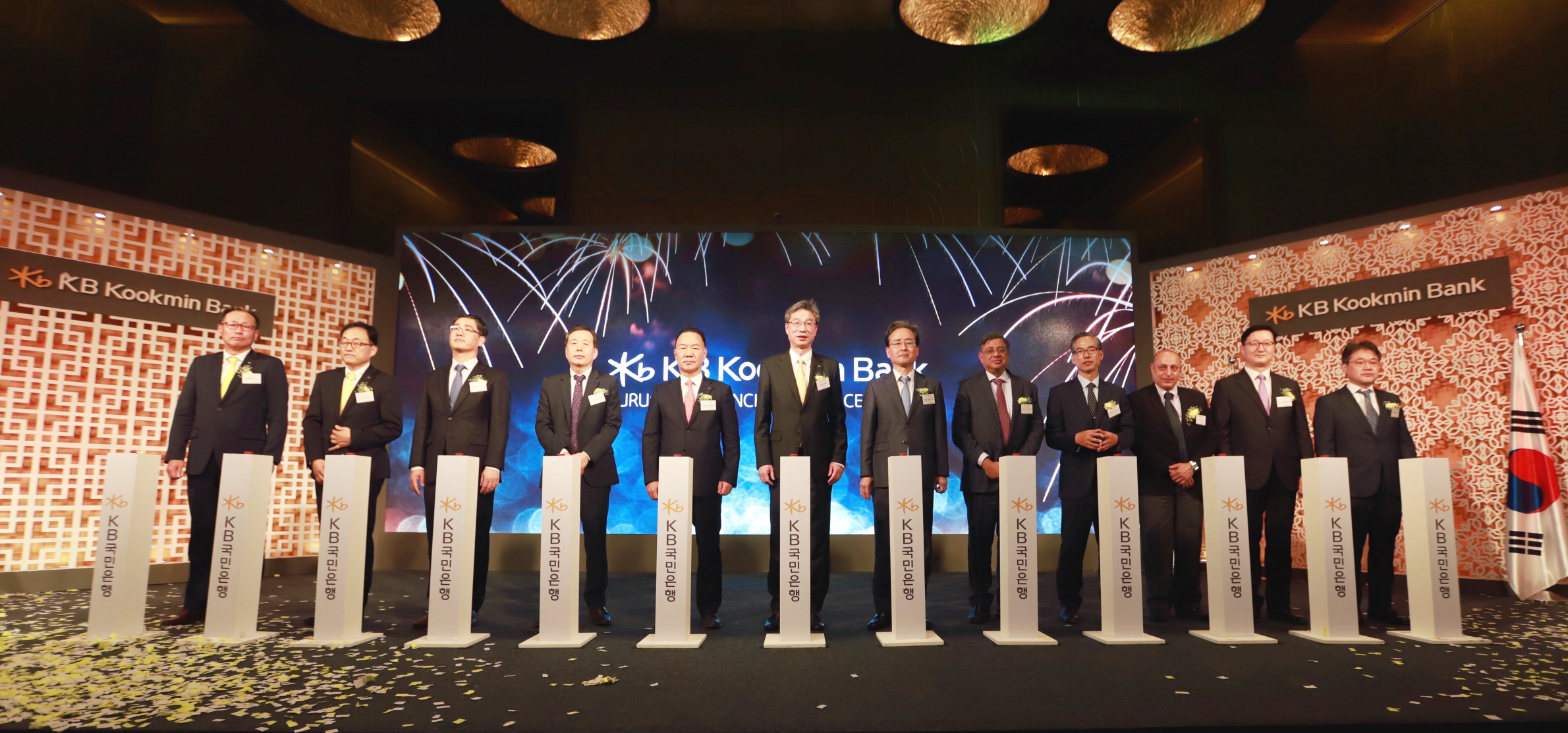 A view of an opening ceremony for KB Kookmin Bank's branch in Gurugram, the state of Hariana, India, the bank's first branch in India, held on Feb. 18 with some 200 related people attending led by President Hur Yin of the Korean bank, Korean Amb. to India Shin Bong-gil, and local dignitaries including President Shri P.S. Jayakumar of the Bank of Baroda, and Korean businesspeople stationed in India, among others. (Photo: KB)
KB Kookmin Bank held a ceremony to open the India Gurugram Branch in Gurugram City in the state of Hariana, northern India, its first full branch in the country, on Feb. 18, the bank said. The bank also opened a branch in Hanoi, Vietnam, on March 20, followed by its IB unit in London on March 26.

Attending the opening ceremony were President Hur Yin of Kookmin, Korean Ambassador to India Shin Bong-gil and President Shri P.S. Jayakumar of the Bank of Baroda, as well as Korean business leaders working in India, totaling some 200 in all.

President Hur said in his congratulatory speech that the new branch will be able to provide financial support to Korean firms operating in India and local business firms satisfactory to their diverse needs at a time when Korean investments in the subcontinent country have been on the rise.

The bank's Hanoi branch is its second in Vietnam following one in Ho Chi Minh City that opened in 2011. The new outlet is ready to provide financial support to Korean firms and Vietnamese development projects in North Vietnam with synergy developed with its affiliates KB Securities and KB Non-Life Insurance in the region.

President Hur told President Jayakumar that Kookmin Bank will provide diverse financial service to Korean firms operating in India based on its comprehensive financial tie-up with the Bank of Baroda as they met at a briefing session following the opening ceremony.
The Bank of Baroda is India's state-run bank headquartered in Vadodara, Gujarat.

The bank's IB unit in London is slated to be a base for boosting global IB for the bank in cooperation with local financial institutions in Europe in tandem with its global financial hubs in Hong Kong and New York.

The Korean bank arrived in India in June, 2012, opening its first outlet in Mumbai and in 2016. The bank relocated the Mumbai rep. office to Gurugram and has been preparing to open a branch by elevating the status of the Gurugram outlet to a "full" branch.

The lender's India initiative is in line with Korea's efforts to expand ties with Southeast and South Asia to diversify its trading partners. Hur has been traveling abroad in Southeast and South Asia since Feb. 14, and recently met with executives of Bank Bukopin in Indonesia to discuss a future partnership.

The Korean bank acquired a 22 percent stake in Bank Bukopin in July 2018, becoming the Indonesian bank's second-biggest shareholder. KB will be the sixth Korean bank to open a Hanoi branch, following Shinhan, Woori, Industrial Bank of Korea, NongHyup and KEB Hana.
Shinhan is Vietnam's biggest foreign-invested bank, following its acquisition of ANZ's retail banking unit in 2017.
KB Kookmin Bank eyes expansion overseas through strengthened ties with banks in Southeast Asia, officials of the bank said on April 31, 2018.

The bank opened a branch in Shanghai last December, which was the 5th business facility for the Kookmin Bank China Ltd., which operates branches in such Chinese cities as Guangzhou, Harbin, Suchow and Beijing.

They said Shanghai has had an international free trade zone since 2013, playing the role as an economic workhorse since then. Trade between Shanghai and Korea amounted to $25 billion in 2014 and financial transactions connected with that trade have also been growing, they said.

KB Kookmin Bank is pushing into the global investment banking (IB) market, which is considered an impregnable area for domestic commercial banks.

This is a game changer for the bank, which is reckoned to fall rather behind in global competence. Also, the bank will rearrange its overseas network, which is its foothold to tap into the global IB market.