Group makes first move for M&As under Chmn. Sohn's lead to cut dependence on banking sector for profits by acquiring non-banking financial firms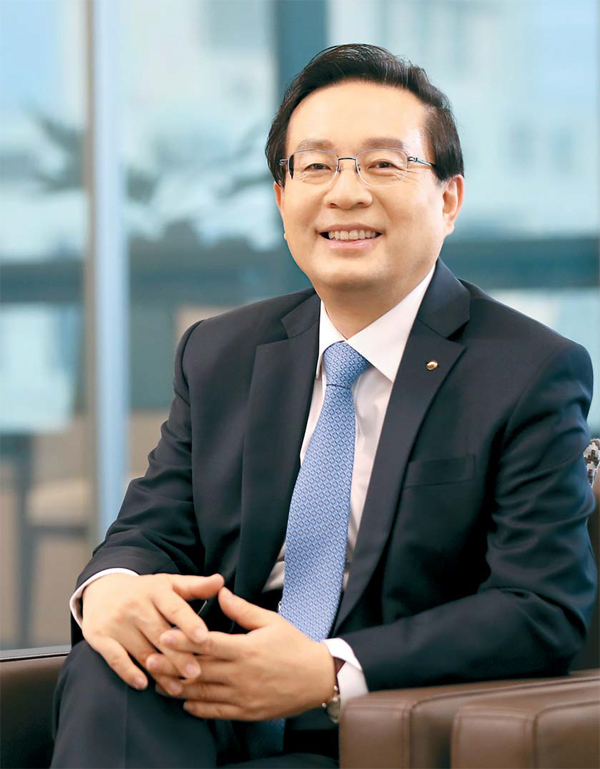 Chairman Sohn Tae-seung of Woori Financial Group. (Photo: WFG)
Woori Financial Group plunged is looking to acquire Tongyang Asset Management and ABL Global Asset Management, the former Alliance Asset Management, in its first M&A move since it became a financial group on Jan. 14. China's Anbang Insurance and JP Morgan, a major transaction agent, named the financial group as a priority bidder for the sales of both Tongyang Asset and ABL Asset.

Woori Financial is said to have bid some 170 billion won for the two asset management firms. Anbang Insurance holds majority stakes in both Tongyang Insurance and Anbang Asset Management, which in turn hold majority stakes in both Tongyang Asset and ABL Asset.

Those two companies were put up for sale due to the Chinese government's measures to control Anbang Insurance by having the company restructured by selling off a number of its affiliates. Tongyang Asset's total assets amounted to 99.7 billion won as of the end of September, last year, while ABL Asset had a total assets of 35.1 billion won, ranked the 13th and 43rd, respectively, in asset management.
If combined, their assets would rank eighth in the industry, and with an opportunity to climb to fifth if taken over by Woori Financial Group.

Chairman Sohn wants to reduce the group's dependence on the banking sector as much as possible from the current 99 percent by taking over a number of non-banking financial firms thru M&As.

The group has 6 affiliates, and those affiliates in turn have 17 affiliates. If the group successfully takes over the two asset management firms, it will suspend its attempt to take over Hi Asset Management.

Steering Woori Financial's expansion is Chairman Sohn, who continues to serve as chairman of Woori Bank. He has pledged to raise Woori's competitiveness and industry status in the years ahead.

"By taking on a holding company structure, we are now in a position to compete head-to-head with Korea's major banking groups. With active business portfolio realignment and global business expansion, Woori will become Korea's top banking group and a global finance powerhouse," Sohn said.

Aligned within the group under Woori Financial Holdings are six major affiliates - signature banking unit Woori Bank Co Ltd, IT firm Woori FIS Co Ltd, Woori Finance Research Institute Co Ltd, Woori Credit Information Co Ltd, Woori Fund Service Co Ltd and Woori Private Equity Asset Management Co Ltd. Also, the bank consists of smaller affiliates such as Woori Card Co Ltd and Woori Investment Bank Co Ltd.

Seeking to create synergy among the diverse affiliates and to move in line with the global digitalization trend, the group recently named Noh Jin-ho, former CEO of Hancom Inc, as the new chief information officer and head of the ICT planning team.

The appointment also reflects Chairman Sohn's policy of outsourcing outside experts, especially in key growth business sectors, officials added.

Last year, Woori Bank achieved 2.02 trillion won ($1.79 billion) in net profits, up 33.5 per cent from a year prior. This marked a return on investment of 9.6 per cent, as well as the largest volume of year in net profit for the lender. It was also noted for tangible growth in its global business, in which it realized a net profit of 200 billion won, up 19.7 per cent on-year.

Woori started off as Korea's first-ever banking group in 2001, comprising multiple banks that went under in the aftermath of the 1997 Asian financial crisis. It was wholly owned by the state-owned Korea Deposit Insurance Corp.