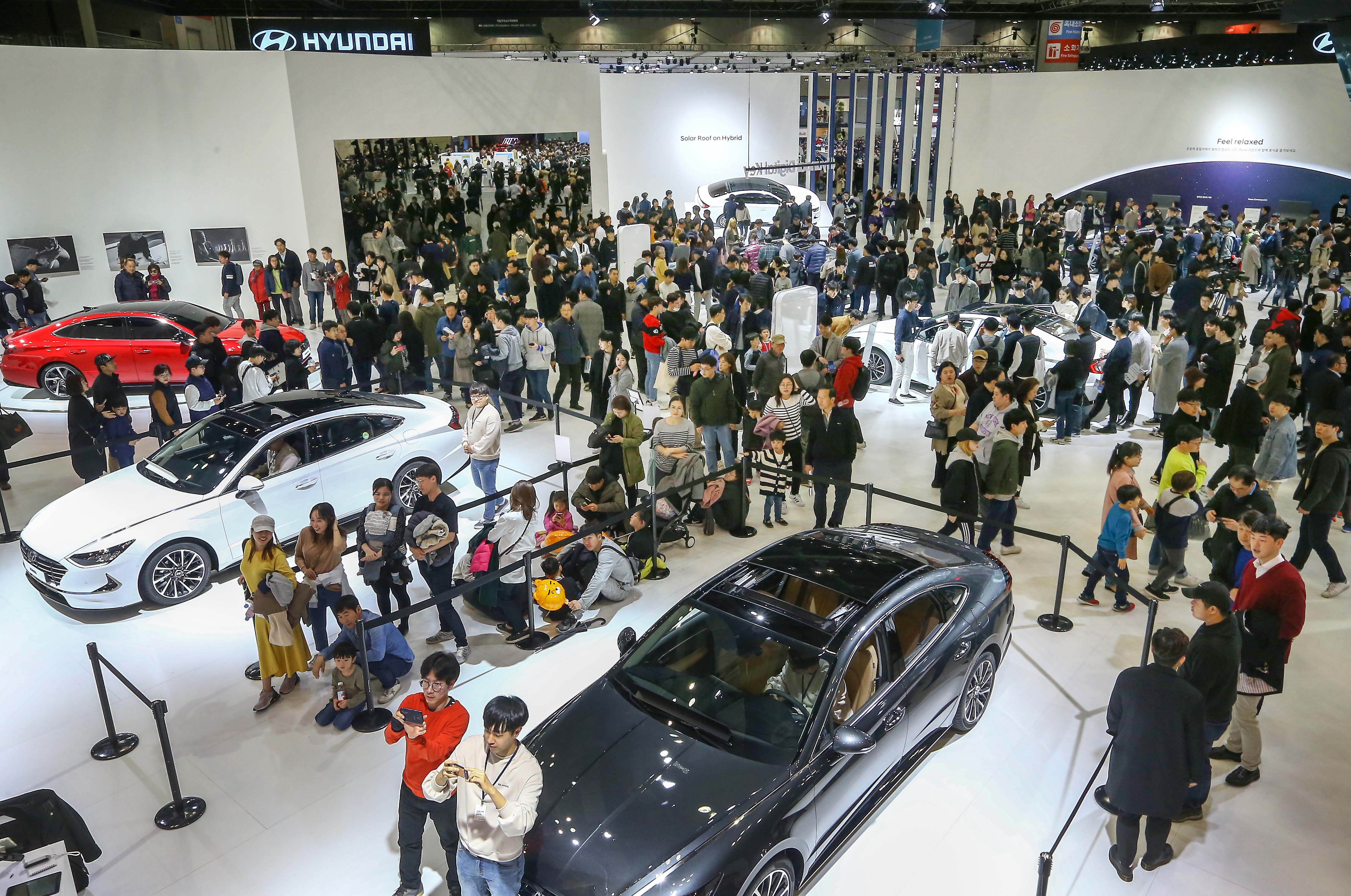 The new Sonata Hybrid with a solar roof, Korea's first-of its kind, is displayed at the Seoul Motor Show 2019 that took place the KINTEX in Goyang, north of Seoul, from March 23 to April 7. (Photos: KAMA)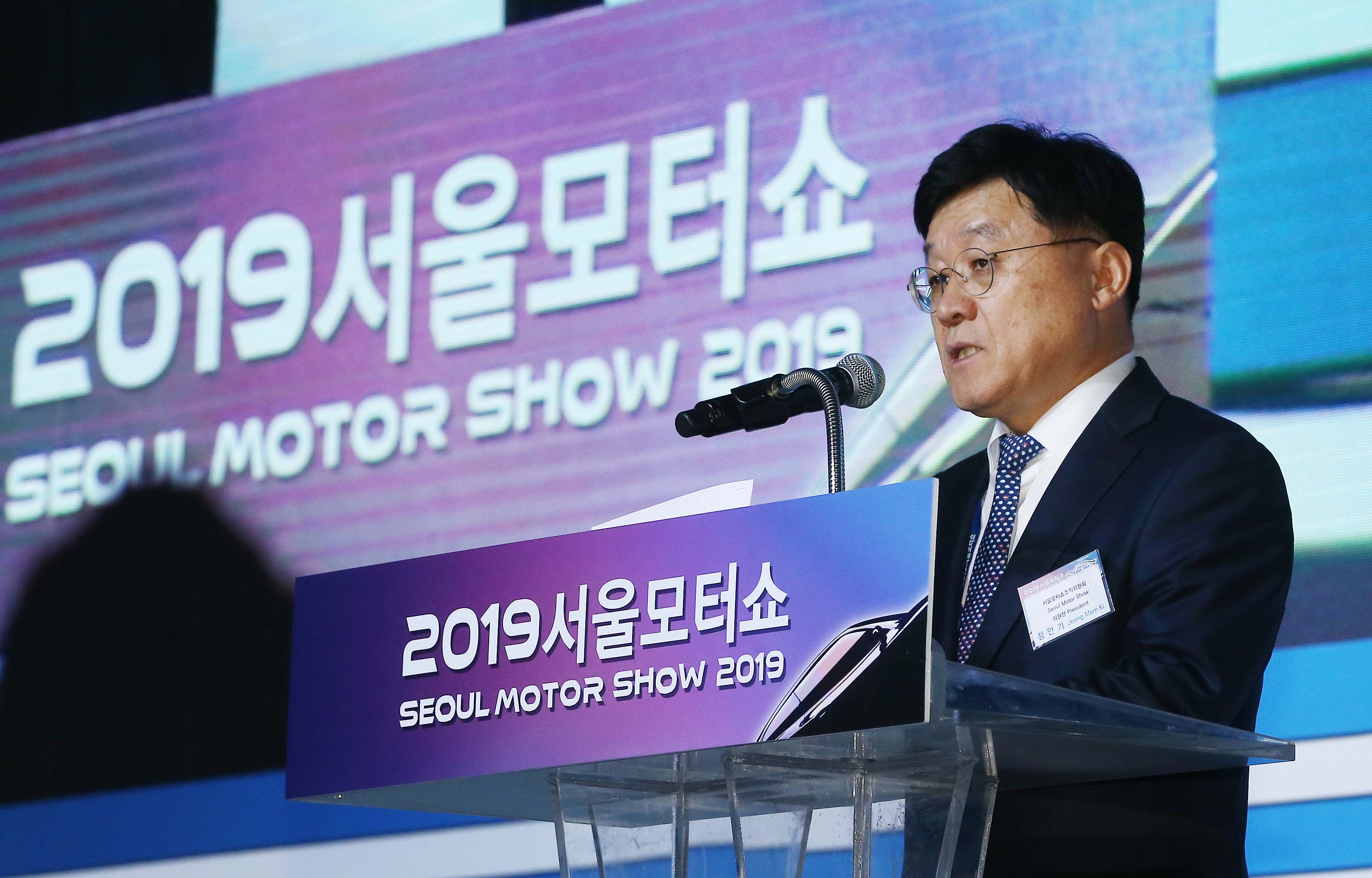 Chairman Chung Man-ki of the Organizing Committee for the Seoul Motor Show.
Korean and international automakers showcased the latest SUVs, eco-friendly, high-performance future cars at the Seoul Motor Show 2019. The fair took place under the theme "Sustainable/Connected/Mobility" at the KINTEX in Goyang, north of Seoul, from March 23 to April 7.
A combined 21 automakers, including six Korean car brands like Hyundai Motor and Kia Motors, put 154 automobiles on display, including 36 new models.

Among the eye catchers on display were the new Sonata Hybrid with a solar roof, a first-of-its kind in Koreas, the concept car Mohave Masterpiece, unveiled by Kia Motors for the first time in the world, and Mercedes Benz's concept Car Vision EQ Silver Arrow.

Hyundai Motor debuted the new Sonata Hybrid for the first time. The new Sonata Hybrid with a solar roof, will be put on the market in June. It is capable of running more than 20 km per gallon - a 10 percent mileage improvement, as it produces power for its internal batteries even when parked and stopped.

The Mohave Masterpiece is a model designed to focus on visualizing premium values. Luc Donckerwolke, vice president of Hyundai Motor's design center, said the Mohave Masterpiece will be a model to usher in the past, present and future of the Kia Motors' SUVs.
The crossover EV concept car "Imagine by Kia" premiered in Asia during the show.

Korean and international automakers looked under the hood of the latest, advanced models outfitted with AI assistants and mileage improvement devices.

In particular, the unveiling of diverse SUVs portents a fierce showdown in the Korean car market. This is a reflection of a tendency of a drop in sedan sales, but a 50 percent surge in SUV sales in Korea of late.

Departing from the conventional exhibition patterns, the Seoul Motor Show 2019 consisted of seven theme pavilions, including ones tailored to reflect three core themes - sustainable, connected and mobility.

The theme pavilions were "Auto Makers World, a space for exhibiting automaker brands, "Sustainable World," a space for experiencing the evolvement of eco-friendliness through sustainable energy like hydrogen-powered EVs, and "Connected World," a space to look into future change of super-connected society like self-driving, connected technology and car-sharing technology; and "Mobility World," a space for looking into and experiencing EVs, drones, robots and new mobility services, "Auto Parts World," a space to exhibit parts technologies and products related to internal combustion engine cars, eco-friendly cars and self-driving vehicles, "International Pavilion," a space to display and introduce foreign parts makers and organizations, and "Food-tainment World," a space for eateries, things to see, and relax.
The revamping of the Seoul Motor Show 2019 was designed to take a special look at the "mobility" trend.

Spectators were also given an opportunity to have a hands-on experience on sustainable energy and connected technologies in person. First, spectators were allowed to drive eco-friendly cars on a road surrounding the second exhibition center of KINTEX in connection with the opening of "Sustainable World."

International conferences and seminars took place on "Connected," one of the three themes. An international conference was held on April 2 und the theme "Thinking Automobiles: The Future of Innovation." Winfried Weber, director of Mannheim Institute of Applied Management Research at Mannheim University of Applied Sciences, gave a key-note speech, while six prominent experts, including Stephen Zoepf, Executive Director of the Center for Automotive Research at Stanford; Koomin University President Yoo Ji-soo, Houssem Abdellatif, Global Head Autonomous Driving & ADAS at TUV SUD, and Remco Verwoerd, vice president of business development in Asia Pacific at PAL-V, participated.

A seminar took place on April 3 on the theme of the innovation of the automobile industry the mobility revolution brought about. Under the theme "Mobility Revolution and Automobile Industry," the seminar introduced the technology status of companies such as Hyundai Motor, SK Telecom, and KT and future industry trends.