President Jeong says 'KNF plans to continue to put into practice process safety management in a systematic fashion'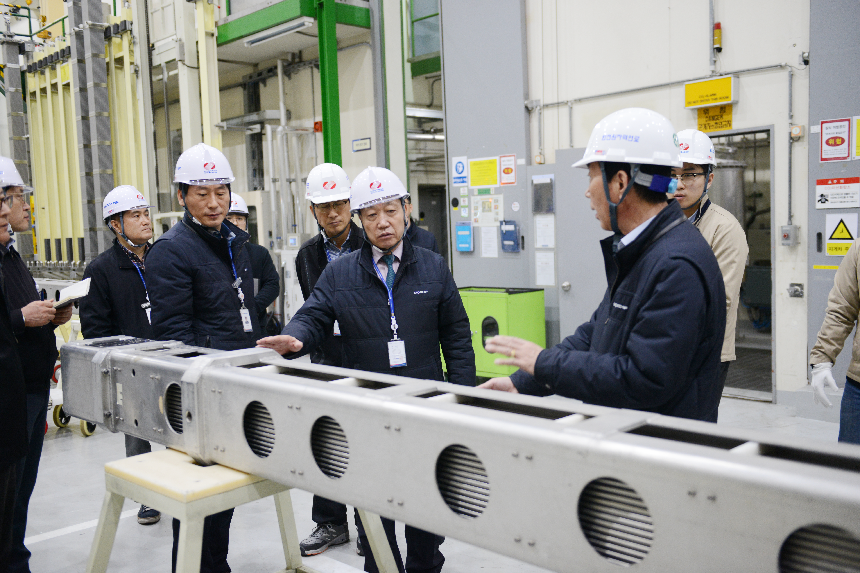 President Jeong Sang-bong of KEPCO Nuclear Fuel (KNF) makes an inspection tour of all KNF facilities to ensure their safety on March 12.
KEPCO Nuclear Fuel (KNF) has been recognized for its excellent safety management capability as the company's NSA plant obtained an "S-grade" in an evaluation of its process safety management (PSM), conducted by the Ministry of Employment and Labor (MOEL).

It was the first evaluation since the NSA plant was put into commercial operation in 2017. The PSM evaluation system is the most prominent safety management regime officially recognized in Korea, and it is designed to prevent major industrial accidents at worksites with hazardous and dangerous equipment.

A grade is given depending on the scale of implementation for PSM in evaluation categories such process safety papers, PSM evaluation, guidelines for safety operation, and emergency action plans.

KNF President Jeong Sang-bong said, "The good outcomes are owed to the systematic implementing of 12 PSM categories like setting field safety management as a top management task and conducing long-term exercise to improve its capabilities to cope with an emergency situation."

KNF plans to continue to put into practice process safety management in a systematic fashion.

In a related development, KNF President Jeong inspected KNF facilities to ensure their safety on March 12. The inspection was one of three check-ups for KNF.

A series of inspections is designed to take stock of major processes of radioactive material fabrication facilities and subsidiary facilities, inspect whether workers comply with safety rules, the status of calamity and disaster danger risk management and harmful chemical substance management.

A KNF official said the inspection was designed for management to take the initiative in creating a corporate culture to put top priority on ensuring safety and encourage all staff members to make their safety activities part of their work. Meanwhile, KNF inaugurated a quality safety team to ramp up safety management last month.

KNF President said KNF will continue to make every effort to settle a mature corporate culture to focus on prevention and spearhead efforts to make sure the safety of worksites through regular safety checks.

KEPCO NF is a group company of KEPCO founded in 1982. As a representative public atomic energy company, KEPCO NF performs high-level reactor core design, nuclear fuel fabrication, safety analysis and related services.

In many ways, KEPCO NF has been pursuing opportunities for upgrading and expansion to global markets developing patented nuclear fuel and design code. KEPCO NF has been supplying the nuclear fuels to all the nuclear power plants in Korea, both PWR and PHWR, based on the experience of localization and accumulated technology.

In addition, KEPCO NF has been constantly exporting primary components of nuclear fuel and service equipment, and also started supplying the nuclear fuels to Barakah nuclear power plants in UAE since 2017.
KNF headquarters in Daegu. (Photos: KNF)