KEPCO President Kim says center is expected to lead in 4th Industrial Revolution in energy sector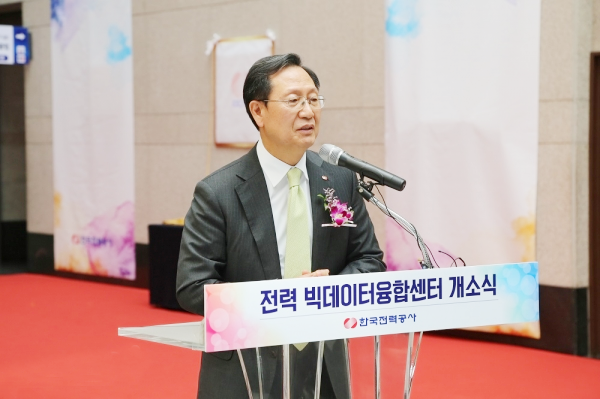 President Kim Jong-gap of Korea Electric Power Corp. (KEPCO) delivers a speech at a ceremony to inaugurate a power big data convergence center on April 16.
Korea Electric Power Corp. (KEPCO) has inaugurated a power big data convergence center to spearhead creation of new services based on big data and an ecosystem of data sharing.

Among roughly 90 people on hand at a ceremony to open the data convergence center were officials from KEPCO and subsidiary power companies, the Ministry of Trade, Industry and Energy, related companies and academics.

KEPCO now operates 261 power systems processing some 3 trillion pieces of data. In particular, power metering data has closer relations with public life. Its convergence with corporate data will be a basis for creating new value-added industries.

The newly inaugurated power big data convergence center consists of a data science research lab responsible of analyzing power big data, a power data sharing center designed to open data for utilization, and the data service trade portal "Energy Marketplace." The data science research lab will analyze models specialized for the energy sector. It is manned by global data experts and in-house staffers.

The power data sharing center is responsible for offering KEPCO's power data to businesses and providing assistance in their development of data business models.

The Energy Marketplace is a platform in which energy business models using power data provided by KEPCO are traded, and suppliers and demand companies of diverse services such as energy efficiency improvement and power demand management are connected.

Solutions using power big data were demonstrated in a session in which participating companies showed a keen interest.

The power big data convergence center is the first model of collaboration between a public entity and the private sector in Korea, and it is expected to contribute to boosting the Korean data industry.

KEPCO President Kim Jong-gap told the event that the power big data convergence center is expected to lead in the 4th Industrial Revolution in the energy sector.

KEPCO plans to create new services related to power big data and uses and spearhead the creation of an ecosystem of sharing digital big data in keeping with an energy paradigm shift.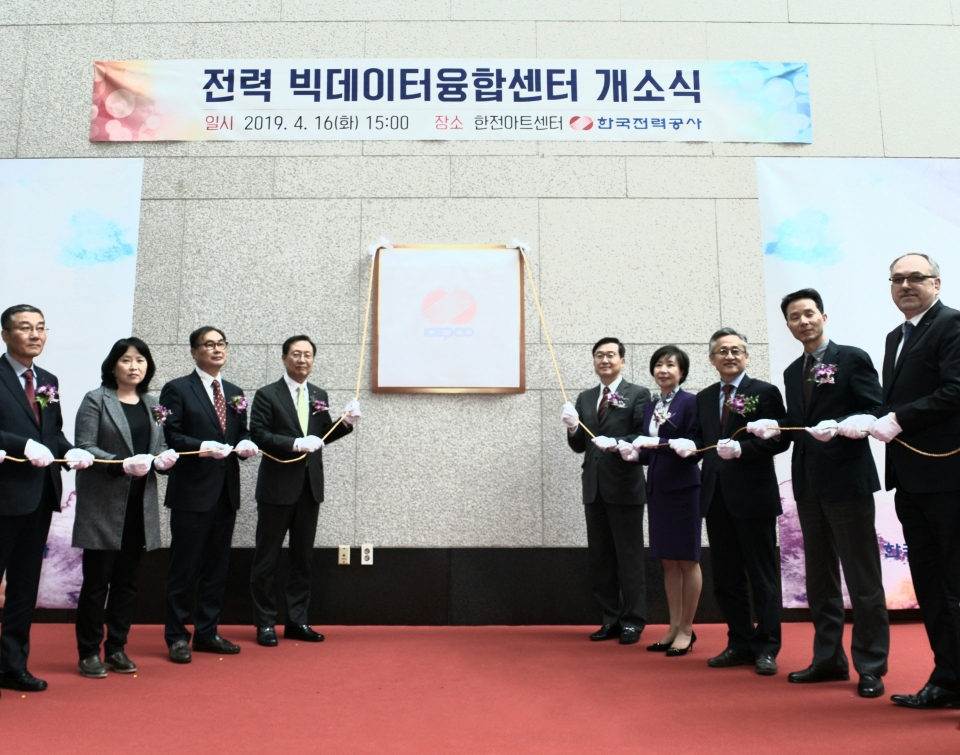 Dignitaries, including KEPCO President Kim Jong-gap, cut the ribbon to open a power big data convergence center on April 16. (Photos: KEPCO)

KEPCO Research Institute, 1st Korean Entity to Develop EV Charging Service Platform

KEPCO Research Institute developed an EV charging service platform conforming to international charger communication standards for the first time in Korea.

The platform will enable EV charging stations across the nation to develop, install and eliminate charging value-added services with ease like a smartphone app.

The platform is developed based on global standard charger communications specifications beyond the Korean EV charger communications methods so that it may be made available and developed abroad.