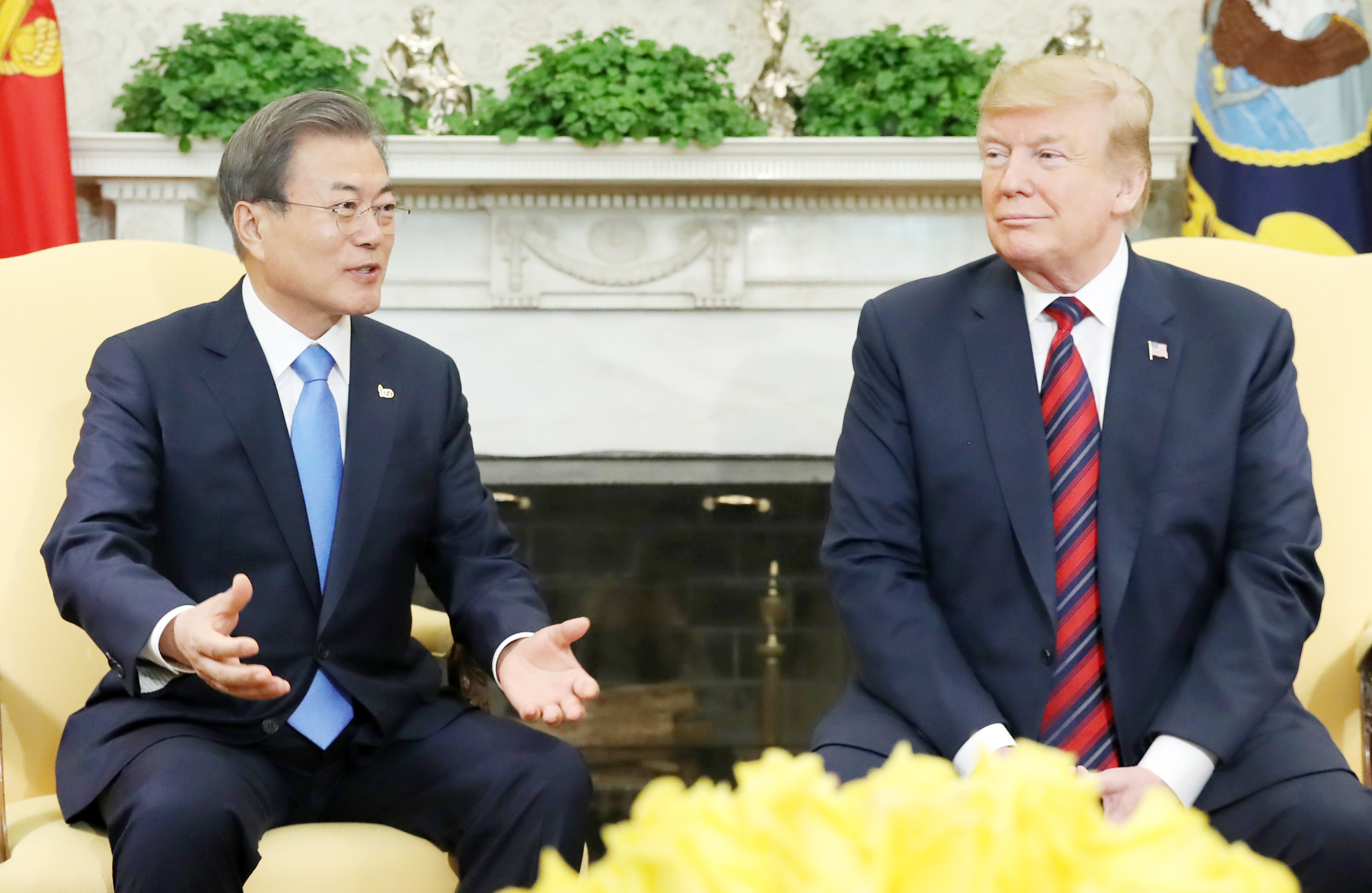 South Korean President Moon Jae-in talks with U.S. President Donald Trump during their summit at the White House on April 11. (Photo on the courtesy of the website of Cheong Wa Dae)
North Korean leader Kim Jong-un showed his intent to have a 3rd US-NK summit, and in return, U.S. President Donald Trump posted a welcoming tweet. But the two sides apparently differed on what the main topics of interest would be.

Their determination not to give an inch, sticking to their conventional positions, which led to no deal being reached during their 2nd summit in Hanoi in late February, may be construed as "same bed, different dreams" as the Korean saying goes, meaning the two sides said outwardly they wanted to cooperate, but neither side was willing to compromise their actual intentions.

President Trump said, "(I) agree with Kim Jong-un of North Korea that our personal relationship remains very good, perhaps the term excellent would be even more accurate, and that a third Summit would be good in that we fully understand where we each stand.

"North Korea has tremendous potential for extraordinary growth, economic success and riches under the leadership of Chairman Kim. I look forward to the day, which could be soon, when nuclear weapons and sanctions can be removed, and then watching North Korea become one of the most successful nations of the World!" he Tweeted.

Trump's tweet came on April 13 after NK leader Kim delivered a speech at NK's Supreme People's Assembly, a lubber-stamp parliament, on April 14 in which he floated the proposal for a 3rd US-NK summit and set year-end as the deadline.

Kim hinted at his post-Hanoi summit strategies, returning to brinkmanship tactics amounting to long-term confrontation against the United States. He even demanded sanctions plus alpha, as if he would make up for his failure in the summit in Hanoi.

North Korea analysts in South Korea share the view that NK leader Kim has begun to call for the pullout of U.S. troops from South Korea and the removal of the nuclear umbrella of the Korean Peninsula in return for complete denuclearization. NK leader Kim did not allude to such demands during his summit talks with South Korean President Moon.

The North Korea pundits also said the U.S. and NK sides had contrasting differences that cannot be narrowed. South Korean President Moon Jae-in, who has played as a "mediator" for facilitating the summits between the United States and NK, is seen as having less room to maneuver while dealing with Pyongyang.

In the latest speech, NK leader Kim openly criticized President Moon's role as a mediator between the United States and NK. Kim used a trick of prolonging NK's parliamentary session to two days, awaiting the outcome of the latest South Korea-U.S. summit at the White House to denounce the United States and South Korea.

President Trump insisted on a "big deal" even though President Moon persuaded him into making "a good enough deal" in return for some sanctions relief. NK leader Kim made it clear that he would never make any concession or compromise as to questions related to "principal interests of our state and people."

In his latest speech, NK leader Kim stressed self-sufficiency in anticipation of a long-term confrontation against the U.S.-led sanctions, detailing action plans. Many North Korea experts said Kim's self-sufficiency scheme amounted to a bluff, and it means the opposite: the stark reality of the North Korean economy.

The Japanese newspaper Asahi Shimbun reported on March 31 that rice and flower and other necessity prices were increasing on the NK market, and it also reported that Pyongyang demanded food assistance of 100,000 tons to Russia. President Trump told reporters on April 7 that the developments of North Korea would be known to them this year, hinting that ranking U.S. officials may see any possible signs of a crumbling NK.

NK reportedly received a guarantee of large amounts of assistance during NK-Chinese summit. A ban against sending North Korean workers overseas, imposed by the U.N. Security Council, is to take effect early next year, delivering a server blow to NK leader Kim. President Moon is expected to send his special envoy to Pyongyang with the goal of bringing President Trump and NK leader to a third summit. The following is a statement issued following ROK-U.S. summit.