The state-owed asset management company will sell the land to developers for commercial development based on its survey on the use of state-owned land across the country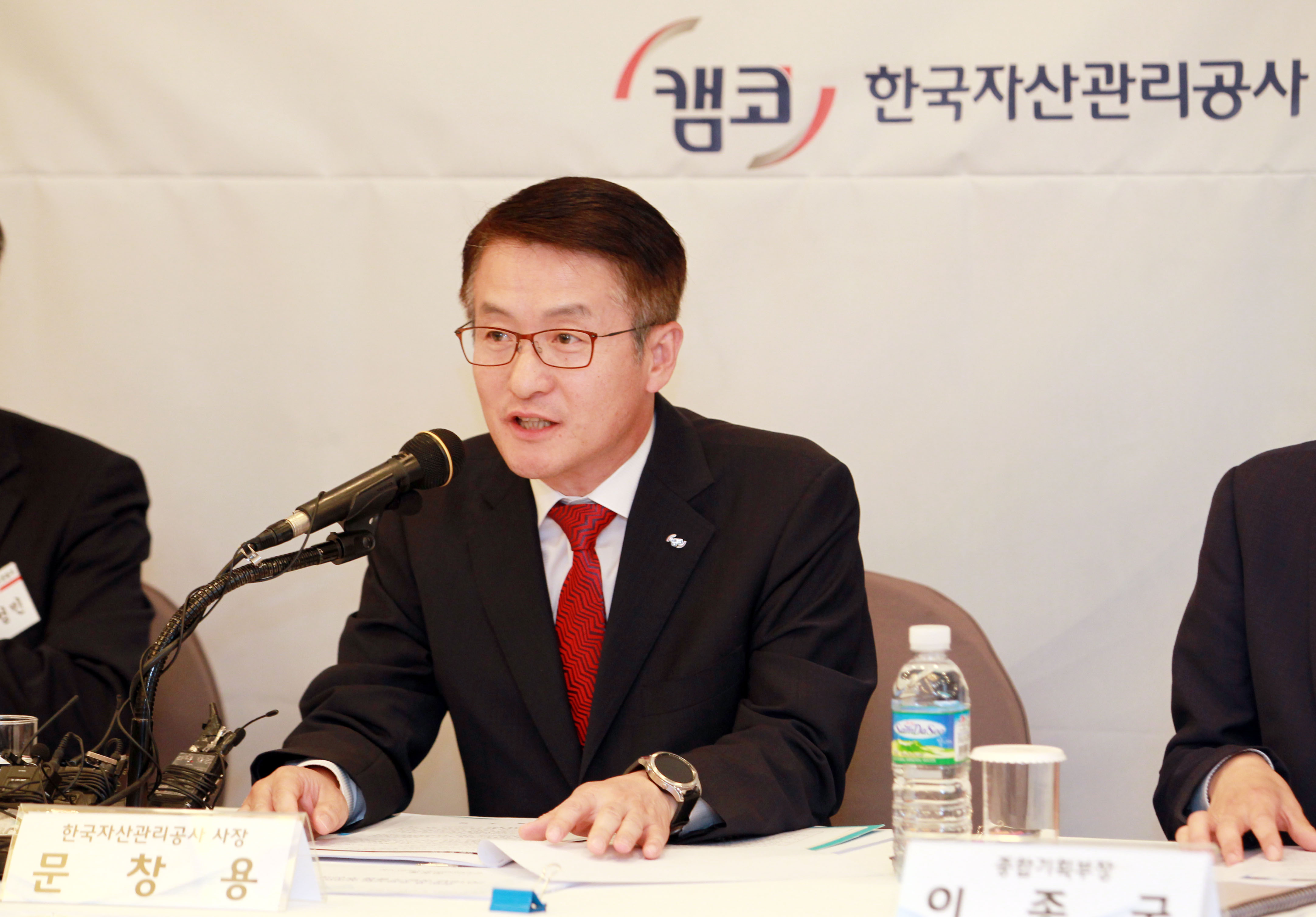 President Moon Chang-yong of Korea Asset Management Corp. (Photo:Kamco)
Korea Asset Management Corp. (Kamco) will go ahead with its plan to sell some 105,000 state-owned lots for development for commercial purposes, including office and residential facilities, the company said on March 5.
The land is about 25 times the size of Yeouido, Seoul.

The state-owned asset management company said the move follows its survey of the state-owned land across the country conducted last year, and the land will be sold this year so developers will be able to develop it for commercial purposes.

The company looked at some 1.99 million lots of land, except lots which can be clearly converted for development among some 5 million lots of state-owned land across the country. The company found that 1.84 million lots have been used for development for administrative purposes, leaving only 150,000 lots still state-owned and unused for commercial development.

The company, thus, decided to put up for commercial development the number of lots of state-owned land noted above this year, which comes to around 74,000 square km.

South Korea's debt clearing house Korea Asset Management Corp. (KAMCO) is set to take over 20 vessels worth 390 billion won ($344 million) owned by six shipping firms.

According to the shipping industry on Monday, KAMCO will sign a contract to acquire 20 container and bulk carriers with six shippers including SM Line Corp., Korea Shipping Co., Korea Line Corp., Namsung Shipping Co., Dooyang Limited and Pan Ocean Co. on May 15. Of the 20 vessels, 10 were previously owned by now-defunct Hanjin Shipping, formerly largest shipper in the country.

KAMCO will cover 230 billion won or 60 percent of the total price of 390 billion won, and the remaining 160 billion won will be provided by the six seagoing liners.

The state clearing house and six shippers will invest 390 billion won in KAMCO Ship Investment Company who will establish 20 special purpose companies (SPC) and lend money to them, and the SPCs will take over the vessels that will be leased back to the shippers. With the fund, the cash-strapped shippers would be able to improve their financial health by paying off debts with high borrowing costs and switching from short-term loan to long-term one.

The help from the government will ease financial troubles of the nation's new container shipper SM Line who acquired major assets of Hanjin Shipping. The fledgling shipper would be able to keep Hanjin Shipping's key workers and operation system with the newly raised fund.

South Korean asset management companies are increasingly eyeing global markets to seek higher returns, as local capital markets face low interest rates, industry officials said Thursday.

The number of overseas offices operated by Korean asset management companies more than doubled to 35 as of the end of 2015 from 14 in 2008, according to data by the Korea Financial Investment Association.

Among 35, 14 are run by Mirae Asset Global Investment, four by Asset Plus Investment Management, three by Samsung Asset Management and another three by Korea Investment Management.

According to Mirae Asset Global Investments, it has 12 subsidiaries and two offices globally. Out of its 95 trillion won ($79.7 billion) assets under management, 34 percent or 32 trillion won are allocated in overseas markets, the company said.

Mirae Asset currently sells 1,268 financial products in 32 countries including Korea. The outbound funds sold through its overseas subsidiaries surpassed 2.5 trillion won in 2015. Samsung Asset Management, the nation's largest asset management firm, is also gearing up its overseas business.

It recently announced that it would seek to establish a joint venture with China's CCB Principal Asset Management to operate exchange-traded funds in China.

Managing 200 trillion won in assets, the company said it has agreed to provide advisory for three to five new ETF products to be launched under the Chinese company within this year.