KHNP Teams Up with 22 SMEs to Explore Turkish Nuclear Material & Equipment Market
In his speech to opening ceremony of INPPS 2019, KHNP President Chung stresses need for collaboration between Korea and Turkey for the successfully implementation of the Turkish nuclear power projects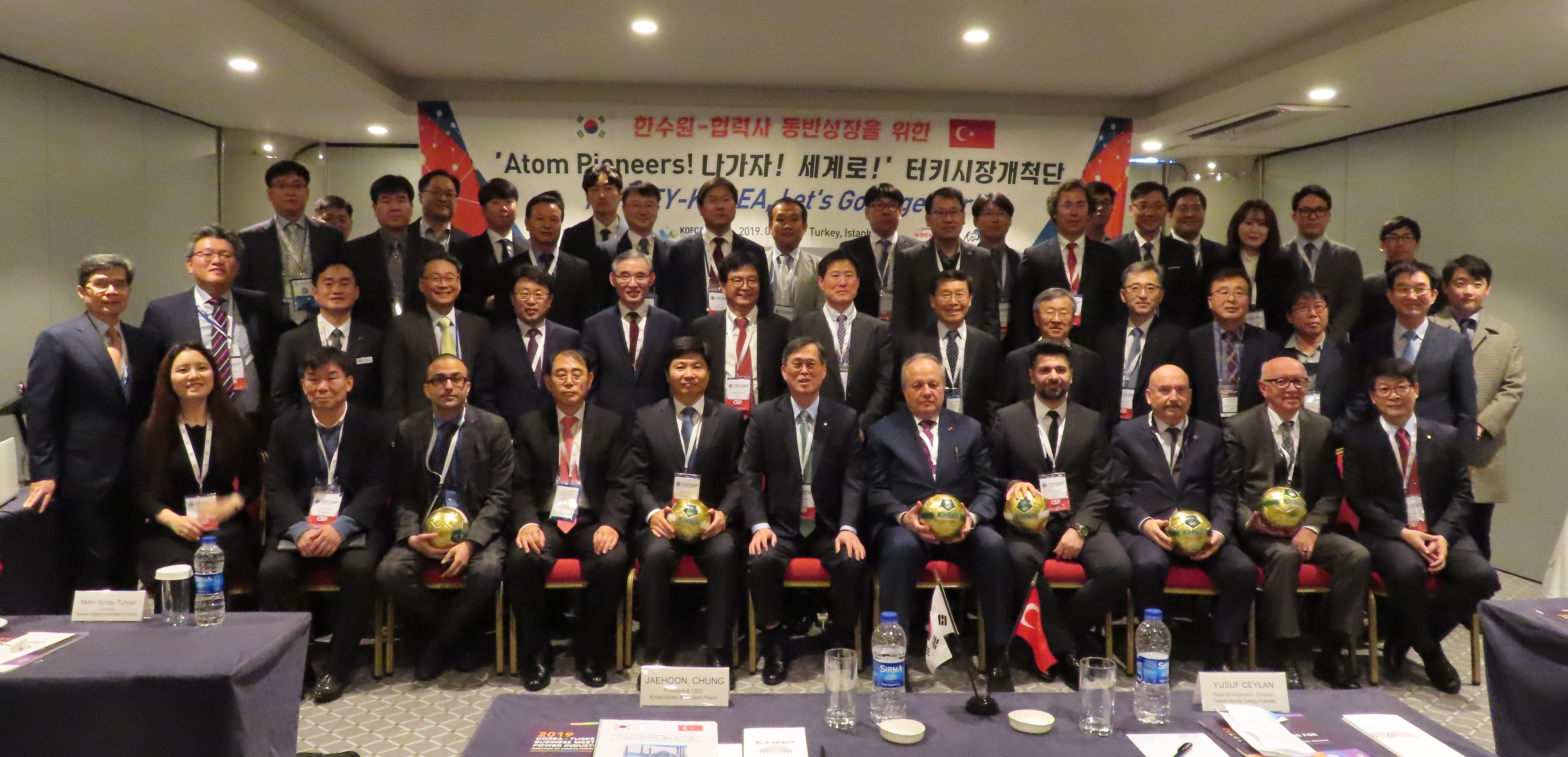 An overseas market exploration delegation, comprising KHNP President Chung Jae-hoon and officials from KHNP and its cooperative SMEs, poses for a group photo while making their joint efforts to tape the Turkish nuclear material and equipment market on March 3. (Photo: KHNP)
Korea Hydro & Nuclear Power (KHNP) Joined forces with its cooperative SMEs in March in an effort to tap the Turkish nuclear material and equipment market in Istanbul.

Twenty-two nuclear material and equipment makers, as well as KHNP's cooperative parts suppliers, participated in the Turkish market exploration team, arranged by KHNP along with Korea Nuclear Partners (KNP), KHNP's export company. Five cooperative SMEs of Doosan Heavy Industries & Construction also joined under a "shared growth" initiative.

KHNP President Chung Jae-hoon participated in a ceremony to open the 2019 International Nuclear Power Plants Summit (INPPS 2019) on March 5. In his speech at the event, President Chung stressed the need for Korea and Turkey to collaborate for the successful implementation of the Akkuyu nuclear power plant now under construction and the planned Sinop nuclear power plant project. Turkey is a geopolitical point between EU and Russia.

The participating Korean companies also participated in a variety of seminars, designed to ramp up their export capabilities, such as "Turkish Market Trends Seminar," hosted by KOTRA's Turkey Trade Office, "Turkish Nuclear Power Market Status Seminar," hosted by KNP, and "Turkish Legal Environment Seminar," hosted by Jipyong, a Korean law firm. Each of the participating Korean companies was given the chance to contact about 10 buyers through a one-on-one matching program of the INPPS 2019

KHNP Wins Vision Award in Sustainable Management from LACP

Korea Hydro & Nuclear Power (KHNP) was presented with the grand prize (platinum) in sustainable management report cate4ogry in the 2017/18 Vision Award from the League of American Communication Professionals (LACP).

In particular, KHNP's sustainable management report ranked 2nd in the world and 2nd in Asia among 6,000 reports submitted by about 1,000 international companies.

The LACP, established in 2001, is a global marketing organization, holding competitions to evaluate message delivery and design of reports issued by companies and organizations in diverse industries, including Fortune 500 companies.

In the report, KHNP focused on clarifying efforts to pursue sustainability management such as a rise to a comprehensive energy company, the operation of nuclear power units with a top priority on safety, and realization of social values.

KHNP works on the issue of a sustainability report on transparent management and realization of social responsibilities since 2007 when the power company became a member of the UN Global Compact under the UN Sustainable Development Goals initiative. KHNP's 2019 report is the ninth rendition of sustainable management report.

KHNP President Chung said, "KHNP will redouble efforts to become a global energy leader trusted by people by fulfilling its economic, social and environmental responsibilities as the nation's biggest power company and spearheading practicing of social values."