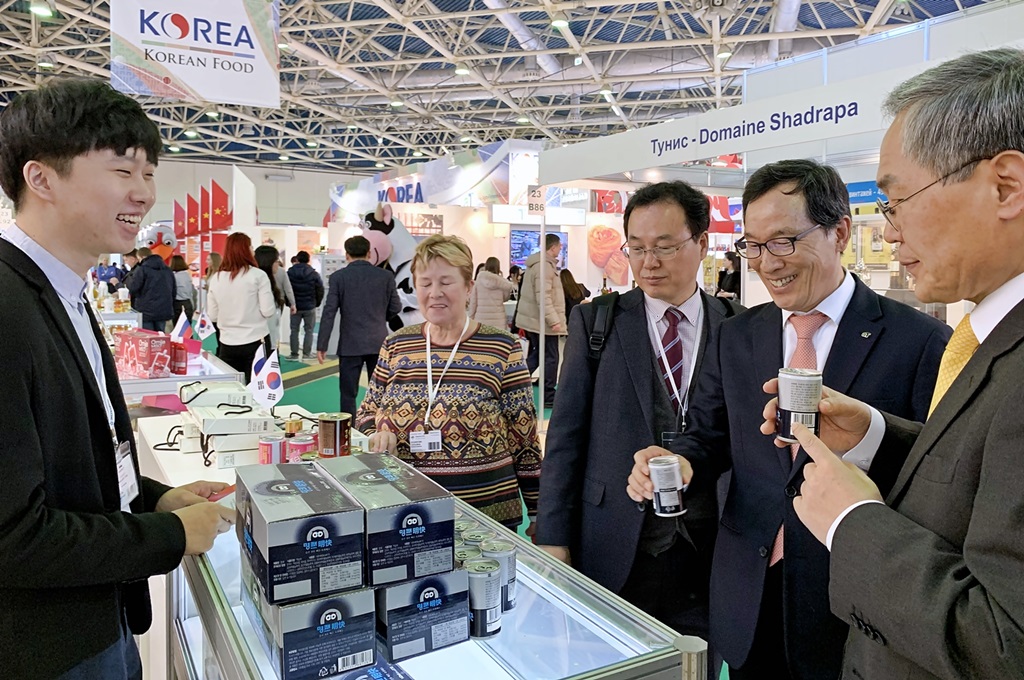 aT President Lee Byung-ho looks at items on display at the Dubai Food Festival 2019. (Photos: aT)
Korea Agro-Fisheries & Food Trade Corp. (aT) is accelerating efforts to provide support to companies specializing in exporting fresh agricultural produce. Thanks to such support, the nation logged the best-ever performance in fresh agricultural produce exports.
aT is aggressively expanding efforts to export agricultural produce to "New South" regions such as ASEAN member countries. aT focuses on the operation of the Agrifood Frontier Leader Organization (AFLO) program as part of efforts to tap the overseas agricultural produce export market.

Last year, aT had restructured an export support regime with a focus on fresh agrifood exports and processed food products made with Korean-produced food raw materials.
The corporation integrated each fresh agricultural produce's export bodies, strengthened quality management of agricultural exports and unified export channels. The number of "K-fresh Zones," outlets specializing in Korean-produced fresh agricultural produce, has increased to 18 in three countries, including Thailand. Thanks to the steps, Korean-produced fresh agricultural produce surged 16.6 percent year-on-year to $1.277 billion last year.

Ginseng product exports in countries such as China and the United States shot up 18.5 percent year-on-year. Fruit exports soared as pear and grape exports surged to Vietnam and Hong Kong, respectively. Vegetable exports also increased 5.1 percent as strawberry exports increased in the Asian region. Fresh agricultural produce exports to the Southeast Asian region skyrocketed 43.5 percent on a year-on-year basis. The boost in the region was owed to the outcomes of aT's "New South" policy of nurturing the ASEAN region into Korea's 2nd export market, industry analysts said.

aT has been translating into action five tasks designed to boost exports to the New South region. First, aT has decided to establish a branch office in Ho Chi Minh City, Vietnam, as part of efforts to build a regime to support exports to the ASEAN region. The move is designed to have the tentatively named Southeast Asian headquarters in place to flesh out action plans of the New South policies.

aT's second task involves the nurturing of "superstar items" targeting the ASEAN markets. The task calls for nurturing strategic items such as persimmons, ginseng chicken soup, and mushrooms on top of ramyeon (instant noodles), beverage drinks and strawberries. Laying logistics infrastructure to boost fresh agricultural produce exports is essential. aT is implementing projects to boost fresh agricultural produce exports in cooperation with local governments and export companies.

Exploring new distribution networks of fresh agricultural produce exports in the ASEAN region is also important. aT is beefing up large-sized distribution networks of Korean foods at each center of the region while supporting entries into new distribution networks such as on-line outlets. The corporation is utilizing 3S strategies - start, social network service, and school & event - a marketing move tailored to meet the region's needs. aT is also implementing a task of increasing K-food fairs.

The Ministry of Agriculture, Food and Rural Affairs (MAFRA) hosted a negotiations session bringing together buyers from emerging markets at the Grand Hyatt Hotel in Seoul last November in cooperation with aT. About 100 buyers from 35 countries with good potential of exports, including India, Brazil, South Africa, Kazakhstan, and Italy, were invited to the event, and they held one-on-one meeting with 154 Korean exporters.

The event took place as part of efforts to break a structure of concentrating on a few export countries, including Japan, China and the United States, and diversify export markets. The MAFRA and aT operates the AFLO as part of the diversification strategies.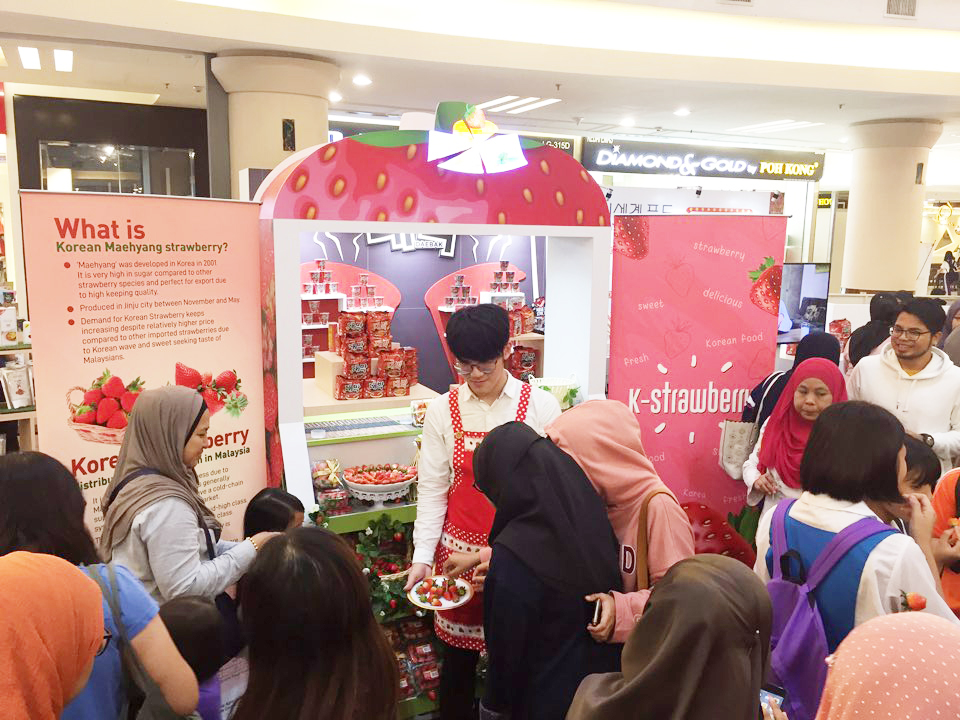 A view of a Korean pavilion to publicize Korean-produced strawberries, part of the Korea Wave-Halal Show in Malaysia.