KNOC pushes 'growth in partnership with cooperative firms' paradigm as it takes its place on the world stage as a global oil company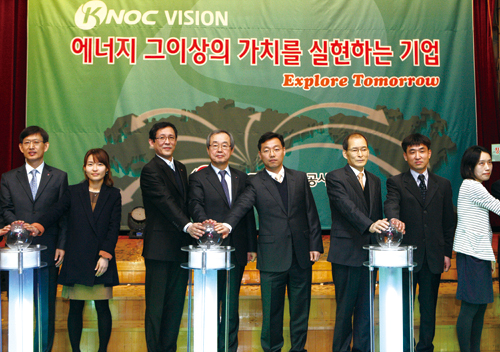 Top executives led by President Suh Moon-kyu of Korea
National Oil Corp. push buttons declaring the Vision 2020 in a
ceremony for the 34th anniversary on March 4 this year.
Korea National Oil Corp. (KNOC) celebrated its 34th anniversary on March 4 in a ceremony declaring its new vision, saying,"KNOC will be an enterprise that realizes a value higher than energy," meaning that it will pursue ethical management and social contribution, among other values, as a public business to do in full its social responsibilities to help the happiness of the people and at the same time maintain its sustainable growth to be a success as a global business on the world stage.
President Suh Moon-kyu declared his new focus on responsible management, special care for paring expenses, and future management. He believes each employee should do his or her best job with the mind of an owner and a sense of mission as a member of the organization, train professionals with globally integrated management and develop core technologies so that they can be a base for the company' s continued growth coping with all kinds of changes in management environment thus securing a growth engine.
Suh said all officers and staff should unite and overcome various challenges both internal and external wisely for the company.
KNOC's new vision and management policies were the results of staff debates and surveys held between October last year and February this year, followed by executive meetings, which approved the final version.
The oil company has been pursuing partnership in growth with its cooperative firms in line with the government' s policies to help SMEs grow together with bigger firms. This follows the announcement of its vision to grow together in partnership in order to sharpen the competitiveness of small and medium cooperative firms, expand fair business deals with them, and at the same time make efforts to nourish a culture for partnership in growth and secure a base for such growth.
KNOC has been helping its manpower in its units to be trained and the units to expand continuously to strengthen its capacity to support SMEs to grow in partnership. The company set up a task force inside its organization to take charge of the partnerships with SME cooperative firms in 2010 and in November last year the task force became a regular unit of the company and was renamed the Partner Growth Team.
The Partner Growth team is an exclusive unit of the company to promote joint growth with cooperative companies or vendors, which will take charge of checking the progress of the partnership in growth within various units of the company and hold sessions with officers and staff on partnership growth to expand its culture to the entire company.
Last December, the team set up a homepage for the exchange of suggestions and ideas to promote partnership growth and to enable cooperative firms to register their problems and participate in meetings and promote open communications with each other.
The team will also set up regular meetings, organize sports events, morning meetings to spread the CEO' s messages on the growth in partnership, dispatch CEO' s letters to cooperative firms, and present commemorative items, all to pave the way for closer relations with cooperative firms through invigorated exchanges.
KNOC officials said the entire company is out to drum up partnership growth to help its culture to take deep root in the company by boosting the understanding of the partnership in growth with cooperative firms paradigm among all of the officers and staff of the oil company.