The MOU to be instrumental for Korean builders to clinch more construction projects overseas with Kotra ready to take advantage of its vast overseas network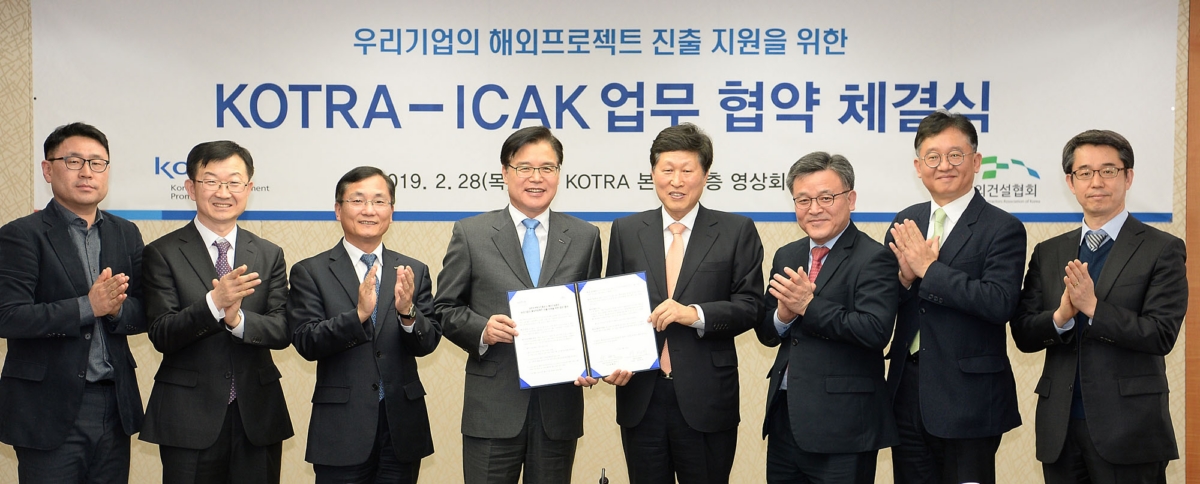 President Kwon Pyung-oh of Kotra, left, and Chairman Lee Kun-ki of the International Construction Association of Korea hold the copy of an MOU they signed on Feb. 28 on cooperation to assist Korean firms to successfully explore overseas market, in particular, Korean builders to clinch more overseas construction projects ahead. (Photo: Kotra)
Kotra and the International Construction Association of Korea (ICAK) signed an MOU on cooperation involving helping Korean firms win more construction projects overseas, Kotra said on Feb. 28. Kotra expects it will further boost services along with ICAK for Korean firms, utilizing its vast global network in regions around the world.

The two signatories will exchange information on construction projects, including plants overseas, to form joint projects, strengthen the advantage of Kotra's overseas offices and cooperate on G2G trade transactions, Kotra said.

They held a special forum as the first event since signing the MOU. Some 250 companies related with overseas construction participated. They had a number of lawyers from such famous law firms as the Kim and Chang, Yulchon, and Pacific to speak at the forum. The main subject was how to deal with contract disputes.

They discussed the real conflicts arising out of construction contracts based on real cases and ways to deal with them.

Kotra President Kwon Pyung-oh said they decided to study overseas construction contract disputes at the forum in a bid to boost profits from those projects overseas, which have been rising in recent years.

He added that the government has been all out to help Korean firms do better overseas in clinching various projects, and Kotra and the overseas construction association will cooperate to help boost the number of overseas projects that Korean companies are working to win.
The Korean firms secured $29 billion worth of overseas projects in 2017, which rose to $32.1 billion last year.

Saudi Aramco recently signed a comprehensive Memorandum of Understanding (MoU) with the Korea Trade-Investment Promotion Agency (KOTRA) to facilitate closer business cooperation under the framework of Saudi Vision 2030.

The MoU was signed by Ahmad A. Al Sa'adi, Saudi Aramco senior vice president of Technical Services, and Kwon Pyung-Oh, president of KOTRA.

Under the MoU, working groups between Saudi Aramco and KOTRA - by and through both parties' subsidiaries - will be established to collaborate in the areas of trade, investment, and human resources development. The collaboration will also include building up communication channels, identification and support of current and potential investors, improvement and creation of human resources training programs, and co-hosting of seminars, workshops, forums, and roadshows.

"The collaboration between Saudi Aramco and KOTRA to establish a platform for Korean companies' investment in the Kingdom to serve Saudi Aramco's supply chain will help strengthen the competitiveness of Korean companies in Saudi Arabia and the GCC region, and contribute to Saudi Aramco's long-term iktva goals and Saudi Vision 2030," said Al Sa'adi.

"Many Korean companies hope to participate in Saudi Aramco projects," said Kwon. "If KOTRA and Saudi Aramco strengthen our two-way communication and expand our collaboration for Vision 2030, it will set a role model for partnership and expand the presence of Korean businesses in Saudi Arabia. The new chief of the nation's trade promotion agency said recently that he will help small- and medium-sized companies tap into global markets and Koreans find jobs overseas.

"The way to expand export through heavy reliance on a few major business groups' shipments has reached its limit, so we need to change the paradigm focusing on income-led growth and human-centered economic progress," said Kwon Pyung-oh, president of the Korea Trade-Investment Promotion Agency (KOTRA).

"At this point, export expansion by innovative small- and medium-sized enterprises (SMEs) is regarded as the best measure to increase export and create jobs."

The 60-year-old added KOTRA is set to support 5,000 SMEs committed to exports and find 20,000 jobs for young Koreans in other countries every year.