Company reveals vision to rise to top cloud security leader at 'Cloud Security Media Day' on March 14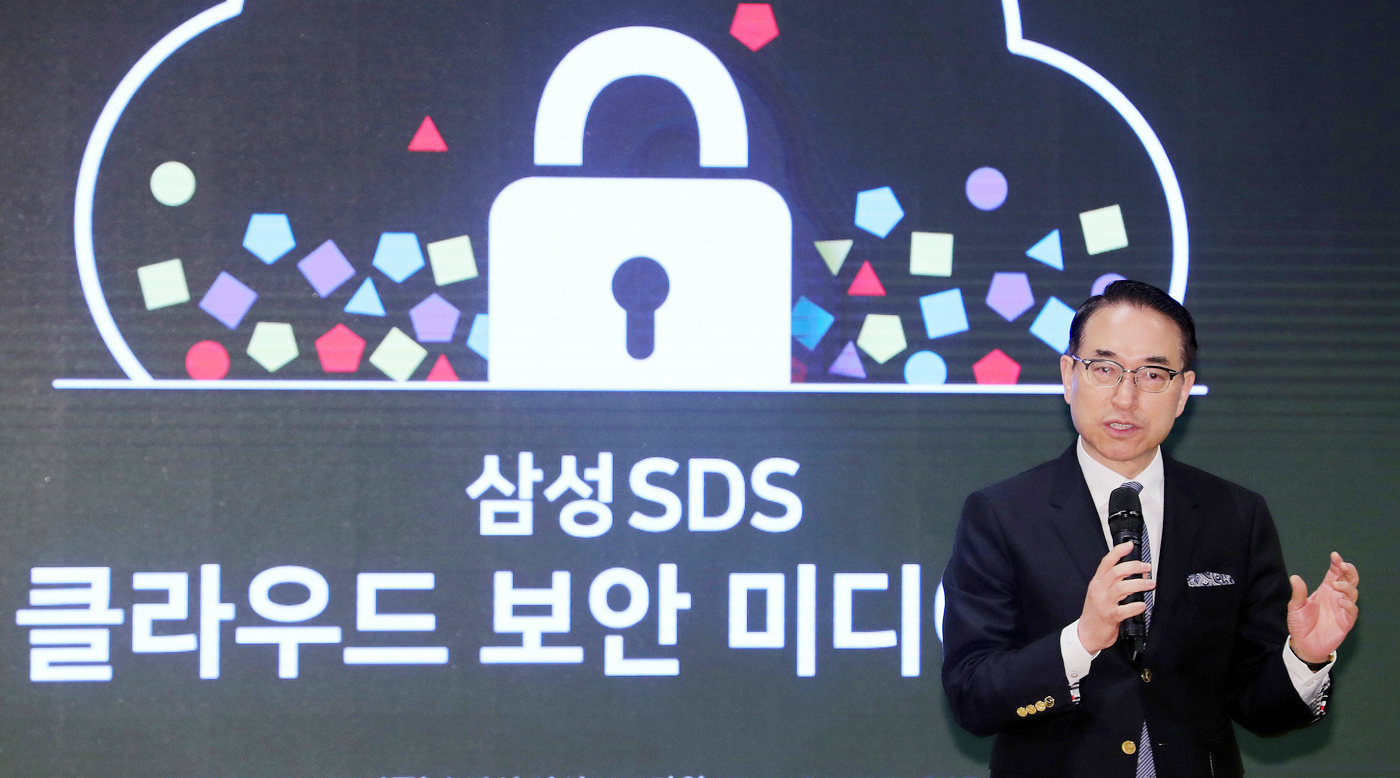 Samsung SDS President Hong Won-pyo delivers a speech at "Cloud Security Media Day" at the campus of Samsung SDS headquarters in Shincheon-dong, southeastern Seoul, on March 14. (Photo: Samsung SDS)
Samsung SDS is ramping up its cloud security total service business. The company unveiled a "cloud security total service" at "Cloud Security Media Day" at the campus of Samsung SDS headquarters in Shincheon-dong, southeastern Seoul, on March 14. As well as a vision for the company to become a cloud security leader.

Samsung SDS President Hong Won-pyo said, "(We at Samsung SDS) has secured all core technologies related not only to cloud transformation, but also to its subsequent security issues."

Samsung SDS plans to provide top-class security services, employing new technologies the company has accumulated for the past 30 years, he said.

Forbes Magazine reported that global companies' cloud transformation rate is forecast to surge to 83 percent by 2020. Korea's cloud transformation rate is too low, however, which President Hong said will serve as a good growth potential. He stressed that more and more companies will turn to cloud transformation in the next three to five years.

The three cloud total services revealed by Samsung SDS are technologies to prevent hacker attacks, virus and malignant code entries; block escape even if they succeed in entering; and make even leaked information data useless.

The company said that employing AI technology against security threat intelligence (TI) leads to the necessary steps to deter cyber attacks in an automated way.

It also enables the prevention of intentional and unwitting information leaks by automatically monitoring such things as cloud users' behaviors/contracts and gadget/location.
Samsung SDS's rival companies offer services to prevent intrusions and data leaks. Samsung SDS has also released a technology to make otherwise leaked information data useless. The "White Box" encryption technology is one to prevent cloud intruders from finding encryption keys: making it impossible to conduct a decoding by transforming encryption keys into the ones made with its own encryption algorisms.

Samsung SDS said customer companies have the technology in place. Four countries – Korea, Japan, France, and Denmark – have received certifications on the White Box Encryption Technology. Samsung SDS is the sole Korean company with such a certification. Samsung SDS plans to release a homomorphic encryption solution in next half. The technology is designed to block any leakage of decoding data from hackers.

Samsung SDS Leads Logistics Innovation with Blockchain and Intelligent Process Automation

Samsung SDS will announce a service that enhances traceability of supply chain based on blockchain and logistics business automation at the Cello Conference 2019 to be held on March 14.

Blockchain based supply chain tracking service provides transparent processing history of the aquaculture-shipping-distribution of the marine products to the consumers and ASK (All about seafood in Korea) Export Council consisting of domestic seafood processing companies.

This service, which is provided in the form of Software as a Service (SaaS), was first commercialized in Korea for the ASK Export Council after its service verification through a pilot project last year.

Moreover, Samsung SDS plans to introduce cases of logistics business automation with Brity Works, an Intelligent Process Automation solution of Samsung SDS.

Brity Works improved work efficiency in several areas by automating simple repetitive tasks done by about 100 employees such as accessing the shipping site to collect and input transportation information of the freights.

In addition, Samsung SDS will present a business model of Last Mile Delivery, applied in Germany, which provides optimized logistics services through logistics network based on Cello platform.

"We will continue to pursue various logistics innovation through latest technologies such as Blockchain and AI, and will strengthen external business by heightening the competitiveness of smart logistics service," said Hyung-Tae Kim, executive vice president, leader of logistics business unit of Samsung SDS.