Builder completes access tunnel of Fujairah Arabian Sea crude oil storage terminal and moves to take on main part of the mammoth project targeted for completion in 2022
President Moon Jae-in and Sheik Mohamed bin Zayed Al Nahyan, Crown Prince of Abu Dhabi and Deputy Supreme Commander of the UAE Armed Forces watch as President Ahn Jae-hyun of SK E&C and Dr. Sultan Ahmed Al Jaber, UAE State Minister and ADNOC Group CEO sign an MOU to award the ADNOC Fujairah Underground Oil Storage Project to SK E&C at Chong Wa Dae, the Presidential Mansion, in Seoul on Feb. 27, 2019. (Photos: SK E&C)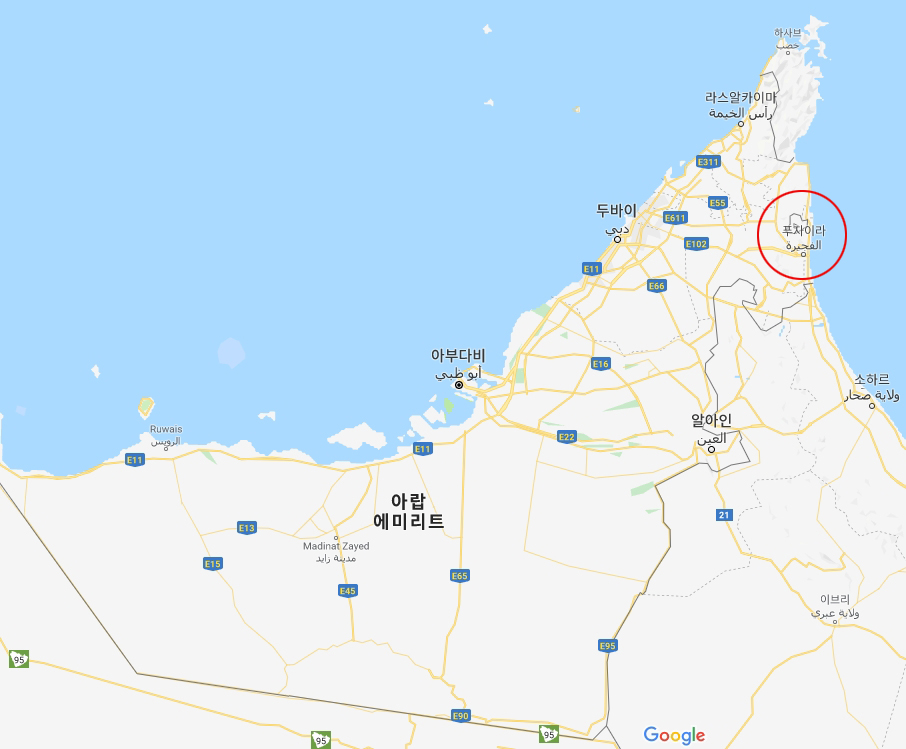 A map showing the location of the ADNOC underground oil storage construction project in UAE awarded to SK E&C.
SK Engineering and Construction (SK E&C) said work that commenced in 2018 on the first phase of the ADNOC Fujairah Underground Storage, involving the construction of an access tunnel, has been completed.

When the entire project is complete in 2022, the ADNOC Fujairah Underground Storage will be one of the largest facilities of its kind in the world and able to store three different types of crude oil, providing ADNOC with increased flexibility to export crude through Fujairah's Arabian Sea oil terminal, the construction company said.
The Korean construction firm so far built eight underground crude oil storage facilities, both at home and overseas including Yeosu, Ulsan in Korea and Mangalore, and Padur in India, especially those large enough to contain more than 10 million barrels each, and 75 million barrels in storage capacities.

President Ahn Jae-hyun of SK E&C said the project has been progressing as planned and he hopes to secure more underground storage construction projects in the future as the company has now accumulated experience in such mammoth projects.

Sheikh Mohamed bin Zayed Al Nahyan, Crown Prince of Abu Dhabi and Deputy Supreme Commander of the UAE Armed Forces, and President Moon Jae-in of South Korea, attended the signing of an agreement between the Abu Dhabi National Oil Company, ADNOC, and South Korea's SK Engineering and Construction Co. Ltd, SKEC, to build the world's largest crude oil storage facility in Fujairah. The meeting was held at the Blue House in Seoul.

An Engineering, Procurement and Construction (EPC) contract has been awarded to SK E&C to construct the three underground storage caverns, each with a capacity of 14 million barrels, deep below the ground. The EPC contract is the largest for a single project awarded for underground crude oil storage in the world, and is valued at Dh4.4 billion ($1.21 billion) with approximately 50 per cent of the contract spend feeding back into the UAE economy through ADNOC's 'In-Country Value' program.

The ADNOC Fujairah Underground Storage will strengthen the UAE's position as a reliable supplier of crude oil as well as give ADNOC greater flexibility, allowing it to manage and optimize its delivery schedule and support its broader move into trading. It will also enhance its position as one of the key trading and supply partners in Fujairah's growth as a global oil and products storage and trading hub.

The agreement was signed by Dr. Sultan Ahmed Al Jaber, UAE Minister of State and ADNOC Group CEO, and Jae Hyun Ahn, SK E&C President and CEO.

Speaking on the occasion, Dr Al Jaber said, "Construction of the world's largest single underground project ever awarded for oil storage will enhance the UAE's energy security, in line with the wise guidance of the country's leadership. Importantly, developing this strategic oil storage mega facility in Fujairah will also support and further enable our broader trading ambitions, strengthening our ability to respond efficiently and competitively to the needs of our customers, while also providing ADNOC with greater flexibility to proactively respond to market needs and commercial opportunities.

"ADNOC has a long and successful history of working with Korean companies as partners in our upstream concession areas, as contractors for major projects across the oil and gas value chain, and as a customer of Abu Dhabi's crude oil and our refined products. This project is a testament to the strong strategic partnership between UAE and South Korea and to the capability of SK Engineering and Construction Co. Ltd, given the scale, sophistication and value of this construction."