Plans to ramp up support to six export growth engines as part of comprehensive steps finalized during the 9th Meeting of Countermeasures to Boost Economic Dynamics on March 4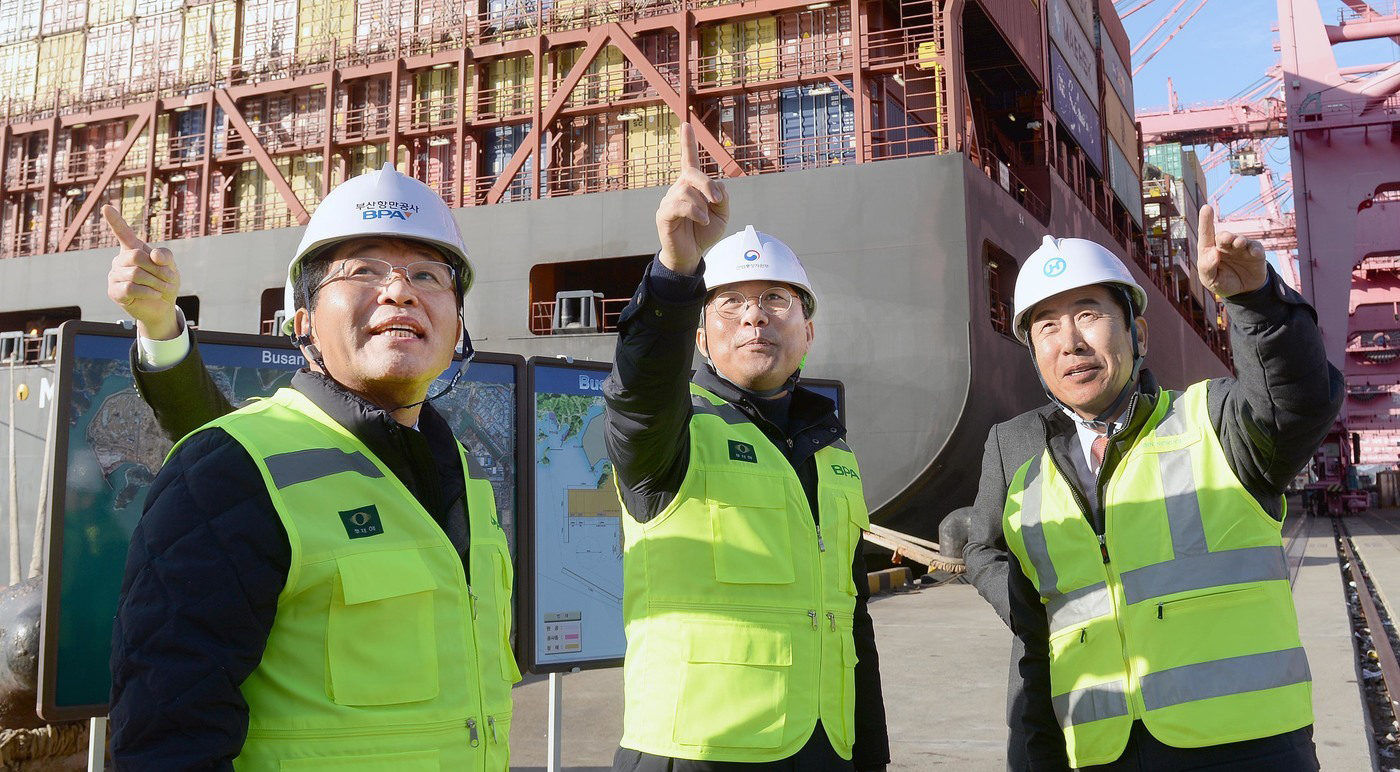 Minister of Trade, Industry and Energy Sung Yun-mo, flanked by Vice Chairman Han Jin-hyun of the Korea International Trade Association and CEO Nam Ki-chan of Busan Port Authority, makes an inspection tour of Busan New Port and Hanjin Busan Container Terminal as part of his efforts to spur exports on Jan. 1. (Photo: MOTIE)
The government announced steps to boost exports, including ones to help exporters with financial difficulties borrow money from banks and have improved access to overseas exhibitions.

The government decided to expand trade finance support by 15.3 trillion won to a combined 235 trillion won by inaugurating five new trade financing support programs. Also available is 352.8 billion won in export marketing support, such as overseas exhibitions and one-on-one trade negotiations.

These were part of the steps the Ministry of Trade, Industry and Energy (MOTIE) finalized during the 9th Meeting of Countermeasures to Boost Economic Dynamics, along with the Ministry of Economy and Finance (MOEF), the Ministry of SMEs and Startups (MSS), and other related government agencies on March 4.

The meeting recognized the stark reality of the Korean export industry that is seeing mounting uncertainties such as U.S.-China trade conflicts, Brexit, and the sagging global economy.

The government plans to ramp up support to six export growth engines, including bio/health, secondary batteries and content.
Under the short-term steps, the central government, local governments, and export support organizations will strengthen export support regimes such trade finance, export marketing, and support for large- and small-sized companies' joint overseas market entry, in order to restore exports to normal at the earliest possible date.

Under mid- and long-term measures, the government plans to reshape the nation's export structure into the one that is not swayed by outside shocks by innovating export items, markets and exporters.

As the nation began to show signs of declining exports since last December, the government had toured corporate sites to sound out exporters' views.

Reflecting those views, the government came up with the comprehensive steps to boost exports by making the most of the related ministries and export support organizations' steps to support exports and capacities.

MOTIE Minister Sung Yun-mo convened a government-private sector joint export strategy meeting to discuss turning around sagging exports on Jan. 21. Plans to provide full support to exporters have since been inaugurated under the joint jurisdiction of the MOTIE minister and the chairman of the Korea International Trade Association (KITA). An export response team, headed by the minister for trade, has been operated to take stock of the situation and look at trade issues. An export expedition team has been inaugurated to provide solutions to grievances and complaints of export sites.

The export expedition team toured seven export sites in Changwon, Gunsan, Gwangju, Ulsan, Busan and Daegu from Jan. 31 until March 4. The team is to visit eight more export sites for a combined 15 sites by end of March.

Starting with Busan New Port early this year, MOTIE Minister Sung also toured export cites, including the cargo terminal of Incheon International Airport and production plants of pharmaceutical companies in the Osong Life Science Complex in Chungcheongbuk-do, to lend an ear to the grievances and complaints of export companies and their recommendations.

KITA Lends an Ear to Export Cites across Nation

Chairman Kim Young-joo of the Korea International Export Association had a meeting with 12 exporters in the southern area of Gyeonggi-do and toured Ian Electronics in Hwaseong, Gyeonggi-do, on March 6 to listen to concerns in export-focused cites. Ian Electronics President Park Sang-hyun told KITA Chairman Kim about the difficulties export cites experience, such as non-tariff barriers.
He also demanded that representative organizations of the export industry such as KITA should play a more active part in tackling the hardships. In return, Chairman Kim stressed that KITA will convey to the government the complaints and grievances the export industry experience after examining them.

Chairman Kim is to tour Ulsan in May, Daejeon and Chungcheongnam-do in June, Jeollabuk-do in September and Gangwon-do in October in an effort to communicate with export beginners, venture and startup companies.

KITA Executive Vice Chairman Han Jin-hyun plans to meet with export business leaders and future trade CEOs in areas such as Busan/Gyeongsangnam-do, Daegu/Gyeongsangbuk-do, Incheon, Chungcheongbuk-do, and Gwangju/Jeollanam-do from April until October.