Latest reshuffle, the biggest one since his inauguration, caps composition of 2nd cabinet under President Moon's government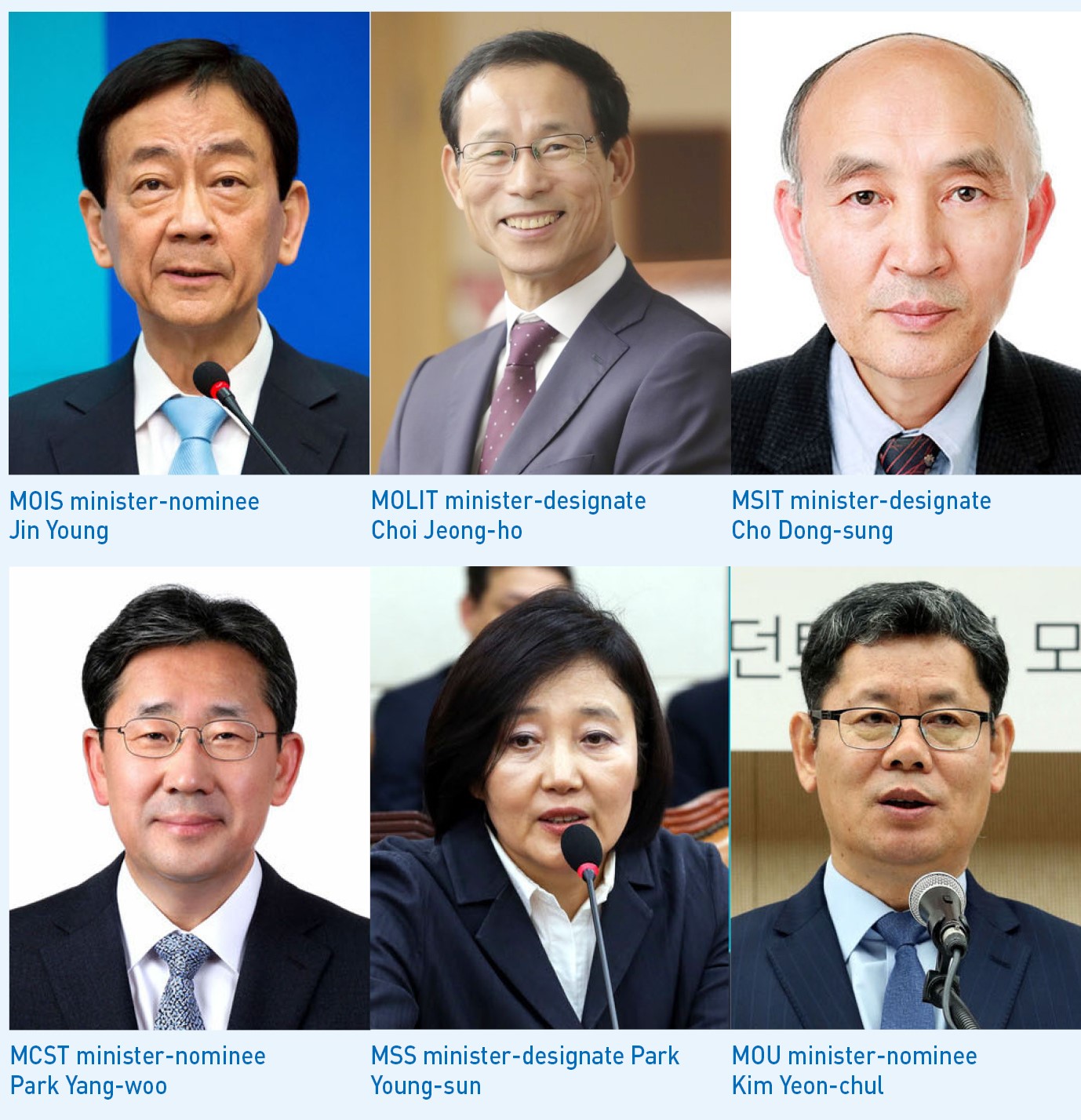 President Moon Jae-in carried out an extensive reshuffle, replacing ministers in seven government agencies, including the Ministry of the Interior and Safety (MOIS), the Ministry of SMEs and Startups (MSS), and the Ministry of Land, Infrastructure and Transport (MOLIT), on March 8. The move was designed to make preparations for general elections slated for next year.

The latest reshuffle, the biggest-yet since the inauguration of President Moon, came seven months after a reshuffle affecting five ministers, appointing Deputy Prime Minister-Education Minister Yoo Eun-hye and National Defense Minister Jeong Kyeong-doo last August.

President Moon nominated Rep. Jin Young, a four-time lawmaker from the ruling Minju Party of Korea (MPK) and Rep. Park Young-sun, also from MPK, as MOIS and MSS ministers, respectively. Former Jeollabuk-do vice governor Choi Jeong-ho was named as MOLIT minister-designate.

Prof. Cho Dong-sung, 63, of Korea Advanced Institute of Science and Technology and President Kim Yeon-chul of the Korea Institute for National Unification, were designated ministers of the Ministry of Science and ICT (MSIT) and the Ministry of Unification (MOU), respectively.

Prof. Park Yang-woo of Chung-Ang University, who served as culture vice minister under the late ex-president Roh Moo-hyun, was tapped to lead the Ministry of Culture, Sports and Tourism (MCST), while Prof. Moon Seong-hyeok of World Maritime University was nominated as minister of the Ministry of Oceans and Fisheries (MOF).

President Moon also conducted a reshuffle of vice ministers on the same day. Prof. Lee Ui-gyeong, 57, of Sungkyunkwan University, and Prof. Choi Ki-joo of Aju University were appointed to be vice minister of the Ministry of Food and Drug Safety (MFDS) and chairman of the newly created committee of the Metropolitan City Transportation Committee, respectively.

MOIS Minister Kim Bou-gyeom, MOLIT Minister Kim Hyun-mi, MCST Minister Do Jong-hwan and MOF Minister Kim Young-chun, who were replaced in the latest reshuffle, return to the ruling MPK to run for the 21st general elections scheduled to take place next April.
The latest reshuffle has capped the composition of the second cabinet under President Moon's government, which was launched with two previous reshuffles. Foreign Affairs Minister Kang Kyung-hwa, Justice Minister Park Sang-ki, and Minister Park Neung-hoo of the Ministry of Health and Welfare, the first ministers of the President Moon's government, are also retained this time.

The latest reshuffle was evaluated to have been made in consideration of balance and expertise, said ruling party sources, citing the nomination of ruling party lawmakers who do not belong to the so-called non-Moon faction and professors-cum-experts. Vice minister nominees are to be appointed soon, but ministers-designate are required to undergo a parliamentary hearing.

Cheong Wa Dae spokesman Kim Eui-kyeom said that Unification Minister-nominee Kim has the necessary academic and professional background.

His nomination caused concerns from the opposition parties that the ministry would continue to push economic cooperation with North Korea despite a failure to reach a deal during the 2nd U.S.-NK summit held in Hanoi in late February.