President Moon Jae-in holds summit with Crown Prince Mohammed bin Zayed Al-Nahyan of the United Arab Emirates on Feb. 27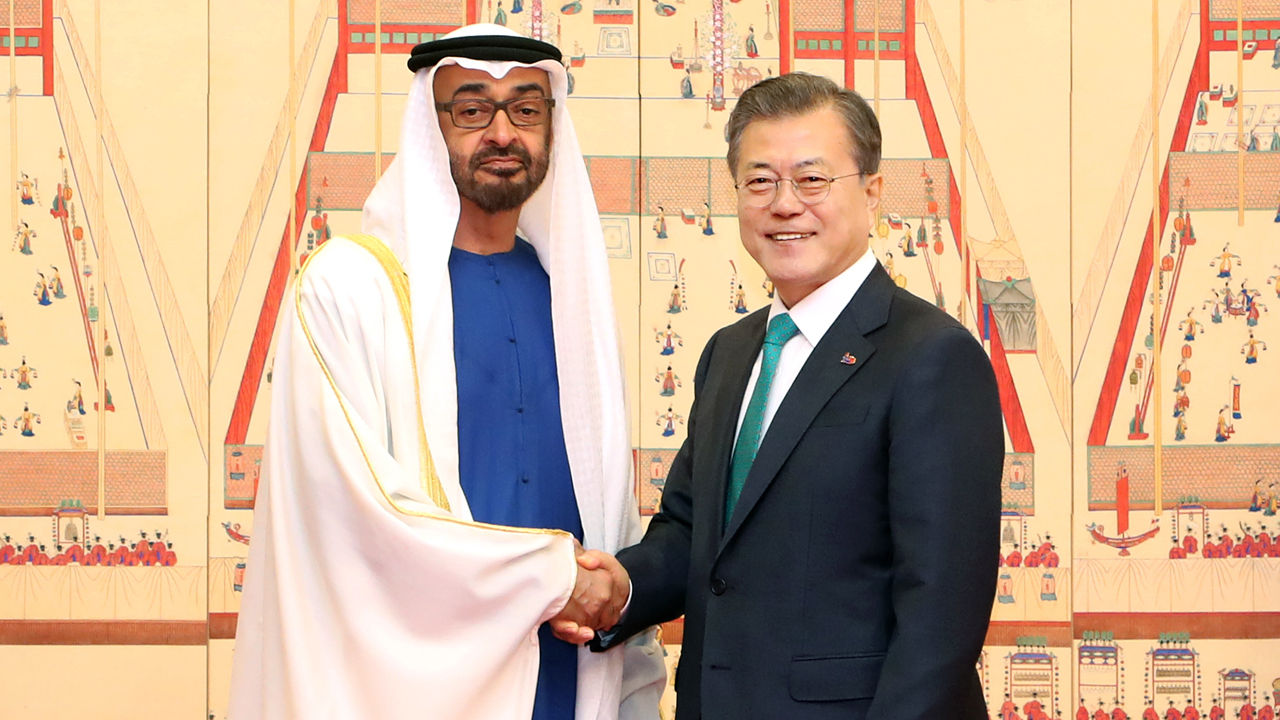 President Moon Jae-in shakes hands with Crown Prince Mohammed bin Zayed Al-Nahyan of Abu Dhabi during their summit at Cheong Wa Dae on Feb. 27. (Photo on the courtesy of the website of Cheong Wa Dae)
President Moon Jae-in held a summit with Crown Prince Mohammed bin Zayed Al-Nahyan of Abu Dahbi on Feb. 27 and agreed to cooperate in entering the nuclear power markets of third countries.

During the summit at Cheong Wa Dae, President Moon said, "Nuclear power is an industry in which cooperation is essential in the whole cycle ranging from planning to design, construction and operation." President Moon called for the two countries to walk together for the next 100 years. He also said Korea and the UAE have been evolving into an alliance and a brotherly relationship beyond simply a partnership, and the Barakah Nuclear Power Plant Project is a project that symbolizes the special relationships between the two countries.

It is noteworthy that Korea's proposal to promote cooperation with the UAE for their joint entry into third countries has been made despite the Korean government's policy of weaning the nation off nuclear power.

On the same day, Korea Electric Power Corp. (KEPCO) and Emirates Nuclear Energy Cooperation (ENEC) adopted a declaration on aggressive cooperation in long-term support for the operation of the UAE nuclear power plant. Along with KEPCO, the prime contractor, and ENEC, KHNP, KEPCO E&C and KEPCO KPS from Korean side as well as Nawah from UAE side joined in adopting the statement.

The two countries signed eight MOUs on eco-friendly energy cooperation and other areas. They also struck a double tax avoidance agreement, but both sides ended up adopting a "declaration" in the nuclear energy sector, which is considered lower than that of signing an MOU.

The Barakah project, being awarded to Korea in 2009, calls for the construction of four 1.4GW nuclear power units for a combined $18.6 billion. The 1st nuclear power unit, dedicated in March 2018, is to be put online next year. Korean companies are responsible for nuclear power unit design, major equipment supplies, nuclear fuel supply and operation. An international bidding on the long-term maintenance agreement (LTMA) of the Barakah Nuclear Power Plant is under way.

With Crown Prince Al-Nahyan's visit to Korea, all eyes are on whether Korea will emerge as a victor of the LTMA bidding, to be announced in March. A consortium, led by KEPCO KPS and KHNP, Babcock of the United Kingdom and Allied Power Group of the United States are competing for the project. An official with the Ministry of Trade, Industry and Energy said with Korea's winning the LTMA bid, the nation is expected to become a contractor for the whole cycle of the Barakah Nuclear Power Plant, ranging from construction to operation and maintenance.

The Korea-UAE summit has been evaluated to have expanded bilateral relations, which started with cooperation in the nuclear power sector, to other areas such as 5G, AI and technologies of the 4th Industrial Revolution. President Moon and Crown Prince Al-Nahyan agreed to widen bilateral collaboration to value added industries such as semiconductors and 5G networks, as well as new/renewal energy and other new industry energy fields.

Crown Prince Al-Nahyan made the state visit to Korea in exchange in return for President Moon's state trip of the UAE in March 2018. Crown Prince Al-Nahyan expressed hope the UAE will maintain a powerful relationship with Korea in an era of the 4th Industrial Revolution in new areas such as 5G and AI, surpassing cooperation in the nuclear power sector. As President Moon and Crown Prince Al-Nahyan looked on, Sultan Ahmed Al Jaber, UAE Minister of State and Adnoc Group CEO, and SK E&C President Ahn Jae-Hyun signed a contract to build the world's largest single-site underground crude storage facility in Fujairah, the UAE.

President Moon Jae-in on March 11 met with Brunei Sultan Hassanal Bolkiah on the first leg of his tour of three Southeast Asian nations, with both sides agreeing to ramp up bilateral cooperation in energy and infrastructure.

Korea and Brunei agreed to boost cooperation in cooperation in the liquefied natural gas (LNG) value chain, a four-step process involving the production, liquefaction, transportation and regasification of LNG.

The itinerary of President Moon's first overseas trip in 2019 began with a visit to Brunei March 10-12. The President also consulted with Brunei, the current Country Coordinator for ASEAN-Korea Dialogue Relations, to enhance Korea-ASEAN cooperation in part through the successful hosting of the ASEAN-Republic of Korea Commemorative Summit.

From March 12 to 14, the President visited Malaysia, where he sat down with Sultan Abdullah, Sultan Ahmad Shah and Prime Minister Mahathir bin Mohamad to review the progress made thus far in cooperative ties between the two nations in the run-up to the 60th anniversary of the establishment of diplomatic relations next year. They also discussed concrete measures to strengthen forward-looking cooperation.

On the last leg of his trip, President Moon made a visit to Cambodia March 14-16 and met with King Norodom Sihamoni and Prime Minister Hun Sen to exchange ideas on how to expand substantive cooperation for the two countries' mutual prosperity.