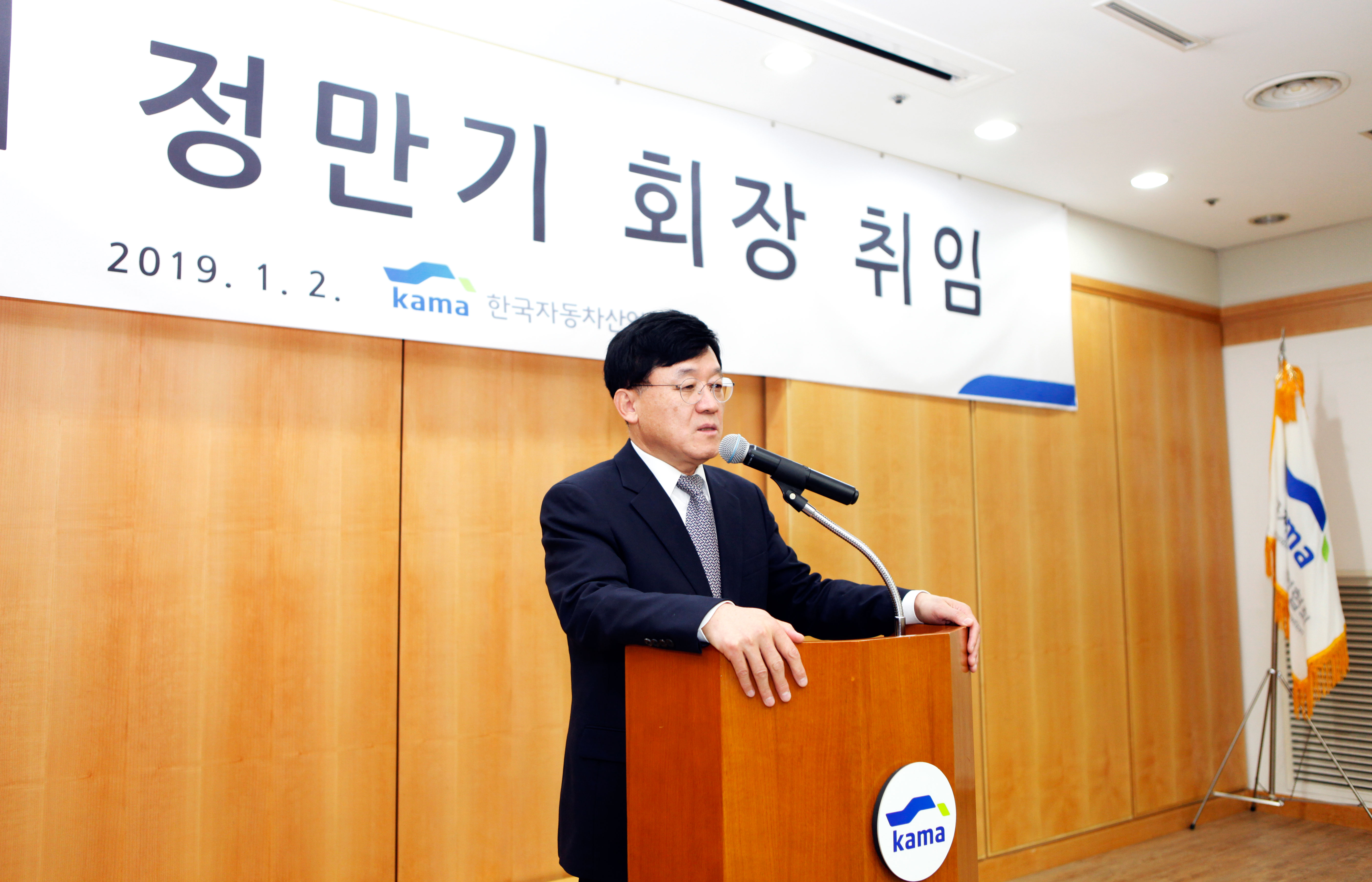 Chairman Jeong Man-ki of the Korea Automobile Manufacturers Association (KAMA) delivers his inaugural speech as he took office as the 17th chairman of the association Jan. 2. (Photo: KAMA)
Former vice minister Jeong Man-ki of the Ministry of Trade, Industry and Energy (MOTIE) took office as the 17th chairman of the Korea Automobile Manufacturers Association (KAMA) Jan. 2.

In his inaugural speech, Chairman Jeong said he has devoted himself to contributing to overcoming the hardships the Korean automobile industry is undergoing by bridging the industry and institutions such as the government and parliament.

KAMA Chairman Jeong began in the public service after passing the 27th higher administrative examination in 1983. He held positions such as deputy minister in charge of industry infrastructure and presidential secretary in charge of trade, industry and energy affairs. He also served as a MOTIE vice minister between August 2016 and June 2017.
The following the gist of his speech.

"Given the reality our industry is facing with diverse challenges and hardships. I feel concern, fear and heavy responsibility on my shoulders." he said.

"There comes a lot of woes such as bigger access problems to overseas markets such as the United States and China, domestic issues like labor-management ties, and fierce competition with countries such as China, advanced countries' resurge of the manufacturing industry, riding on the back of the spread of the 4th Industrial Revolution, and future care completion.

As you know, the automobile industry is a traditional system industry that can be operated only under smooth roles of each company's management, labor and shareholders and guaranteed cooperation on top of organic connecting of parts suppliers, distribution, after-sales firms, academia and research circles with a focus on automakers.
The industry is also a conventional global industry in which a few multinational companies compete in global markets. It is a industrial field in which production system and government regimes and regulations that do not comply with global standards cannot be survived in global completion.

"If these problems and challenges and the automobile industry's characteristics are addressed and considered, I bet our association will contribute to the resurging of the Korean automobile industry by playing a bridge among member companies and the government.

"The first thing I will do is to precisely grasp the industry's movements and complaints and grievances. To this end, fact finding, survey and research need to be reinvigorated.

Second, Chairman Jeong called for proactive, seamless and real-time communication.
Even though objective facts and complaints are excavated, it is no use unless they are not shared.

Efforts to adamantly share them with both inside and outside, including the government, are needed.

"We have to make efforts to communicate with the outside since the outside can explore facts and problems," he said.

Third, Jeong called for open-minded in-house communication with staff.

Lastly, he stressed KAMA staff's "ownership" in which their creative ideas and passion will be encouraged for the purpose of the development of the automobile industry and KAMA.