KEB Hana Bank, its major affiliate plays huge role to boost the group's results with substantial rises in both interest and non-interest earnings last year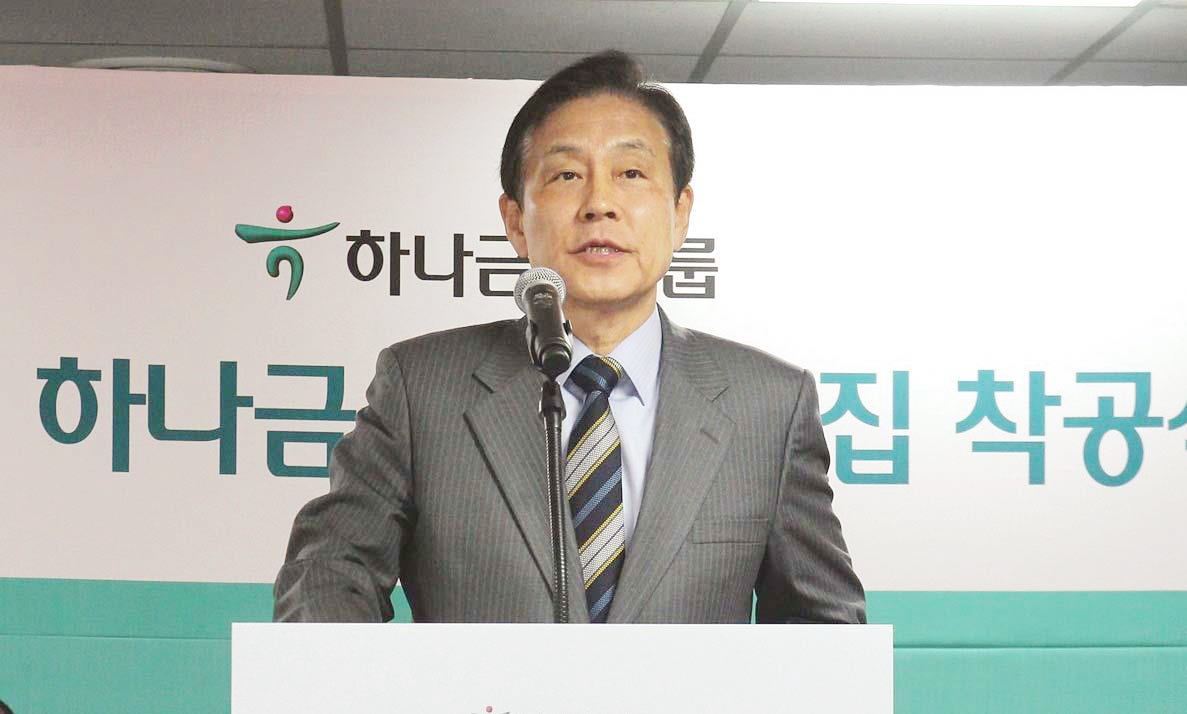 Chairman Kim Sung-tae of Hana Financial Group. (Photo: HFG)
Hana Financial Group posted a record profit in 2018 amounting to 2.240 trillion won on consolidated basis, up 10 percent YoY,the largest since 2005 when the group was launched for the first time due mainly to substantial boosts in its major affiliate KEB Hana Bank's interest earnings and non-interest earnings, the group announced on Jan. 31.

The group's banking affiliate KEB Hana Bank played a key role in boosting the group's profit last year with its profit rising to 3.928 trillion won, down 0.5 percent YoY, which is still a record if one-time profit from the sale of a stake in SK Hynix is set aside as the core earnings of the bank including interest earnings and fee income still counted as the best since 2015 when the bank was merged with the Korea Exchange Bank.

Hana Financial's interest income and earnings from commission fees surged 10.5 percent on-year to 744.3 billion won last year, which also was a record high.
Hana Financial's net interest margin, a key barometer of profitability, stood at 1.85 percent, the group said.

Flagship KEB Hana Bank posted a net profit of 2.09 trillion won last year, down 0.5 percent on year, it added. Hana Financial Group needs to revamp its profit structure by bolstering its non-banking businesses for sustainable growth, analysts say.

The advice came as the nation's third-largest banking group's record-high performance for the first six months of this year was driven mostly by its flagship subsidiary KEB Hana Bank. According to a regulatory filing submitted by Hana, the financial group posted a net profit of 1.3 trillion won ($1.16 billion) in the first half, up 26.5 percent from the year before.

Of its 13 subsidiaries, KEB Hana Bank recorded a 1.19 trillion won net profit in the period, up 19.5 percent from the figure in the same period last year. The number accounts for 83.7 percent of the group's total earnings in the first half.

"The group's other subsidiaries, such as Hana Card, also saw decent growth in earnings in the period. However, their presences aren't still as strong as non-banking sector subsidiaries of other financial groups." a Nomura Securities analyst said.

"I understand Hana's non-banking sector subsidiaries are relatively latecomers compared to those of other financial groups. They still need some time to place a foothold in the market.
The group's high level of dependence on its commercial bank is a stark contrast to other financial groups. The group aims to see more than 30 percent of its earnings coming from non-banking by 2025." a Hana Financial Group official said.

Market observers say, however, it isn't an easy task for Hana to improve earnings in non-banking sectors.
"The nation's brokerage and insurance markets are already too saturated. There is not much room for the financial group to see such growth in those sectors." said a commercial bank official who demanded not to be named.

Hana Financial Group, Inc. is a holding company that engages in the management of its subsidiaries. Through its subsidiaries, it operates through Personal and Commercial Banking, Asset Management business units, Corporate and Investment Banking. The Personal and Commercial Banking business offers comprehensive asset management, loans, credit card services, private banking, and insurance.

The Corporate and Investment Banking provides customers with corporate financial services and ample solutions that meet their specific needs. The Asset Management business offers asset management and brokerage. The group was founded on December 1, 2005 and is headquartered in Seoul, South Korea.