The enviable figures owed to outstanding performances by major affiliates led by Shinhan Bank, Shinhan Capital and Shinhan Financial Investment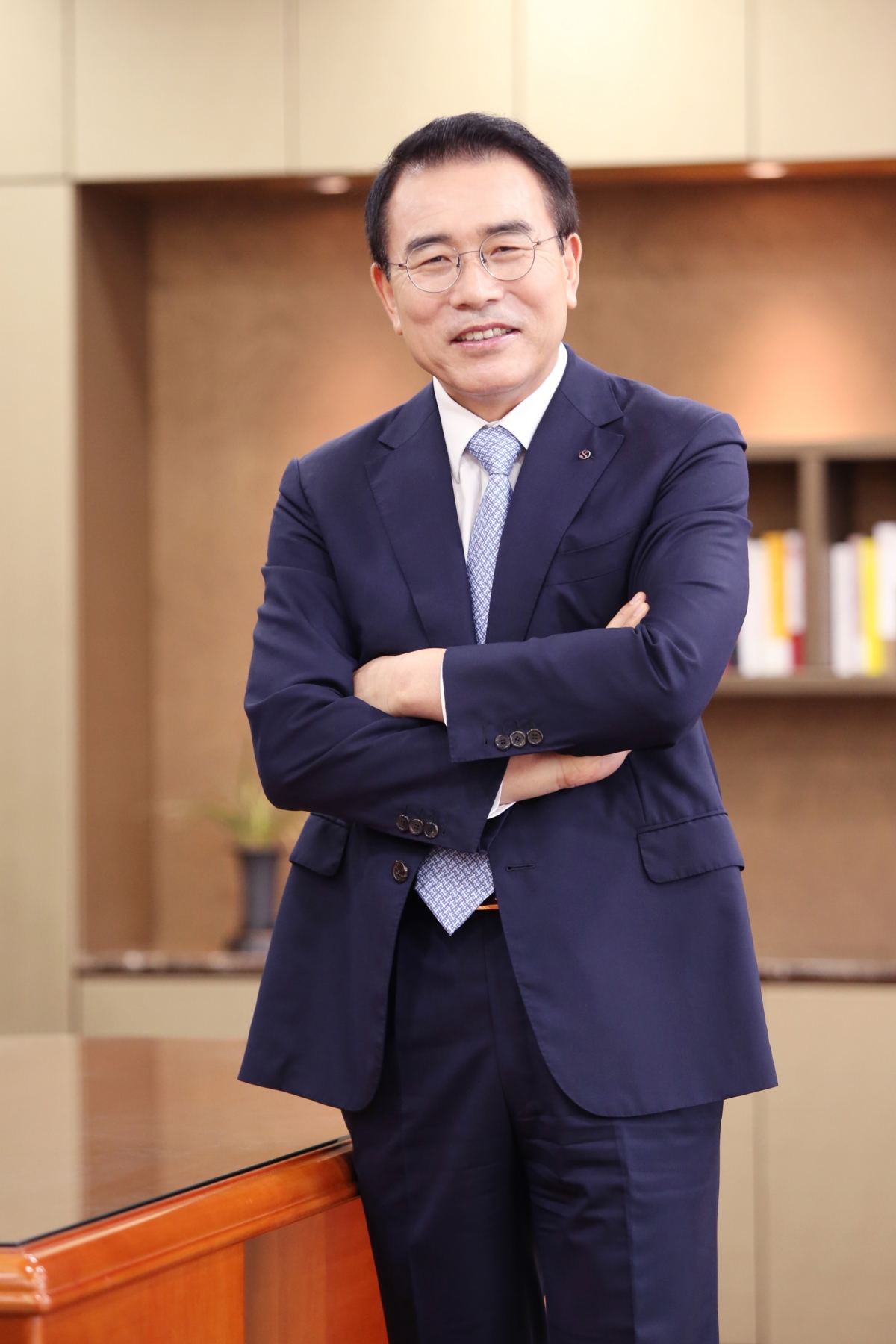 Chairman Cho Yong-byeong of Shinhan Financial Group. (Photo: SFG)
Shinhan Financial Group posted 3.156,7 trillion won in net profit in 2018, up 8.2 percent YoY. It is the largest net profit in its history, by affiliates such as Shinhan Bank, Shinhan Capital, and Shinhan Financial Investment, among others, finishing the year with record profits, the group announced on Feb. 12

Officials of the group said the banking affiliate led the group's net profits to expand thanks to growth in a number of key sectors, including SME finance and the machinery industrial sector. The group affiliates' overseas operation and group investment banking also helped boost its profit.

By key affiliate, Shinhan Bank logged 2.279 trillion won in net profit, up 33.2 percent YoY with loans outstanding rising 7.2 percent. Net interest margin (NIM) rose 0.06 percentage points to 1.62 percent. The bank's interest earnings rose to 5.586 trillion won up 11.9 percent YoY while the NPL provision ratio came to 0.45 percent, the lowest-ever in 2018.

Shinhan Card's net profit fell43.2 percent YoY at 519.4 billion won, while Shinhan Financial Investment posted net profit of 251.3 billion won, up 18.6 percent YoY, seeing its net profit rise two years in a row.

In the meantime, the Affiliate Management Committee decided to name Sung Dae-kyu, president of the Insurance Development Institute, as the candidate for the presidency of Shinhan Life Insurance Co, replacing Chung Moon-kook, who had to withdraw the appointment as president of Shinhan Life due to objections by the company's union.

The president-designate Sung is a former director of the Ministry of Strategy and Finance and a member of the Financial Services Commission, dealing with the insurance policies throughout his long career extending over 22 years and thus considered as one of the most qualified to head the life insurance firm.

An official of the Affiliate Management Committee said Chung wanted to remain the CEO of Orange Life Insurance Co. as he still has a lot to contribute to the company by strengthening the insurance planners at Orange Life, one of the advantages that the life insurance firm has. The orange life also needs a stable management at this time, too, they said, to explain the need for Chung to remain at Orange Life.

Many companies have been driven into a corner by difficult economic and business conditions. A company cannot survive the dangers of a rapidly changing environment while remaining locked within past frameworks or satisfied with ordinary change. In keeping with the times, Shinhan needs to undertake a complete transformation.

"We must fundamentally change customary practices in everything from organizational structure to systems, processes, products, and services, thereby putting Shinhan on the path of innovation." the company said. In order to affect such fundamental change to the overall organization, we reshuffled the Group's management late last year and introduced a new generation of leaders.

In the coming year, we will appoint the most qualified personnel, procure talents from outside the Group, and nurture female leaders as part of Group-wide reformation efforts. In this way, let us continue to explore ways to build a dynamic and thriving workplace. "We must be creative in restructuring our core capabilities to construct a strong and stable Shinhan that does not falter in any danger or crisis."

The company official added that it must consider how clients and society view us, and look beyond Korea to see the world from a global perspective.

"We must consistently strive to create new finance, following another old proverb about the circle of life that grows and multiplies without end. For Shinhan to continue growing in an unstable business environment, we must break free of customs and create anew," Chairman Cho Yong-byeong said in his new year's statement.