28th KAIF/KNS Annual Conference & Nuclear Industry Exhibition takes place in Jeju from April 14-18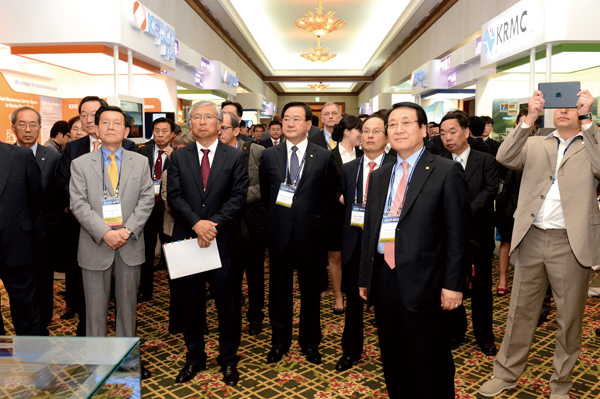 Participants at the 28th Korea Atomic Industrial Forum-Korea
Nuclear Society (KAIF-KNS) Annual Conference look at the exhibits at
the 2013 Nuclear Industry Exhibition in Jeju on April 14. They include Korea Hydro &
Nuclear Power Co. President Kim Kyun-seop; KEPCO E&C President
Ahn Seung-kyu; KEPCO KPS President Tae Sung-eun; KEPCO Nuclear Fuel President
Kim Ki-hak; and Korea Radioactive Waste Management Corp. President Song Myung-jae.
The Korean atomic power industry is poised to usher in an era of 20 trillion won in sales, according to a report released by the Korea Atomic Industrial Forum (KAIF).
A report on the outcomes of a survey into the conditions of the Korean atomic industry, conducted and released by the KAIF on March 19, said that the Korean atomic power industry posted 19.8719 trillion won as of the end of 2011, an 18.6 percent surge over the previous year.
The KAIF said the power generation segment saw the proceeds from sales of electricity, generated by the operation of the new Shin Kori Nuclear Power Unit 1, rise and revenues from the exporting of nuclear power units to the United Arab Emirates amount to 1.12 trillion won. Power equipment suppliers also saw sales rise from the construction of a total of seven nuclear power units.
The report calculated that the industry invested 8.7806 trillion won in 2011, up 1.2 percent over the previous year.
The number of people employed in the industry was 26,200 in 2011, up 9.9 percent over the previous year.
The KAIF said the rise in the industry' s manpower was attributable to an increase in the mobilization of human resources arising from the simultaneous construction of seven nuclear power units and the application of the latest APR1400, a nuclear reactor with a large power generation capacity.
University graduates majoring in nuclear engineering totaled 260 in 2011. The total included 22 doctorate degree holders, 63 masters degree holders and 175 bachelors degree holders. Out of the total, 126 graduates got jobs in Korea, one landed a job abroad, and 81 others continued to study.
28th KAIF/KNS Annual Conference & ICAPP 2013
Hundreds of foreign and Korean experts on atomic power assembled at the Lotte Hotel in Jeju for the 28th KAIF-KNS Annual Conference and the 2013 International Congress on Advances in Nuclear Power Plants (ICAPP 2013) to discuss issues on nuclear power from April 14-17.
The events coincided with the 2013 Nuclear Industry Exhibition. The annual conference was jointly hosted by the KAIF and the Korean Nuclear Society (KNS). It has become one of the nuclear sector' s most important international meetings.
Plenary sessions are presented in both English and Korean, whereas parallel sessions are usually in English. Conference translations are prepared in English. Session subjects cover most of the major aspects of nuclear issues including those related to radioisotopes and radiation.
The 2013 Nuclear Industry Exhibition attracted such exhibitors as Korea Electric Power Corp., Korea Hydro & Nuclear Power Co., Doosan Heavy Industries & Construction Co., Westinghouse, and Areva.
Visitors were given a good opportunity to get information on the latest technology and science in the world nuclear power industry as the exhibition highlighted electrical, architectural, physical, chemical, and instrumental works and other things related to nuclear power.