Exec. Vice Chmn. Chung Ui-sun takes office as co-chairman of Hydrogen Council; President Moon gov't comes up with hydrogen economy growth plan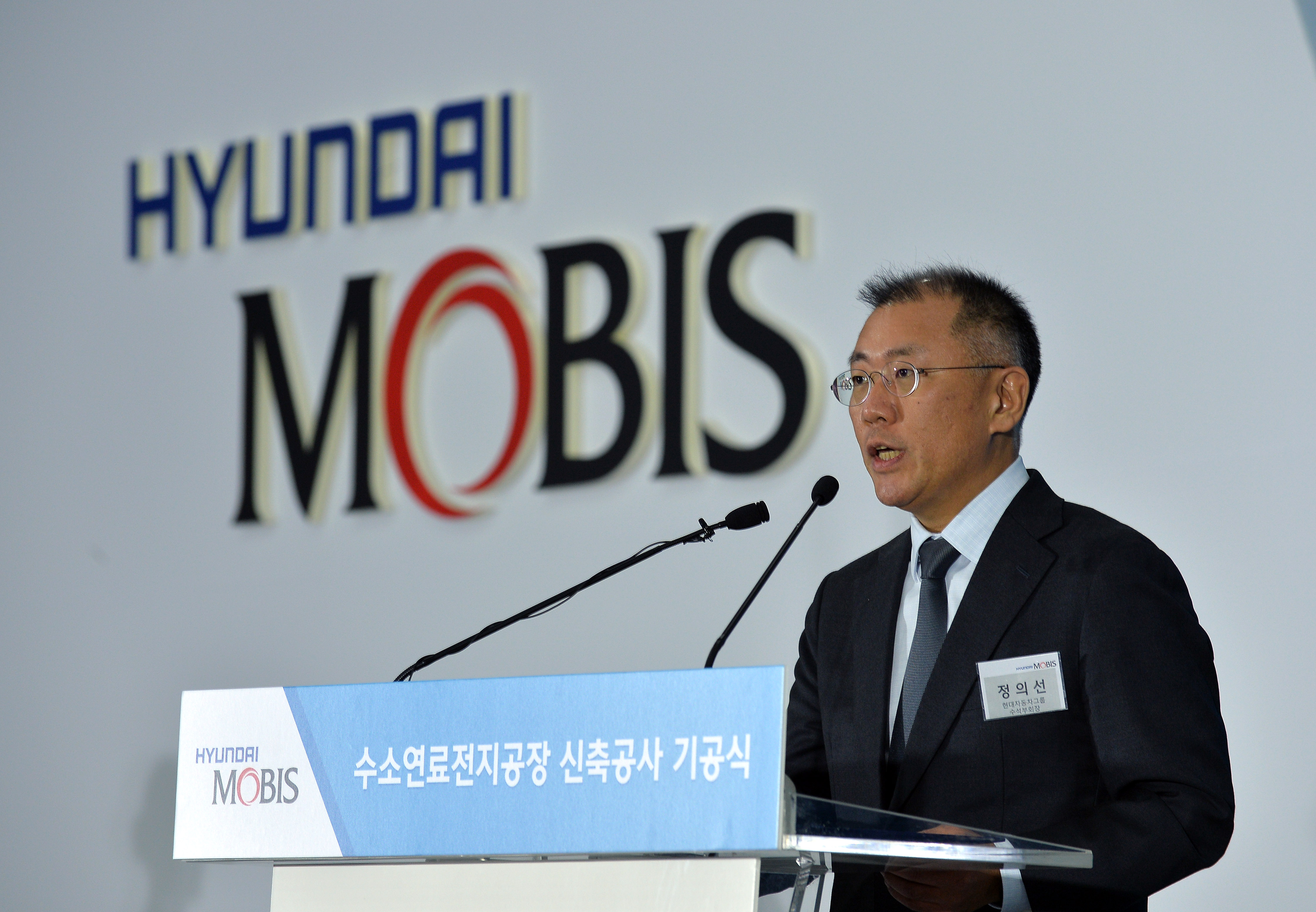 Hyundai Motor Group Executive Vice Chairman Chung Ui-sun. (Photo: Hyundai Motor)
Hyundai Motor Group Executive Vice Chairman Chung Ui-sun has been inaugurated as co-chairman of the Hydrogen Council.

An article, contributed to the World Economic Forum by Hyundai Motor Group Executive Vice Chairman Chung and CEO Benoit Potier of Air Liquide of France,co-chairmen of the Hydrogen Council, called for companies, governments and investors to join forces to realize the hydrogen society.

The Davos 2018 Forum took place in Switzerland from Jan. 23 to Jan. 26.

The Hydrogen Council is a global cooperative body of CEOs of 54 global companies, including Hyundai Motor, Toyota, and Air Liquide. Air Liquide is a French company that installed the first hydrogen charging station in Paris. Hyundai Motor Group is betting hydrogen will be an important energy source in the future.

In the statement, Executive Vice Chairman Chung said a key to the realization of the hydrogen economy hinges on international and multilateral cooperation. It said hydrogen is predicted to be a $2.5 trillion market per annum and create about 30 million new jobs by 2050.

Hydrogen is forecast to account for 18 percent of the world's total energy needs, contributing to reducing 6 billion tons of greenhouse gas emissions annually.

The statement said that individual companies and countries will find it hard to realize hydrogen society, so each government needs to provide policy support. Now that corporate companies are investing big money into developing innovative products and technologies related to hydrogen, governments should boost the private sector's investments by eliminating related regulations or putting hydrogen-fuelled cars into the public business sector.

A combined $280 billion in investments would be needed by 2030 to realize a hydrogen society, the report noted. Governments should be partners to create an environment to reinvigorate investments, it added.

Hyundai Motor Group recently revealed what it called its "FCEV Vision 2030," calling for investing 7.6 trillion won ($6.7 billion) in fuel-cell electric vehicles (FCEV) by 2030. The group plans to expand production capacity of 500,000 FCEVs yearly by 2030 to take the lead in the fledgling industry.

As a first step, Hyundai Mobis, the auto parts and software affiliate of Hyundai Motor, held a ground-breaking ceremony for its second fuel cell stack factory in Chungju, Chungcheongbuk-do. Hyundai Motor became the first carmaker in the world to make a mass-produced FCEV model in 2013 called the Tucson ix35. It introduced the hydrogen-powered Nexo SUV early this year.

The President Moon Jae-in government came up with a hydrogen economy growth plan with an event President Moon himself attended in Ulsan, Gyeongsangnam-do, on Jan. 17. Even though Korea is a late-comer compared to advanced countries, the nation aims to accelerate efforts to lead a global hydrogen economy.

At that time, President Moon stressed that the hydrogen economy would be a revolutionary transformation in industrial structure that can change energy resources from coal and petroleum to hydrogen, and for Korea, it would serve as a good opportunity to transform the national energy system fundamentally and create a new growth engine.

As President Moon suggested the hydrogen economy as a national agenda, related ministries, including the mainstay government agency MOTIE and the Ministry of Land, Infrastructure and Transport (MOLIT) are scrambling for taking steps to prompt regulatory reform.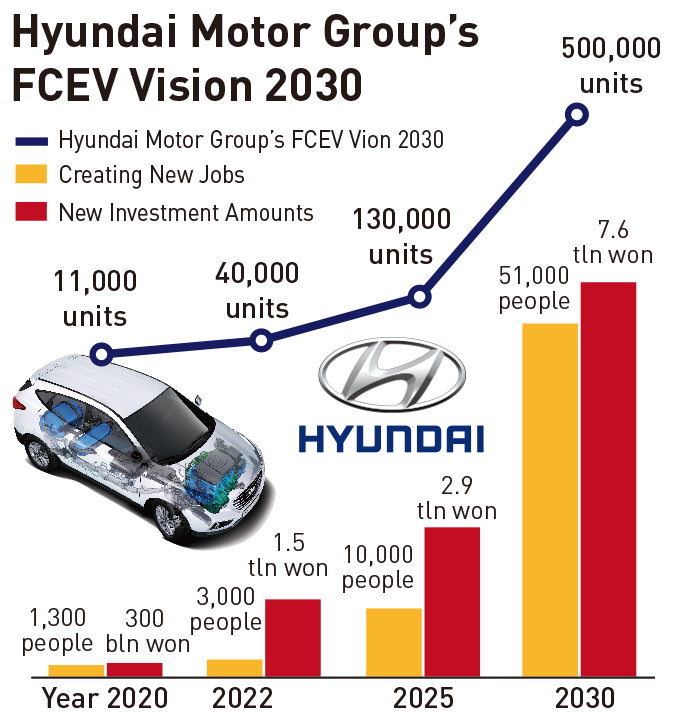 Hyundai Motor Group on Roll at Detroit Motor Show

Hyundai Motor and Kia Motors, on the heels of winning awards and releasing new vehicles at the Detroit motor show, are aiming for a rejuvenation of sorts in the American auto market. Hyundai Motor won two of three awards given by a panel of auto critics at the annual North American International Auto Show in Detroit.

The Genesis G70 grabbed the Detroit show's Car of the Year award while the top SUV honor went to the Hyundai Kona and the electric Kona. The G70 had been already selected Motor Trend's Car of the Year last November. Hyundai Veloster N TCR made its debut at the motor show. Hyundai Motor Group, which has grappled with declining sales, aims to reverse that trend in the United States.

Hyundai Motor and Kia Motors are accelerating efforts to make a rebound in the U.S. market with SUVs, eco-friendly vehicles and new cars. In particular, Hyundai Motor and Kia Motors are gearing themselves up to tap the mid-size SUV segment by releasing the Palisade and Telluride, respectively.