Pres. Lee Lays out 4 Major Objectives This Year
Ultimate target being K-water recovering high public trust and upgrading water resources management to improve water quality and ecology in upstreams of major dams
President Lee Hak-soo delivers his New Year's speech at a ceremony held on Jan. 2 at K-water head office to kick off the new year of 2019. (Photos: K-water)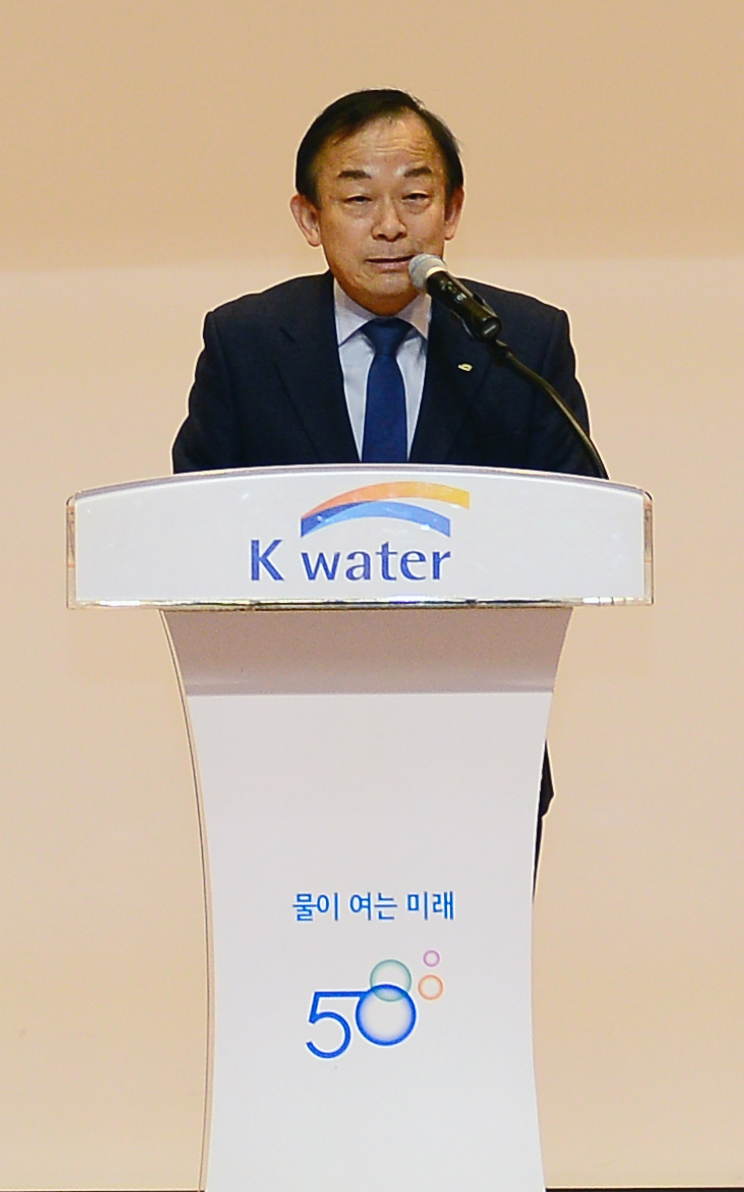 President Lee Hak-soo of Korea Water Resources Corp.
President Lee Hak-soo of the Korea Water Resources Corp. (K-water) said in his New Year's speech that K-water should go after four key projects this year to and really understand the work that goes into control water resources.

First, he urged putting the overall control of water resources under one system to let the people feel that change is effective. To that end, he said sample work for the control of the sources of water pollution upstream of the Bohyun Mountain and the Youngju dams should be promoted in earnest to improve the water quality and the ecology.
He also called for upgrading water welfare for the people and regional balance through smart water resource management and securing replacement water resources.
Second, the CEO called on the executives and staff to solve all kinds of problems in water resource management with experiences that K-water accumulated in the past half century of its operation.

They should be able to mitigate any need for new dams by upgrading the forecast system for draughts and floods, and connecting the existing facilities, as well as securing enough water needed to keep the people safe from flood damage to boost the safety of potable water.

They also should also come up with a plan for the development of downstream estuary banks so the natural ecology can be restored to its original state.

Third, they should evaluate the value of water to improve the quality of life for the people, he said. They should also work for the Busan Eco Delta City, and national smart city to demonstrative projects, and the Andong Water Circulation City, to make it a leading sample of projects whose final results are for the fusion of cities and water resources to the best of their abilities. They should also expand the support for venture enterprises and SMEs using the water industry as their platforms to lead reform growth while creating jobs.

Lastly, they should help make K-water the people's public entity through reform centered on commonality, Lee said.
In order to achieve all those noted above, they should find the way to communicate with the people, regional self-governing administrations and NGOs, and expand channels for participation. He also called for the reform of K-water's operation and its processes centered on services and boost its public trust through transparent office procedure and clean organizational culture to raise its public trust at home and abroad.

In finalizing his New Year statement, he said "we should be able to show off the best of our capacity as the results of K-water's new operation in next half century or a century with all of us working together to the best of our abilities."
K-water and the Seoul Government concluded an agreement on the Sharing of Smart City Flood Management Technology on November 22 at Seoul City Hall.

K-water's Smart City Flood Management Technology is a technology that responds to unexpected urban floods by linking rainfall information acquired by using its high-precision rainfall observation technology to the city's sewage systems.

K-water had started to develop the high-precision rainfall observation technology in 2014 by focusing on the fact that most local torrential rain, the main cause of urban floods, are generated by rain clouds developed about 1 km above the ground. K-water will apply this technology to forecast heavy rainfalls and identify flood vulnerable areas in Seoul and share the information with the city.

K-water hosted the "1st Inauguration ceremony of K-water in-company venture" on October 30th. Among numerous ideas collected through an internal contest that took place in April, 6 of them were selected to be supported as a part of the "in-company venture fostering project" of the Small Venture Business Department in September.