Hyundai Mobis Unveils Future Downtown Self-Driving Concept 'M. VISION'
Introduces G80, outfitted with hologram AR navigation, at the CES 2019 for first time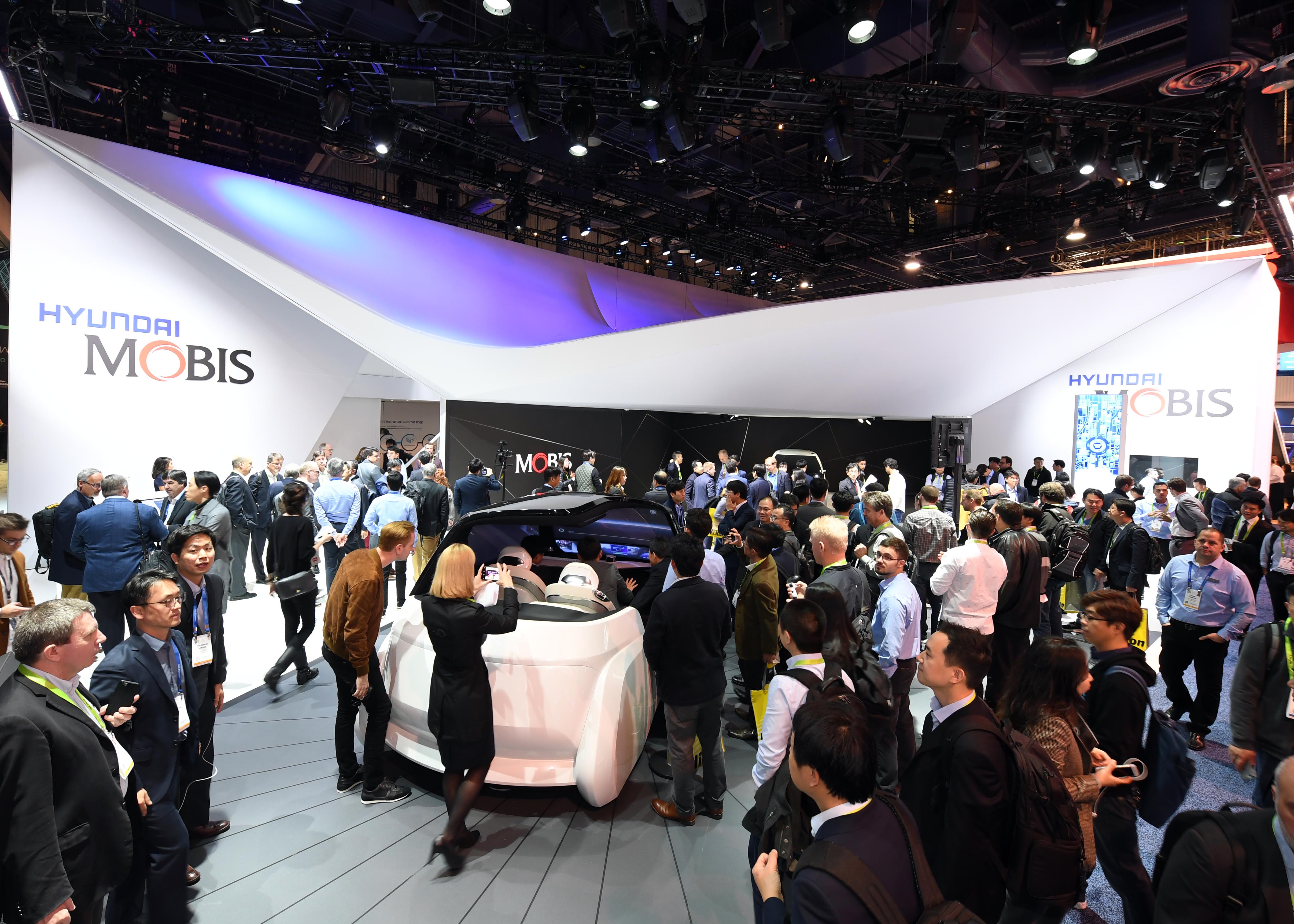 Hyundai Mobis's booth is filled with a large throng of spectators during the CES 2019 held in Las Vegas. (Photos: Hyundai Mobis)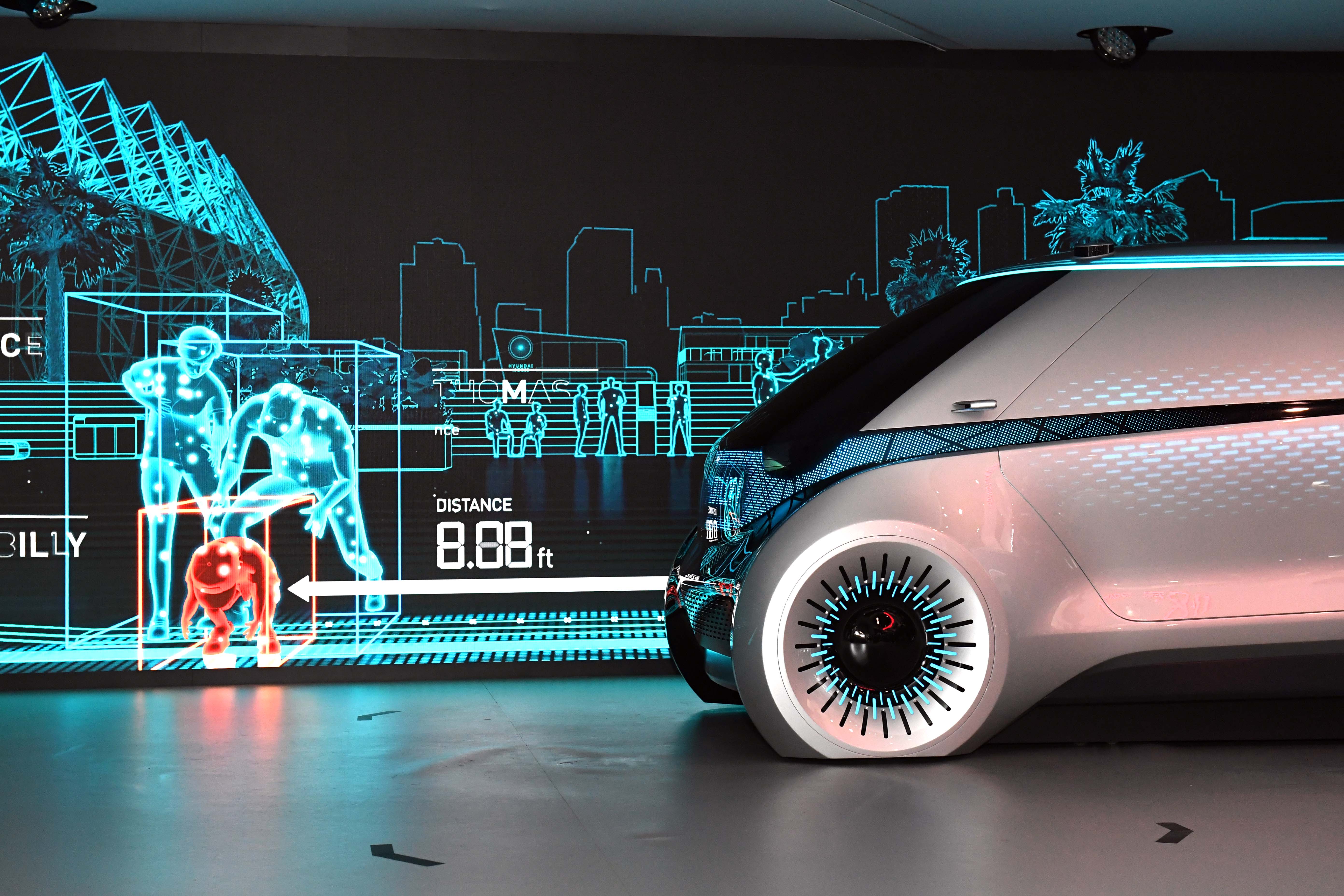 Hyundai Mobis's future downtown sel-driving concept "M. VISION" made its deubt.
A technology that allows a car to avoid a pedestrian and sound a warning against without a driver's intervention has been unveiled at the CES 2019 held in Las Vegas in January.

Hyundai Mobis showcased a self-driving kit comprising of a variety of sensors at the CES 2019, surprising automakers and automotive parts making industries. In general, automakers have comprehensively developed self-driving technologies or automotive parts makers have developed necessary parts separately.

On the other hand, Hyundai Mobis has revealed a comprehensive set of self-driving car parts that can be placed on the rooftop of a car to enable self-driving.

Hyundai Mobis released the future downtown self-driving concept "M. VISION" on Jan. 8, which consists of four LiDAR sensors and five multi-functional camera sensors. It was the first time that Hyundai Mobis unveiled a self-driving future car concept of more than Level Four, set by SAE International.
Level One is driver assistance in speed and brake, Level Two is partial automation, particularly self-controlling in speed and direction, Level Three is conditional automation, allowing a driver to designate a destination, Level Four is high automation in which a self-driving car hits the streets. A self-driving car of Level Four is not seen in Korea.
Hyundsai Mobis has operated the experimental self-driving car "Ambilly" with somewhere between Level Three and Level Four, but it is the first Level Four self-driving technology unveiled Hyundai Mobis.

M. VISION's rooftop format is the biggest strength, applicable regardless of the size of cars or design, so automakers can reduce production costs from the design stage. The higher self-driving car levels, sensors and algorism in the kit can be upgraded without renovating cars. Hyundai Mobis plans to mass-produce M. VISION after completing its development by 2020.

Executive Vice President Jang Jae-ho, head of Hyundai Mobis EE Research Institute, said, "(M. VISION) is a self-driving concept of combining sensor and future car lamp technologies on which Hyundai Mobis has so far concentrated." M. VISION is an integration of four LiDAR sensors and five multi-funcitonal cameras.
In particular, the concept has also five LiDAR sensors and we super ultrasonic wave sensors on lower bottom of each self-driving car to take a closer look at surrounding developments. Cameras or LiDAR sensors sense surrounding situations while a vehicle lamp enables the motorist to communicate with a pedestrian and another car. For instance, if there is a kid who approach a self-driving car from the behind via bicycle, the color of back lamp will change and it will issue a warning.

Hyundai Motor introduced the G80, outfitted with hologram AR navigation, at the CES 2019 for the first time. The automaker plans to mass-produce the G80 with the technology starting 2020. With the technology, the G80 will indicate road guidance, destination and current speed via AR on the front windshield. Hyundai Motor produced the hologram AR navigation in collaboration with the Swiss AR company WayRay.

Hyundai Motor has maintained a strategic investment partnership with WayRay, a leading global AR company., since last September. BMW Group's self-driving/connected car future concept "BMW iNext" and Toyota's Level Four self-driving experiment car "TRI-P4" also attracted keen attention from spectators.