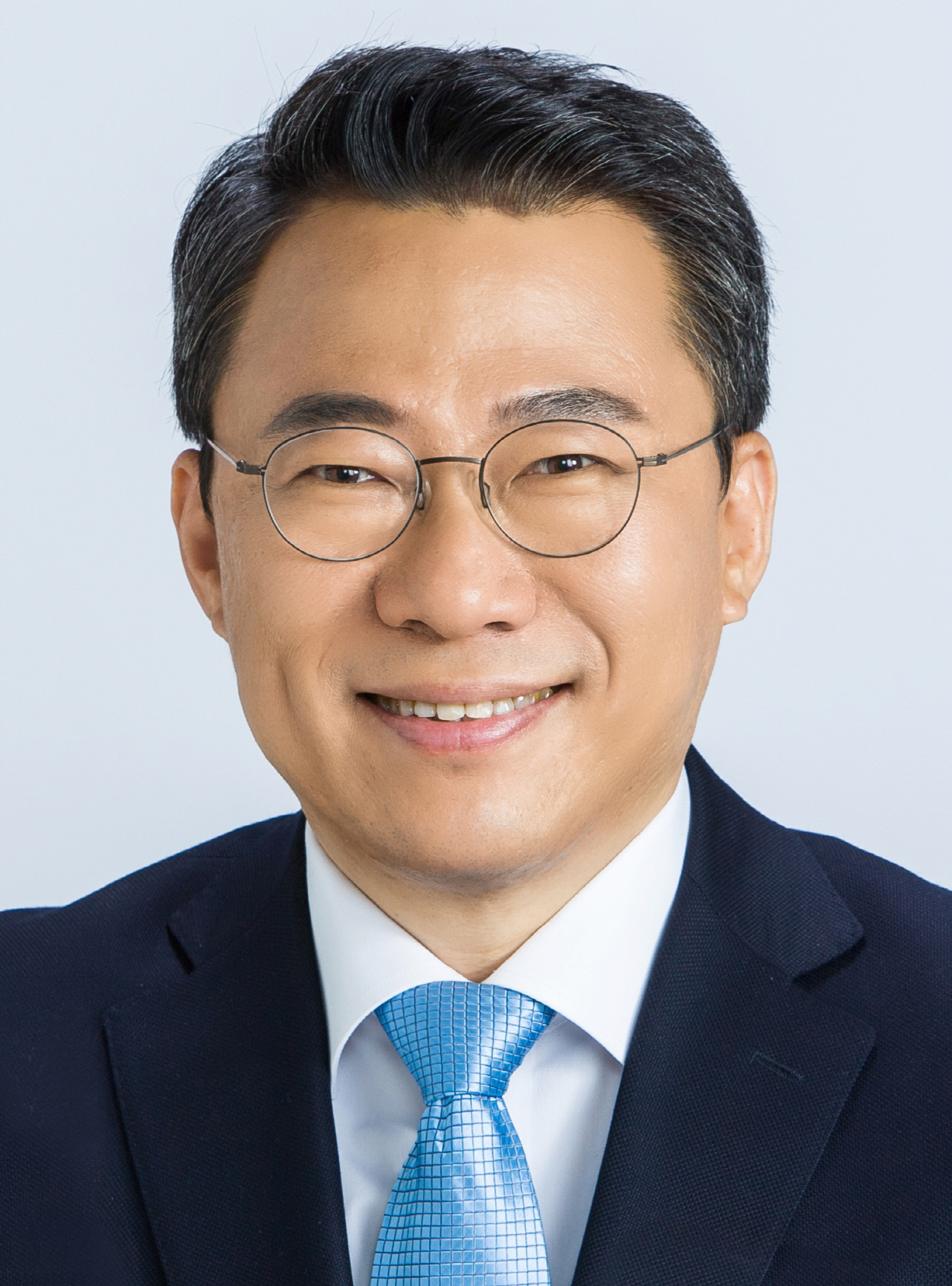 Jung-gu Mayor Seo Yang-ho. (Photo:Jung-gu Office)
"Jung-gu plans to transfer 70 duties, being handled by the ward office, including cleaning, park management and health, to each dong residents' center to enhance their satisfaction," Jung-gu Mayor Seo Yang-ho said.

"Jung-gu will also establish a residents' autonomy regime in which each of 15 dong offices will be given the right to compile and execute its budget so that residents can explore projects essential for their district on their own and participate in all decision-making processes," he said.
The following are excerpts of an interview between NewsWorld and Jung-gu Mayor Seo in which he spoke of his ward office's innovative steps, including the transferring authority to dong administrative offices.

Question: Would you please tell our readers about the achievements you've made since you took office, the direction of Jung-gu administration, and the major plans?

Answer: About 1,300 ward office officials have thousands of on-the-job tasks, but it is more significant for a ward mayor to prioritize certain strategic goals to determine what course he or she will take.

A 4-year plan for the administration of the Jung-gu has been finalized based on the combining of outcomes of meetings, "vision school" and "vision forum" sessions with advisers of each field I had presided over for three months after I took office. Working-level experiences of officials was also taken into account. Five core strategy tasks have been established based on the plan.

The five core strategy tasks are offering a"meritorious allowance" to the poor elderly, child care & education, transferring authority to dong (smallest administrative unit) administrations, reinvigorating urban industries, and a "cultural renaissance." I, as a mayor responsible for the execution of the strategy tasks, will concentrate all capabilities through choice and concentration to bear fruit so they may lead to changes in residents' life and lifestyle.

Q: Please give more detail on the background of a strategy task of offering an allowance to the poor elderly?

A: When the worst-ever heat wave prevailed last summer, I met an advanced man leading life by picking up garbage and heard from him, "Swelter to death or starve to death is the same thing." I got the idea to look into the reality of the poor elderly.

Looking into the economic bracket just above the national basic livelihood security beneficiaries and the senior citizens aged 65 or more, I found out that the basic pension, designed to ensure the subsistence of the elderly, ranges from 25,000 won to 250,000 won, varying in according to their income.

It fails to be distributed evenly and the basic pension falls short of offering the lowest living cost of living, which amounts to 501,632 won.

To make things worse, Jung-gu's portion of the elderly aged 65 or more stands at 17 percent – 21,608 people – higher than the average 14 percent for Seoul's 25 ward areas. Jung-gu ranks first in the aging population index, The ward area is worst in the poverty rate among senior citizens age 85 or more, and first in isolation of the elderly and the elderly suicide rate. The figures show that Jung-gu's senior citizens are in an extreme life danger situation.

In order to respect and treat well the elderly who contributed to the development of the national economy and society, Jung-gu has decided to offer an additional 100,000 won in a monthly allowance for the elderly - those age 65 or more - to each of the basic pension and national basic livelihood security beneficiaries.

For economically active persons, 100,000 won per month is a small amount, but the money is significant for senior citizens who have no regular income. Stats, released by the SMG, show that a payment of 100,000 won in addition to the basic pension has turned out to have an effect of lowering the poverty rate by 22.8 percent among senior citizens, and by 25.9 percent among the elderly living alone.

Jung-gu, which has the worst living conditions for the elderly in Korea, is taking the initiative to introduce the new system, and I feel the necessity for spreading it to cover other areas. A bill to overhaul the basic pension is pending at the National Assembly, while as a disagreement between ruling and opposition parties stalls its passage.

For Jung-gu, which also has severe disparity between the rich and the poor, introducing the meritorious allowance for the elderly is a badly needed policy. Related funding can be made available by saving costs from and unnecessary large-scale public works and construction projects.

Starting by cooperation with the Ministry of Health and Welfare (MOHW), an opinion survey of ward residents and the outcome of an experts' debate at the parliament, Jung-gu is contacting related officials, including a parliamentary committee and presidential officials, for consultations for the matter. Now that Jung-gu ward council passed a related budget, Jung-gu is making all-out efforts to introduce the allowance system for the elderly starting this year by wrapping up consultations on the matter with the MOHW.

Q: Would you elaborate on child care and education policies, including a project to care for all children?

A: Jung-gu is Seoul's representative commercial district, but the quality of ward residents' lives is relatively low. In particular, due to poor educational conditions, Jung-gu has become a "byword" for a declining city.
In order to focus on addressing educational issues, Jung-gu set innovative childcare and educational policies as one of the ward's five core strategy tasks. Jung-gu strives to implement a policy to provide thorough childcare inside and outside school.

A lack of such care is commonly blamed for younger generations' avoidance of marriage and childbirth. Starting in2019, nine elementary schools will operate a class to offer on-site childcare. Five childcare centers operating out of schools will be set up on a gradual basis to provide after-school care to about 5,200 primary students.

Jung-gu plans to establish an education innovation center as a control tower on innovative education ranging from entrance examination, school entrance, and job-seeking as part of efforts to make Jung-gu a "magnet" for attracting students for education.

Q: Would you explain a policy to transfer authority concentrated at the ward office to dong administrations?

A: It calls for strengthening residents' autonomy by distributing authority concentrated at the ward office to them.
It is designed to overhaul relocation of public facilities and the smallest administrative unit's public services.
Jung-gu seeks to relocate public facilities so that residents can utilize all public services such as welfare, health, culture and libraries more conveniently within a 10-minute walking distance from all homes.
Cleaning and park management, currently being handled by the Jung-gu Office, are time-consuming and have failed to meet residents' needs. If each dong within residents' living sphere is charged with such things, it will offer quality services corresponding to residents' needs.

Jung-gu plans to transfer 70 duties, being handled by the ward office, including cleaning, park management and health, to each dong residents' center to enhance their satisfaction. About 50 ward officials will be sent to each dong to ramp up its capability.

Jung-gu will also establish a residents' autonomy regime in which each of 15 dong offices will be given the right to compile and execute a budget so that residents can explore projects essential for their district on their own, and participate in all decision-making processes.

We plan to build a virtuous cycle in which such autonomy regime will be expanded into village companies and social enterprises of each dong, contributing to self-sufficiency foundation and each district's job creation. Ultimately, autonomy will be raised to levels in which village issues with sharp conflicts of interests can be addressed.
Q: What policies do you have to reinvigorate urban industries?

A: Residential and commercial districts co-exist in the Jung-gu area. Small shop merchants and businessmen's going for shared growth is the ultimate goal of becoming a city for the purpose of Jung-gu residents.
Given the combination of the modern distribution industry and the traditional industry in old town sectors, Jung-gu plans to reinvigorate the traditional industry in which there are 36 traditional markets, the largest number in Seoul.

Jung-gu will strengthen merchants' organizational capabilities to help traditional markets sharpen their competitive edge while ramping up support to traditional alley markets closely related to the life of residents.
About 1,300 garment firms are clustered in the ward area. The needlework industry is declining with problems such as a shortage of orders and newly recruited manpower. Jung-gu plans to build a sustainable garment industry model regime through steps such as creation of new orders, marketing exploration and facility modernization to reinvigorate the needlework industry.

About 5,000 printing firms, clustered in areas such as Chungmuro and Inhyeon-dong, are struggling with many woes such as marginality, a shortage of skilled workers and aging equipment.
Jung-gu is implementing a project to build a printing industry cluster in the Saeun redevelopment zone to restore the declining printing industry and make Jung-gu a printing industry mecca. Jung-gu plans to start a project to build a "printing smart anchor" in 2019 in cooperation with the Ministry of SMEs and Startups and the SMG.

Q: Would you outline the "Myeongdong Renaissance Project" for us?

A: In the past, Myeongdong, or Chungmuro, was a mecca of pop culture - the former was synonymous with acoustic guitar music in the 1970s, and the latter known as a mecca of the film industry in the 1980s.
But Myeongdong has changed into a low-end shopping destination for transient foreign tourists, including Japanese and Chinese. Among Jung-gu's core strategy tasks is the Myeongdong Renaissance Project to restore its past reputation as a high-esteem, high-end, tourist destination.

Q: Would you enumerate Jung-gu's famous tourist destinations?

A: Cultural properties with decades of heritage include such destinations as the South Gate, Deoksu Palace and Gwangheemun Gate. Rich tourist spots such as Myeongdong, Mt. Namsan, Namsangol Hanok Village and Cheonggaecheon Stream attract throngs of Korean and international tourists.
The ward area boasts of traditional markets such as the South Gate Market, Korea's representative traditional market with a 600-year history, Jungbu Market, and Pyeonghwa Market.

Jung-gu is the sole local government entity to have two tourist special zones – Meyongdong and South Gate Fashion Town. Of late, Ulljiro has emerged as a new hot place among younger generations via the social network.
Unique cafes and shops have sprung up among old buildings and humble alleys to be in harmony with vintage landscape and novel surroundings, beckoning to men, women, old and young.

Walking travel programs to Jung-gu's hot tourist spots, guided by commentators, are recommended. They include "Myeongdong Historical Culture Tour, a storytelling of history on Myeongdong,; "Jeongdong One Round," touring historical and cultural facilities in the Jeongdong area, "Ulji Journey," and "Jangchungdan Patriotic Road" program to look at heritage of independence fighting against Japanese colonial rule at Jangchungdan Park.