A consortium led by Korea Electric Power Corp. (KEPCO) has been awarded a large-scale coal-fired thermal power plant project in Vietnam, valued at $2.3 billion (some 2.6 trillion won), outbidding foreign rival utility consortia.
KEPCO became the final successful bidder of an international bidding for the 1,200MW thermal power plant project in Nghi Son, the central province of Thanh Hoa, Vietnam, ordered by the Vietnamese Ministry of Trade and Industry. It is the first time KEPCO will participate in a foreign thermal power plant project with a capacity of more than 1,000MW.
KEPCO has teamed up with Japanese Marubeni Corp. at a stake ratio of 50:50 to win the project, outbidding consortia, led each by France' s EDF Group and Mitsui.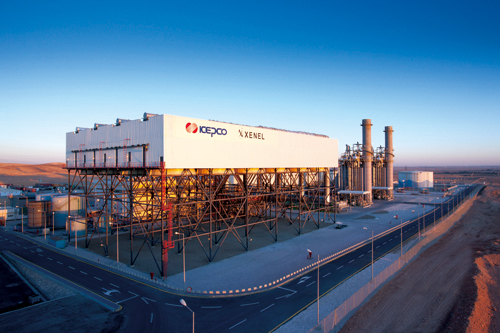 The cost of the BOT (Build-Opeate-Transfer) project will be supplied by Korea' s Eximbank and Japan Bank for International Cooperation through project financing.
The project will be launched next August after a deal on project financing is reached, and the projected thermal power plant will be put on line in August 2018.
KEPCO will operate the power plant for 25 years before handing it over to Vietnam. The proceeds from selling electricity to Vietnam for 25 years are estimated at a combined $15 billion (some 18 trillion won). Doosan Heavy Industries and Construction Co. is power equipment supplier of the project.
A KEPCO official said the project will serve as an opportunity for KEPCO to get a foothold into the Vietnamese power plant market, surpassing its presence in the Philippine thermal power plant market.
He added that KEPCO' s winning the Vietnamese project will likely boost its chances for being awarding a tender for 1,800MW Sumsel thermal power units in Indonesia, expected to be submitted around the end of this year.
KEPCO' s Raising Funds for Jordan' s Diesel-Powered Plant Project
KEPCO said it signed an agreement on project financing for the 600MW-class IPP (independent power producer) 3 Project with a consortium of commercial banks, led by Korea Eximbank, in London on Jan. 21. Nippon Export and Investment Insurance (NEXI) and three commercial banks from as many countries also participated in the financing.
Amid Korean and overseas plant projects faced with difficulties in securing necessary funds due to the global financial crisis, KEPCO' s locally incorporated subsidiary, AAEPC, succeeded in borrowing the funds in the form of project financing based on its own credit without a loan guarantee from KEPCO headquarters.
KEPCO won an international bidding on the project from Jordan' s National Electric Power Co. (NEPCO), outbidding world-class IPPs, including ACWA Power of Saudi Arabia, in January 2011.
KEPCO has also been selected as a preferred bidder by Jordan' s Ministry of Energy and Resources to build a wind power plant in Fujeij.
The project calls for building, owning, and operating a 90MW-class wind power plant in Fujeij, 150 km south of Amman. The project will cost $187 million and KEPCO will operate the plant for 20 years. The money will be raised in the form of project financing involving Korea Eximbank via KEPCO' s subsidiary in the Middle East country.
KEPCO said it has 100 percent equity in the project, and it will embark on the project after signing all agreements, including the environmental impact assessment. The plant is scheduled to go on line in the first half of 2015.
The deal is significant because it means KEPCO has established a foothold in the wind IPP market, which is dominated by European companies, as well as the thermal power plant market in the Middle East region.
Spearheaded by KEPCO, the project also involves POSCO E&C, charged with EPC. KEPCO' s winning the deal has proved to have excellent project capability and technological power in the new and renewable energy segments. The project is the first in a series of new and renewable energy projects in Jordan, a nation with a scarcity of crude oil, with the goal of producing 1,800MW by 2020.