Gov. Lee Cheol-woo Stresses Ancestors' Spirits to Overcome Current Crisis
In his New Year's message, he announces scheme to make Gyeongsangbuk-do's East Coast an outpost of 'New North Economy'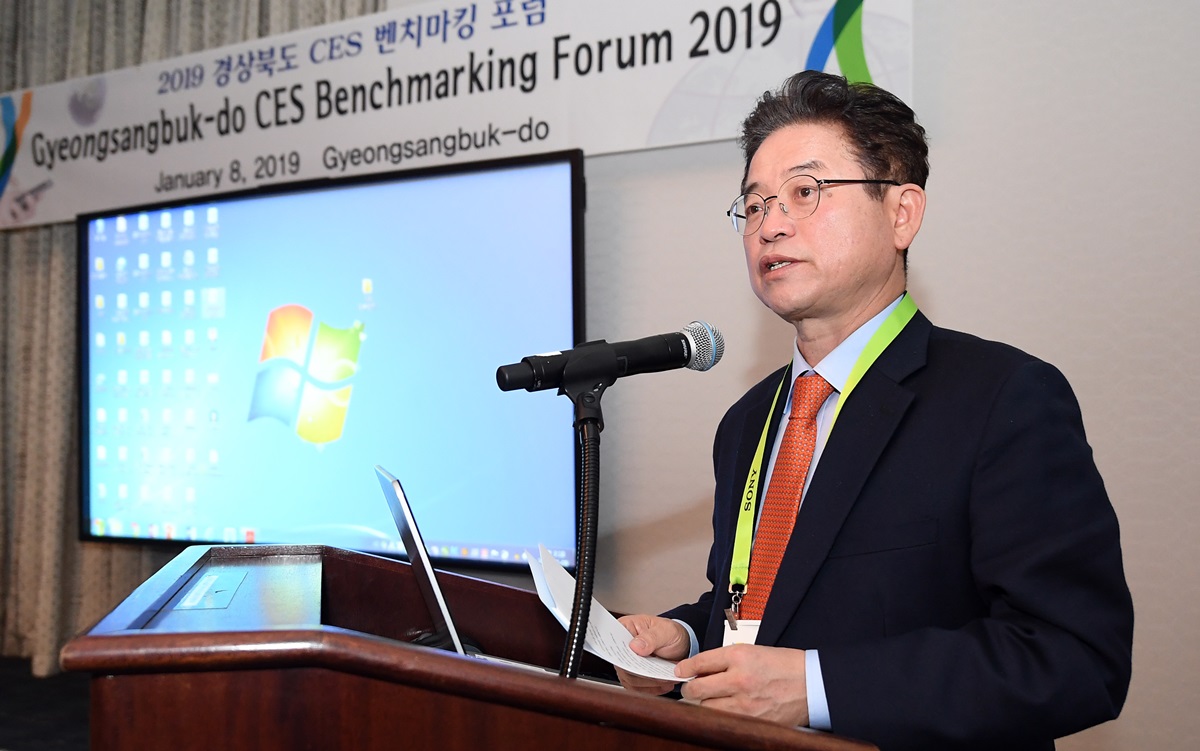 Gyeongsangbuk-do Gov. Lee Cheol-woo speaks at the Gyeongsangbuk-do CES Benchmarking Forum, designed to attract foreign direct investments, on the sideline of the CES 2019, held in Las Vegas on Jan. 8.
Gyeongsangbuk-do Gov. Lee Cheol-woo said, "New industries will be nurtured by making the most of Gyeongsangbuk-do's strengths, and (Gyeongsangbuk-do) will spearhead an era of the 4th Industrial Revolution by attracting investments tailored to corporate needs to make Gyeongsangbuk-do's East Coast an outpost of the 'New North Economy.'"

The following are experts of a message Gyeongsangbuk-do Gov. Lee delivered in celebration of the New Year.
Thanks to your support, I took office as Gyeongsangbuk-do governor last year and embarked on a journey of change and innovation to make a new future of Gyeongsangbuk-do.

Currently, Korea is in a dangerous situation with bipolarization and a stream of conflicts among districts, strata, generations and sex. With clashes everywhere, worry is mounting over whether society may be sustainable. I pin hope on Gyeongsangbuk-do to overcome the situation. The reason is that our ancestors' spirits - patriotism and sacrifices - which had overcome numerous national hardships during a 5,000-year history are still streaming in the blood of Gyeongsangbuk-do people.

(Gyeongsangbuk-do) will concentrate its capabilities to flesh out such tasks only Gyeongsangbuk-do can implement and should carry out.

They include "Neighbor Cousin Pilot Village Project," designed to revive the declining farming villages,; "Monthly Paid Youth Farmer Project," to help youth find hope in the farming sector; "Agrofood Distribution Education Promotion Institute," designed to dramatically upgrade the agrofood distribution regime; a youth happiness & marriage mutual aid project designed to relieve youth's marriage costs; "Gyeongsangbuk-do Culture & Tourism Corp." designed to dramatically ramp up marketing and sales function,; a project to attract officials and their families with Korean companies' overseas operations as tourists; guides for the elder's houses to respect the elderly and create jobs; a Gyeongsangbuk-do compulsory education project to give free pre-school childcare to parents; attracting tentatively named "Nuclear Power Research Institute," a state-run research institute to develop future nuclear technologies; and the globalization of the Saemaul Movement, praised as a model to overcome poverty on the earth.

I will relieve low-income earners and self-employed businessmen's hardships and make more efforts to extend a helping hand to vulnerable people, including the physically handicapped. I will also redouble efforts to enhance the morale of laborers and businessmen.

I will make all-out efforts to realize an economic community, an equivalent to a state, through collaboration and cooperation with Daegu, a member of the same family. In particular, the planned relocation and consolidation of Daegu Airport will allow Gyeongsangbuk-do to make a leap forward.

This year will mark the centennial anniversary of the establishment of Korea's provisional government, and the centennial anniversary of March 1 Independence Movement. Gyeongsangbuk-do is a patriotic province in which the biggest number of independence fighters were produced.

We have to join forces in inheriting a proud Gyeongsangbuk-do and a proud Korea to our descents, as our ancestors had made sacrifices for the nation.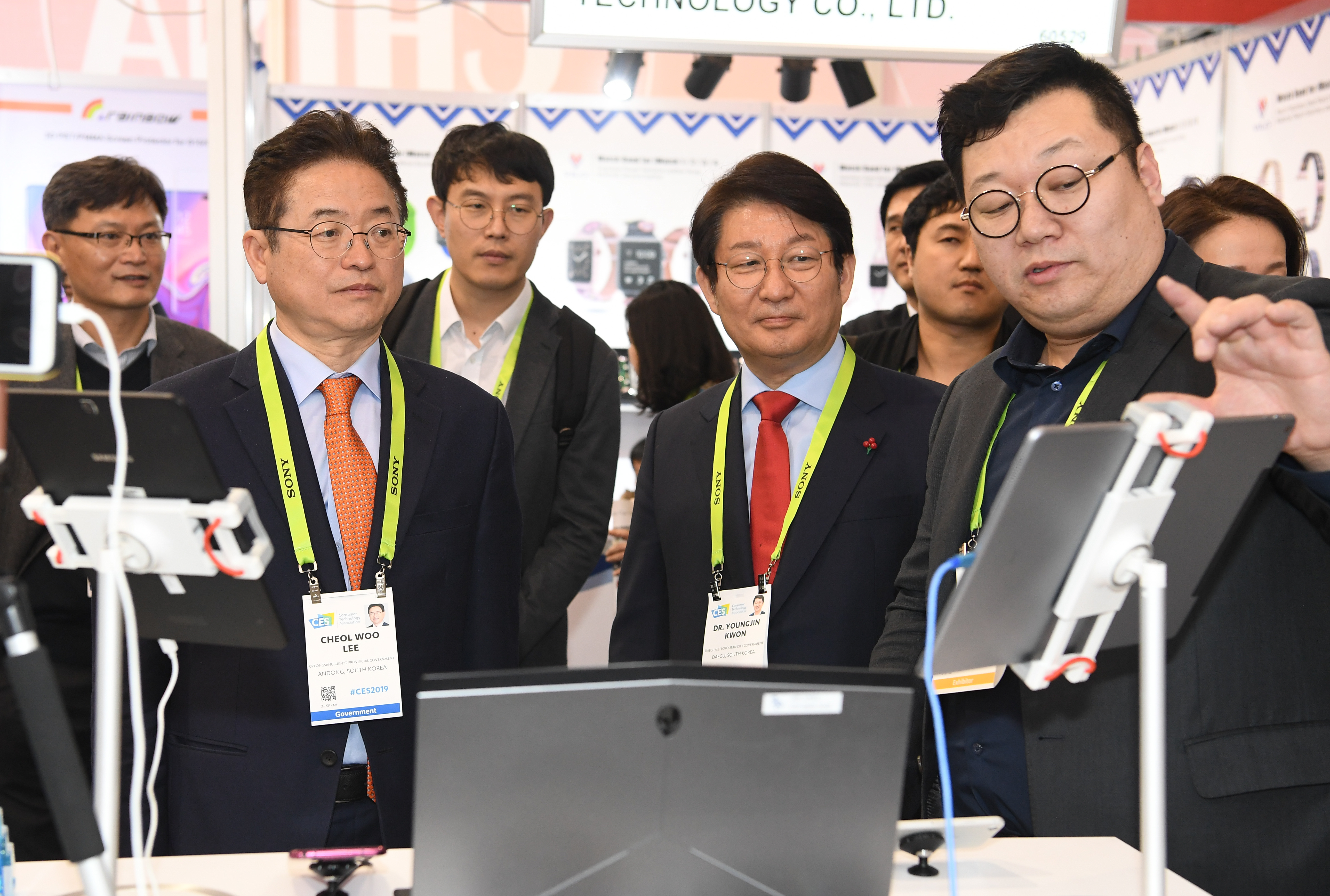 Gyeongsangbuk-do Gov. Lee Cheol-woo and other Gyeongsangbuk-do delegates look at products and technologies on display at the CES 2019. (Photos: Gyeongsangbuk-do)