KCCI Chmn. Park Calls for Businesses to Turn Tide in 2019
Roughly 1,500 people from business, political and government sectors attend New Year's gathering hosted by KCCI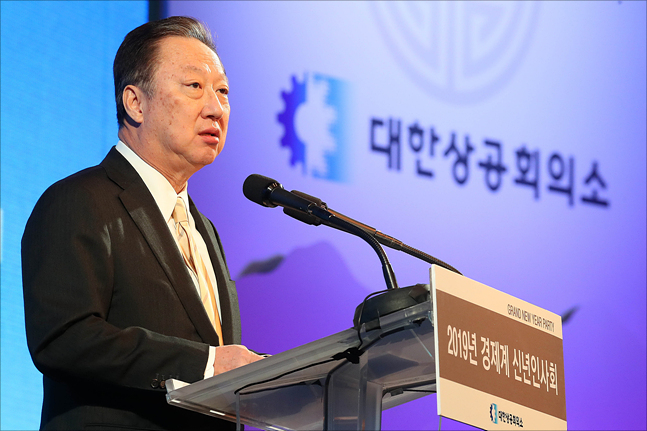 Chairman Park Yong-maan of the Korea Chamber of Commerce and Industry (KCCI) gives a speech at the KCCI event.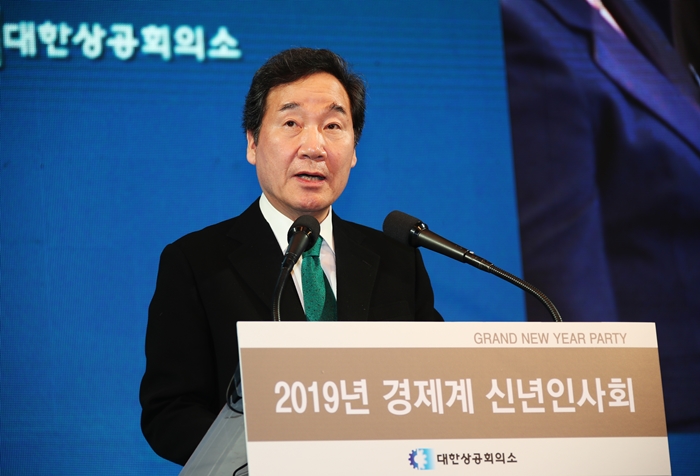 Prime Minister Lee Nak-yeon delivers a speech at a New Year gathering, hosted by the KCCI.
Prominent businessmen and people from political and government sectors got together for a New Year's meeting hosted by the Korea Chamber of Commerce and Industry (KCCI).

President Moon Jae-in did not attend the event for the second straight year. Chairmen of the nation's top 10 conglomerates, excluding SK Chairman Chey Tai-won, were also not present. Participants voiced worries over the possibility of a slowing national economy and appealed for government steps to take countermeasures.

Among roughly 1,500 people on hand at the event were Prime Minister Lee Nak-yeon, Deputy Prime Minister-Minister of Economy and Finance Hong Nam-ki, Minister Sung Yoon-mo of the Ministry of Trade, Industry and Energy, Minister Yoo Young-min of the Science and ICT, Minister Kim Boo-kyum of the Ministry of Interior and Safety, Minister Lee Jae-gap of the Ministry of Employment and Labor and Minister Hong Jong-hak of the SMEs and Startups.

The participants form the business sector included KCCI Chairman Park Yong-maan, Chairman Sohn Kyung-shik of the Korea Employers' Federation, Chairman Park Sam-koo of Kumho Asiana Group, Chairman Hyun Jeong-eun of Hyundai Group, Chairman Christopher Koo of LS Group, Samsung Electronics Vice Chairman Yoon Boo-keun, Lotte Group Vice Chairman Hwang Kak-gyu, and Hyundai Motor President Kong Young-un. Chairman Kim Young-joo of the Korea International Trade Association and Chairman Park Sung-taek of the Federation of SMEs were also present.

Participants from the political sector included Chairman Lee Hae-chan of the Minju Party of Korea, Chairman Kim Byung-joon of Liberty Korea Party Emergency Committee, Chairman Sohn Hak-kyu of the Bareun Party, Chairman Lee Jung-mi of the Justice Party, and floor leader Hong Young-pyo of the ruling party.

"I hope details of policies will be well designed so that tangible achievements can be made this year," KCCI Chairman Park said. Companies experienced bigger hardships last year, and the national economy failed to turn around a decline, he said.

"Now is the significant moment for the Korean economy to turn the tide," Chairman Park said.
He called for aggressive arbitration and persuasion despite difficulties if there are solutions essential for the national economy.

In his address, KCCI Chairman Sohn said outlooks of the global economy are bleak and the national economy is predicted to suffer a setback. Words of encouragement are needed so that businessmen can work harder, he added. He proposed a toast wishing for the reinvigoration of the national economy. Deputy Prime Minister- MOEF Minister Hong urged businessmen to achieve a goal of posting $700 billion in trade during this year.

Leaders from several walks of life toast to a happy New Year at the KCCI gathering. (Photos: KCCI)