Fifty-six people win awards during the Electricity Day anniversary event for their contribution to the development of the Korean electric industry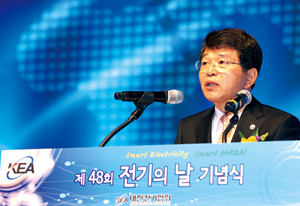 VicVice Minister for Trade and Energy Han Jin-hyun speaks at the
48 anniversary of Electricity Day at Korea Electric
Power Corp. (KEPCO) headquarters in Seoul on April 10.
The nation observed the 48 anniversary of Electricity Day at Korea Electric Power Corp. (KEPCO) headquarters in Seoul on April 10, reminding everyone that electricity has contributed to Korea's growth legend.
Roughly 1,000 people from government, the electric industry, and other walks of life participated in the annual event. Among those on hand at the ceremony were Vice Minister for Trade and Energy Han Jin-hyun and Cho Hwan-eik, KEPCO president and concurrent chairman of the Korea Electric Association (KEA).
Fifty-six people were given orders and other prizes during the anniversary event in recognition of their contribution to the development of the Korean electric industry.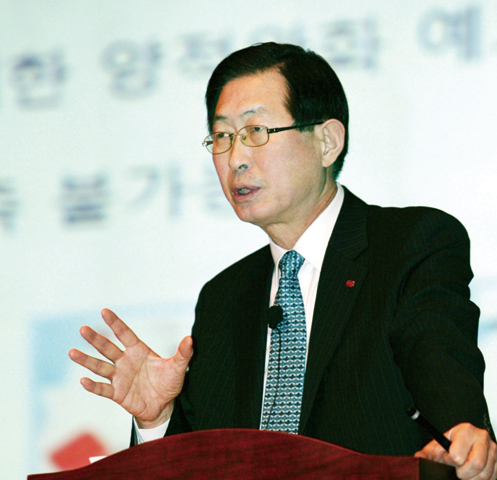 Cho Hwan-eik, KEPCO president and concurrent
chairman of the Korea Electric Association (KEA).
The Order of Industrial Service, Gold Tower, went to Choi Gil-soon, chairman of the Korea Electrical Contractors Association (KECA) for his contributions to the construction of a photovoltaic power facility on Dokdo. The KECA chairman has also been praised for his role in helping Korean electrical contractors make inroads into overseas markets.
KEPCO Vice President Cho In-kook was honored with the Order of Industrial Service, Silver Tower, while Kwon Soon-young, a division chief of Korea South-East Power Co., received the Order of Industrial Service, Bronze Tower. KP Electric President Kim Ho-chul was awarded the Order of Industrial Service, Iron Tower, while Cho Kwang-sup, president of Kwangmyung Electric Co., received the Order of Industrial Service, Tin Tower.
Vice Minister Han, in his commemorative speech, said the government will shift policies on electricity from a supply-oriented paradigm to demand management. He went on to say that his ministry will get down to the public debate on the construction of additional nuclear power units, develop technologies to reduce greenhouse gas emissions from coal-fired thermal power plants, ensure the safety of the electrical industry by inaugurating an organization designed to enhance the reliability of the power grid and help the industry make a leap forward as a future growth engine.
KEA Chairman Cho said, "We have successfully hosted such mega events as the Nuclear Security Summit 2012, the Seoul 2012 Nuclear Industry Summit for Nuclear Security and Safety, and the 18th Pacific Basin Nuclear Conference during last year and have aggressively developed new technologies and new growth engines by participating in Jeju smart grid test-bed projects."
Korea has seen its electricity generation capacity top 80,000MW and the nation proves to be among the world's leaders in quality indexes, including electricity transmission and distribution losses, and of late, said the KEA chairman, the industry has expanded its business environs abroad by landing a wind power project in Jordan and a thermal power plant project in Vietnam one after the other.
Cho said the industry will focus on technology development, globalization of technology standards, and the development of new growth engines while devoting itself to building a paradigm of co-prosperity and shared growth between large- and small-sized companies.
Electricity Day started in 1966 to commemorate the day when the first electrical lamp was switched on at Jong-ro Street in Seoul on April 10, 1900. The KEA organizes and hosts the anniversary ceremony and diverse commemorative events.