Drug maker is on a roll with recent export of osteoarthritis drug Invossa-K to Japan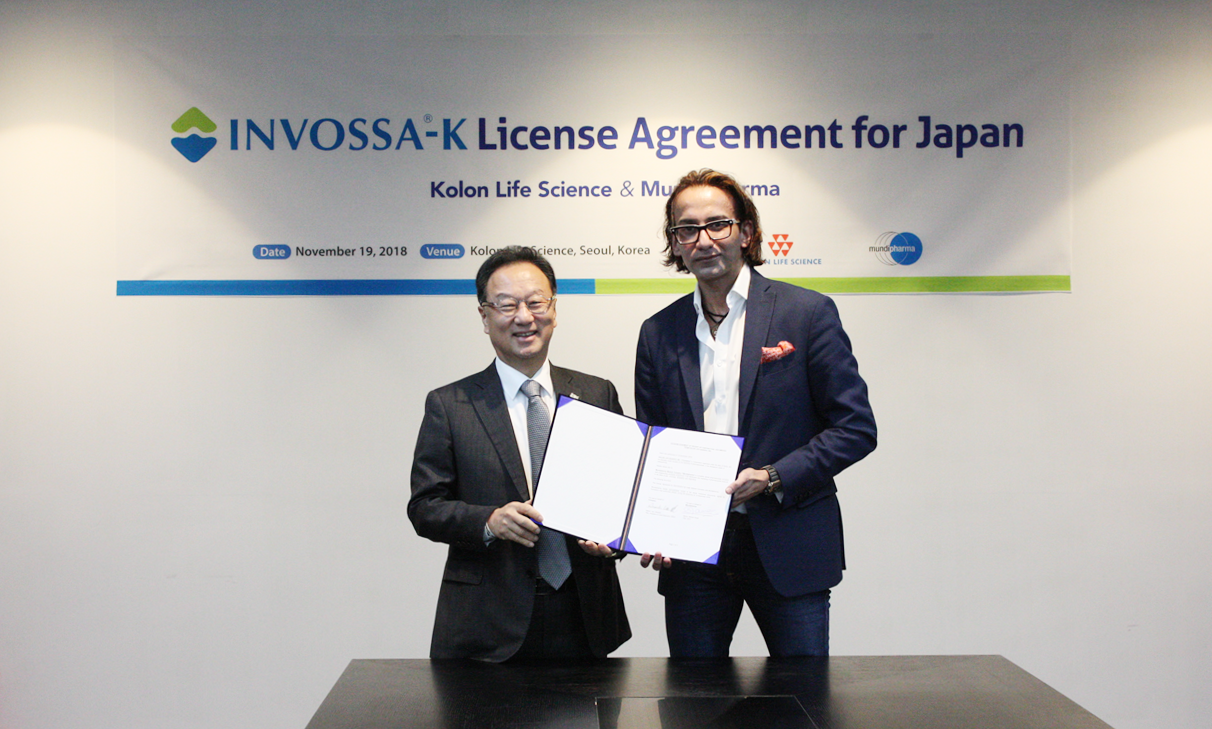 Kolon Life Sciences CEO Lee Woo-souk and Mundipharma CEO Raman Singh hold a copy of an agreement they signed to license out the osteoarthritis drug Invossa to Japan on Nov. 19.
Kolon Life Science's recent export of its osteoarthritis drug Invossa-K to Japan has made an impression on Korean pharmaceutical and bio companies.

Kolon's milestone followed three deals on technology exports signed so far this month, including Yuhan Corp.'s lung cancer treatment drug LaserTinip.

The Korean pharmaceutical company said on Nov. 19 that it struck a technology export deal with multinational pharmaceutical company Mundipharma to launch Invossa-K in Japan.

Kolon Life Science's achievement illustrates some contrasting differences with other companies' previous deals. The most significant thing is that Kolon Life Science's success in exporting the drug, already in the Korean market, has a lower possible failure rate in the course of Korean and overseas clinical tests and sales.

Earlier, Yuhan Corp. announced a $1.25 billion licensing deal with Janssen on lung cancer treatment drug LaserTinip. But the drug is undergoing a clinical 2nd phase test in Korea with the pending the go-ahead of a clinical 3rd phase test and sales.

In March 2015, Hanmi Pharmaceutical struck a $700 million licensing deal with Eli Lilly and Company to export its new drug candidate BTK inhibitor HM71224 in rheumatoid arthritis. Lilly dropped the deal as clinical tests found it was ineffective.

No wonder that even though pharmaceutical companies singed licensing agreements to export new drug candidates to foreign countries, there is a probability they could be suspended in the course of clinical trials.

On the other hand, Kolon Life Science's Invossa, developed as the 29th new drug in Korea, has proved to be efficacious as the new drug was put on the domestic market for one year. Invossa made its debut last November.

Treatments with Invossa topped 1,500 in seven months since its launch. The number of medical institutions using the cell-mediated therapy for degenerative arthritis surged from 58 to 819. On top of Korea, Kolon Life Science singed a deal to supply Invossa worth 17 billion won to Hong Kong and Macao and a similar 230 billion won agreement to Hainan Prefecture in China last June.
A view of Invossa-K, which has been licensed out to Japan recently. (Photos: Kolon Group)