Mayor Oh announces roadmap for job creation calling for pouring 8 trillion won in its budget by 2022 to create approximately 260,000 jobs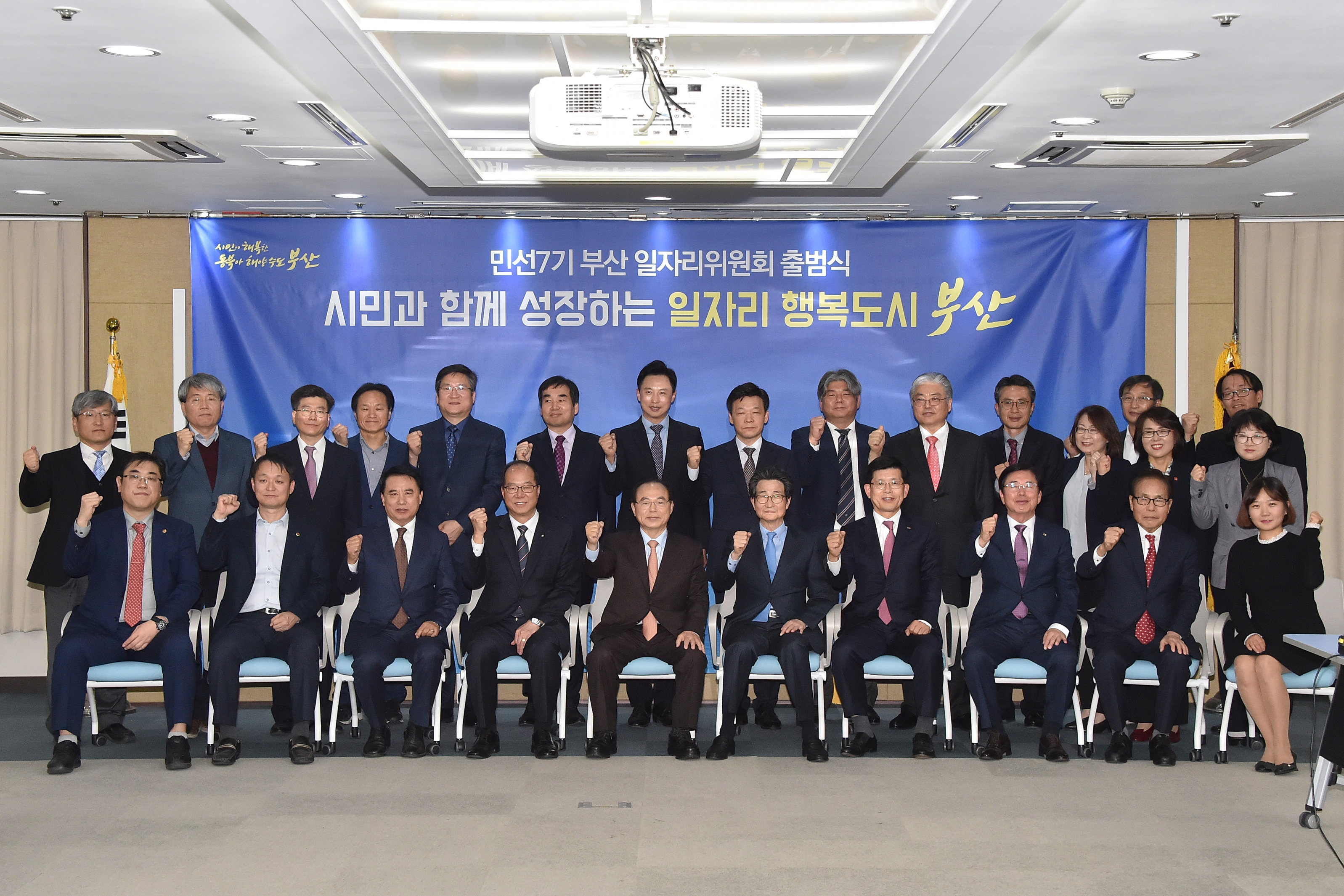 Dignitaries, including Busan Mayor Oh Keo-don, gesture during a ceremony to inaugurate a job creation committee for the 7th publicly contested local government at Busan City Hall on Nov. 6. (Photo: Busan Metropolitan City Gov.)
The Busan Metropolitan City government plans to channel 8 trillion won through 2022 to create approximately 260,000 jobs.

Busan Mayor Oh Keo-don held a ceremony to inaugurate a job creation committee at Busan City Hall on Nov. 6 and announced a roadmap for job creation.

Busan City plans to plunk down around 2 trillion won yearly until 2022, including earmarking 1.925 trillion won for next year to implement 16 tasks in four strategy categories. The tasks will be implemented to create a combined 260,600 jobs by 2022. The strategy category of job creation for citizens' happiness is designed to help citizens plan and evaluate job creation projects on their own so that they experience change.

The municipal government plans to develop its own employment index and improve employment conditions of vulnerable strata such as youth, women and "new middle-age people" in their 50s or 60s to create 117,600 jobs.

Busan City strives to nurture strategic industries for innovative growth in an effort to brace for the advent of the 4th Industrial Revolution, such as smart marine, "intelligent" machinery, future transportation systems and global tourism as well as intelligent information services, life care and clean tech with the goal of fostering 300 SME superstars and create 100,000 jobs.

By district, the municipal government will forge regimes to collaborate with regional commerce, industry communities and public entities and create 18,000 jobs in connection with metropolitan areas, such as Ulsan and Gyeongsangnam-do.
To this end, Busan City plans to expand more than 35 billion won as an SME policy fund annually until 2022 and raise the special fund for small merchants and shop operators from current 200 billion won in 2018 to 400 billion won next year. In particular, Busan City will raise 20 billion won in a win-win fund for job creation in cooperation with Busan Bank and Korea Housing Finance Corp. to lend a helping hand to companies with an excellent record of job creation.

In a related development, a job creation forum took place at the Busan International Finance Center with the presidential job creation committee and seven public entities in the innovative city of Busan in attendance.
The participants included Korea Technology Finance Corp. (Kibo), Korea Housing & Urban Guarantee Corp. (HUG), Korea Southern Power Co. (KOSPO), Korea Securities Depository (KSD), and Korea Asset Management Corp. (KAMCO).

The participating public entities shared job creation outcomes such as support for technology startups, reinvigorating urban renewal projects, support for regional superstar companies' exploration of overseas markets, and spurring of cloud funding.

KAMCO President Moon Chang-yong said, "Cases in Busan are expected to be a pump-priming for creating goo jobs by getting them spread across the nation."

KSD President Lee Byung-rhae stressed the establishment of collaboration models for job creation among public entities in the Busan area by continuing to expand Busan's social and economic support fund.

Chairman Lee Mok-hee of the presidential job creation committee said there is a need for collaboration models for job creation among public entities in the Busan area to proliferate to other parts of the nation, and the central government of policy decision-making and active support will be made by reflecting vivid voices and ideas of each region.

Mayor Oh said the private and public sectors need to join forces in solving job-related issues as well as establish a job creation ecosystem tailored to meet needs of each district so that it can create jobs on its own.